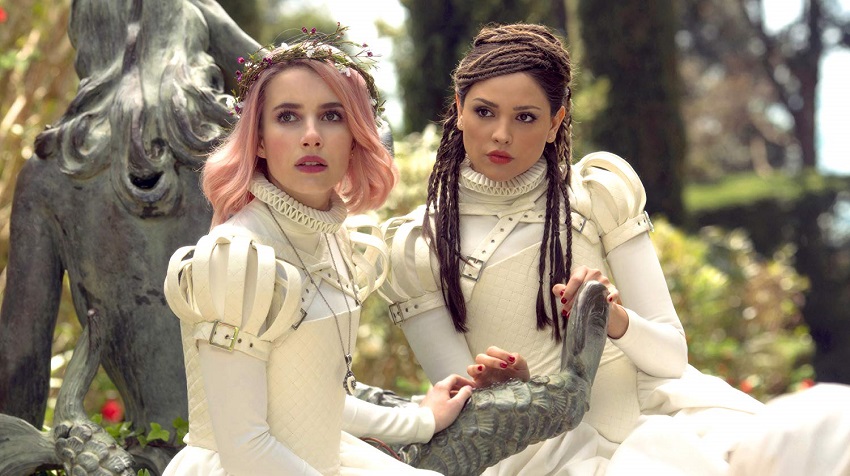 If it looks too good to be true then it probably is. Yes, that includes that totally legit low risk investment opportunity your Facebook friend told you about that promises thirty per cent returns per annum, and isolated finishing schools set on remote islands.
Paradise Hills is the upcoming dystopian fantasy thriller that stars Emma Roberts (We're the Millers) as Uma, a young woman who's sent to an elite girl's finishing school to help her overcome her rebellious nature. However while learning the finer points of etiquette in the tranquil and gorgeous surrounds she discovers that the school harbours dark secrets of its own, and that it's not necessarily changing them for the better.
It's the debut feature for director Alice Waddington, who also assisted with the screenplay written by Brian DeLeeuw (Curvature) and Nacho Vigalondo (the vastly underappreciated Colossal).
The official plot synopsis is as follows:
When Uma wakes up alone on a strange island called Paradise, she instantly suspects it's anything but. Helmed by the Duchess (Milla Jovovich), Paradise Hills is a center for emotional healing that at its core serves as a reformatory-style boarding school for privileged young women. Yet behind the rose-covered pathways and fairy-tale decor, Uma and her friends learn something more sinister is at work.
Let's take a look:
This is a pure visual feast thanks to some stunning locations and gloriously over-the-top costuming. I also really like how this perfect, saccharine-sweet, and civilised environment is just a thin veneer covering the horror and manipulation below, and that unravelling the mystery beneath the surface is a dangerous one – pretty much like the real world now that I think about it.
I don't think this dystopian fairytale is for everyone as some of its elements come across as campy, which is a deliberate choice but can still be a bit off-putting – but if you're okay with that then this Alice in Wonderland-esque thriller seems worth a look.
What do you think?
Paradise Hills is due for release in the US on 1 November. It also stars Danielle Macdonald, Awkwafina, Eiza González, Jeremy Irvine, Arnaud Valois, and Daniel Horvath.
Last Updated: July 15, 2019