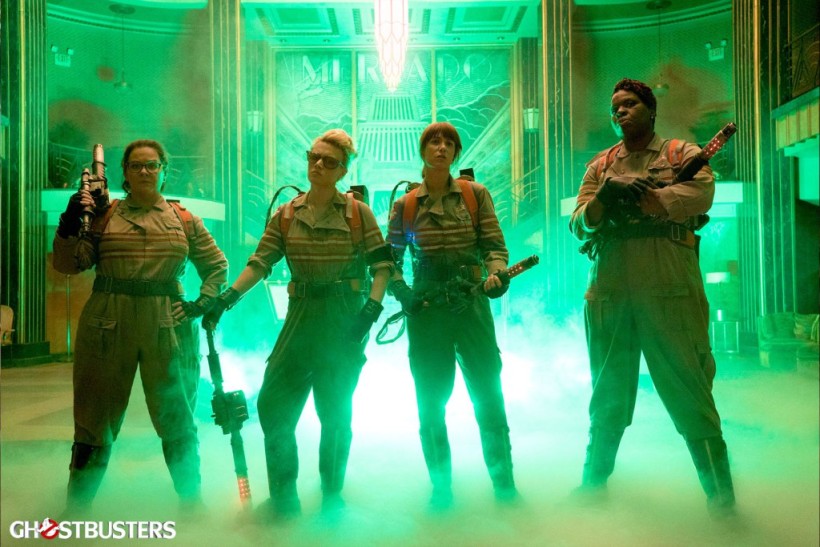 So Paul Feig (Spy, Bridesmaids, The Heat) made an all-female Ghostbusters reboot. The internet has been filled with so much dudebro keyboard warrior ranting about how this movie is somehow emasculating men every where (yeah, I know, right?), that it never quite dawned on me its release is only a couple of months away and we had yet to actually see any footage from it. Whether it was Paramount not wanting to feed the internet trolls or some other production reasons, Ghostbusters' promo campaign has been downright ghostly. No, Trevor, calm down, I don't mean it was scary, I just mean there was almost nothing there.
Sure we got some pics and some posters, but we needed footage to see how the team of Melissa McCarthy, Kristen Wiig, Kate McKinnon and Leslie Jones can step into the classic shoes of Dan Aykrod, Bill Murray, Harold Ramis and Ernie Hudson. Well, now that footage is finally here in the form of the film's first trailer (because that useless teaser trailer doesn't count), meaning we can actually see exactly who we're gonna call!
Check it out below!
Wow, that looks… fine, I guess?
Maybe it's just because we're coming from Feig and McCarthy's previous collaboration, the raucously funny R-rated Spy, but this feels much tamer than I expected. Sure the original Ghostbusters wasn't exactly a bawdy romp, but I just expected a bit more ectoplasmic oomph, if you know what I mean. Hell, we barely even saw Chris Hemsworth as the Ghostbusters' secretary Kevin!
I do like the way though how the movie has some definite throwbacks to the original, from the music to the visuals to the classic Ecto-1, but just with a slightly modern twist (like the plasma handguns!). It must also be said though that Feig is a very solid comedy writer/director and McCarthy has really been winning me over in the last few years, plus Wiig, McKinnon and Jones are just incredibly funny ladies, so I'm definitely willing to give this one the benefit of the doubt. What do you guys think?
Ghostbusters also stars Charles Dance, Michael Kenneth Williams and Elizabeth Perkins. It is scheduled for release on July 15, 2016.
This article was originally published on TheMovies.co.za
Last Updated: March 4, 2016