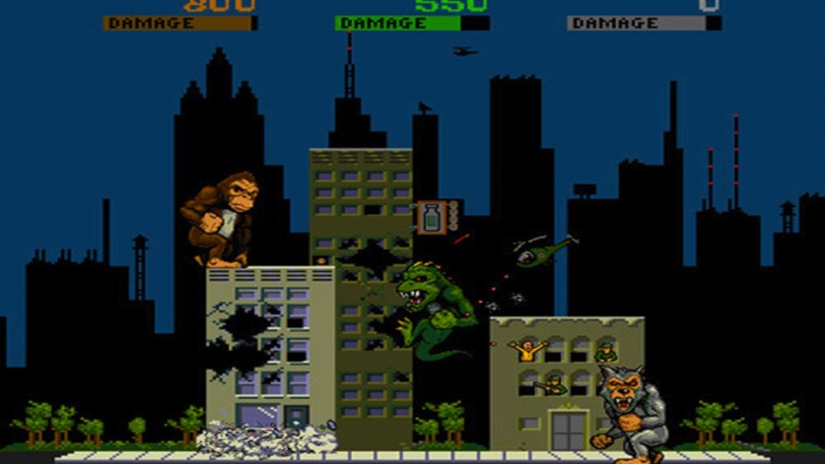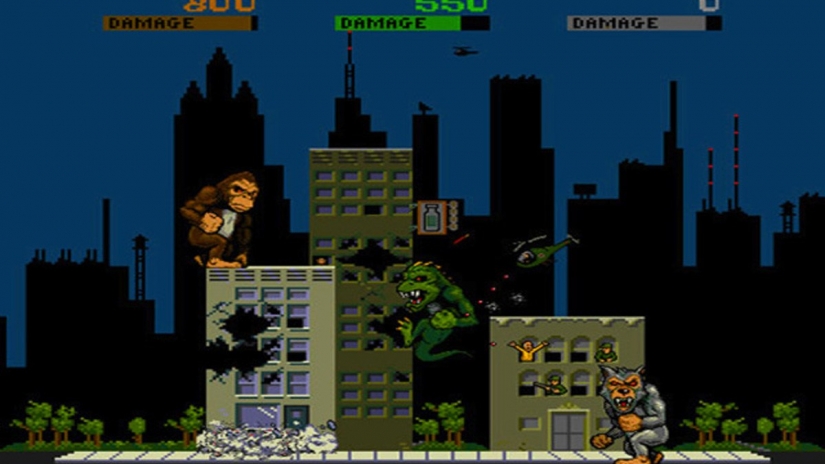 I mentioned it the other day and again yesterday morning, but just in case you still haven't heard: Movie adaptations of video games are crap. And some of the worst of the lot are the ones adapted from games that don't even have a story – or in the case of Battleship, didn't even have anything resembling characters, dialogue or human beings – but they got adapted anyway. The latest film to try this out is Rampage, an adaptation of an old 1980s arcade game that saw you play as either a King Kong-looking giant ape, a giant wolfman, or a giant Godzilla-looking reptile whose sole purpose is just to punch and kick buildings until they fall down. That's not what you would call prime fodder for a movie, but here we are.
At least the movie version has roped in Hollywood's own giant who knows a thing or two about levelling landscapes in the form of Dwayne "The Rock" Johnson. The WWE wrestler turned acting superstar will star as Primatologist Davis Okoye, who discovers that a "rogue genetic experiment gone awry" is transforming his 500-pound silverback gorilla best bud George, along with wolf named Ralph and a crocodile named Lizzie housed at the same zoo, into giant rampaging monsters. Now Okoye needs to save his animal pals from themselves as well as the folks out to kill them.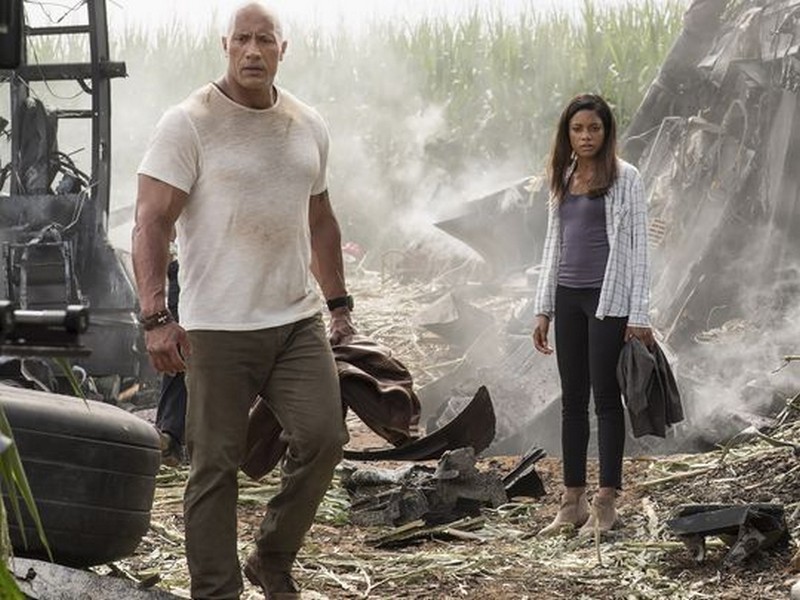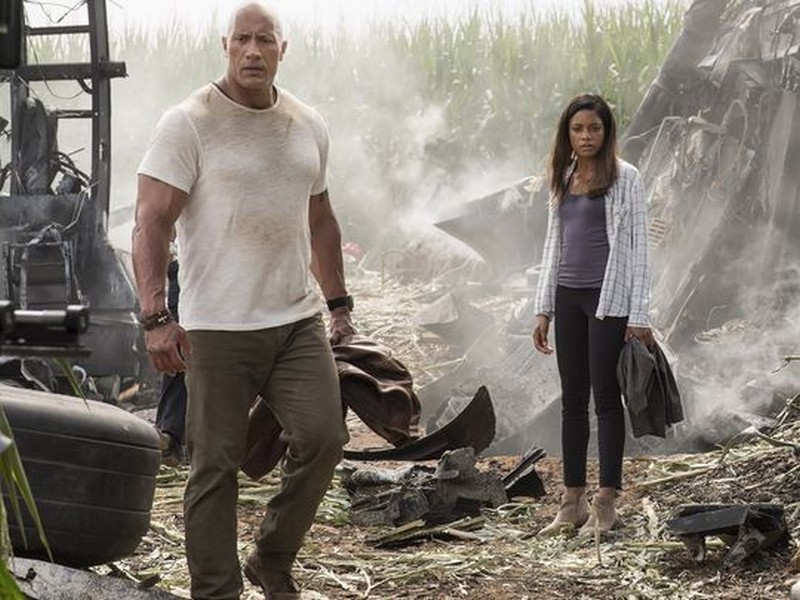 This will be the third blockbuster collaboration between Johnson and director Brad Peyton following 2012 adventure film Journey 2: The Mysterious Island and 2015 disaster epic San Andreas. Both those films were stuffed with massive CG-heavy set pieces that featured all kinds of action and destruction, but you can expect things to get even more hectic from Rampage according to what the actor told USA Today.
You have to ratchet up the dial 10 times with Rampage. These monsters are relentless, and audiences are going to find that ride very exhilarating. As an actor in the movie, it's fun and daunting. It's 12- to 14-hour days of survival, and it's not quiet survival either.
We just got our first taste of that dial ratcheting as the first trailer for Rampage has hit the web, complete with the obligatory modern cover version of a classic song that every trailer apparently needs nowadays.
I'll be honest, that actually doesn't look too bad at all. But then again, I have a soft spot for big dumb disaster movies and this film stars a bunch of my favourite actors, so I would probably have watched it anyway. The giant animals are just gravy.
Rampage was originally scripted by Non-Stop scribe Ryan Engle, before getting rewritten by Carlton Cuse (San Andreas, Lost) and Ryan Condal (Colony). It also stars Naomie Harris (Skyfall, Spectre), Jeffrey Dean Morgan (The Walking Dead, Watchmen) and Joe Manganiello (True Blood, Magic Mike), and is scheduled for release on 20 April 2018. Here's the official synopsis and poster.
Primatologist Davis Okoye (Johnson), a man who keeps people at a distance, shares an unshakable bond with George, the extraordinarily intelligent, silverback gorilla who has been in his care since birth. But a rogue genetic experiment gone awry transforms this gentle ape into a raging monster. To make matters worse, it's soon discovered there are other similarly altered alpha predators. As these newly created monsters tear across North America, destroying everything in their path, Okoye teams with a discredited genetic engineer to secure an antidote, fighting his way through an ever-changing battlefield, not only to halt a global catastrophe but to save the fearsome creature that was once his friend.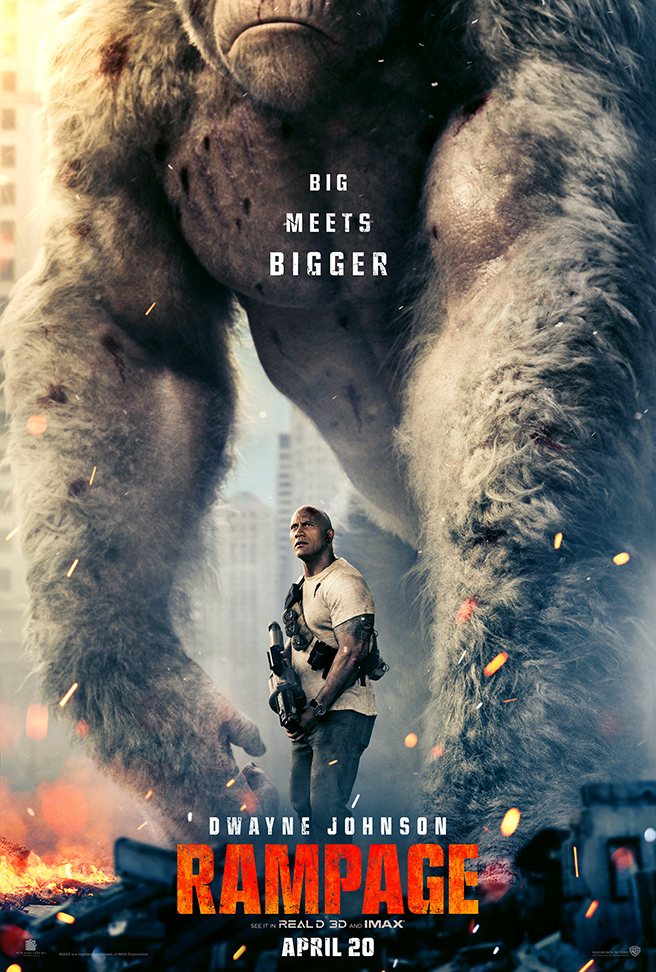 Last Updated: November 17, 2017