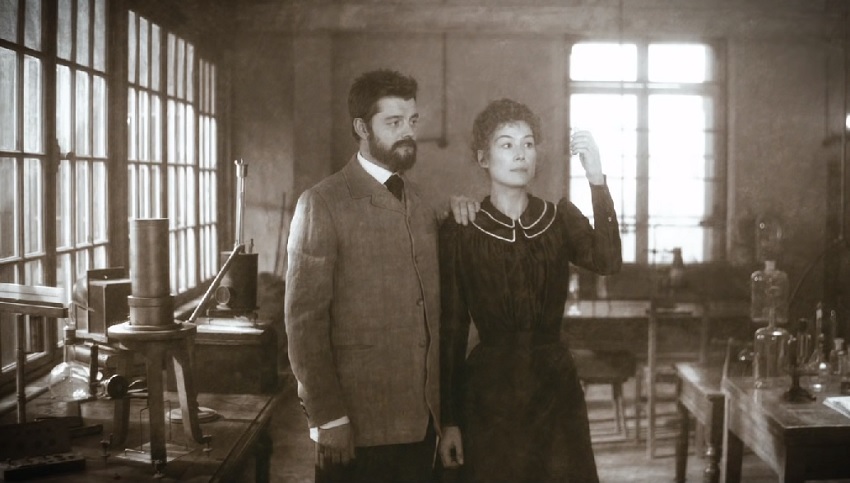 Radioactive is the upcoming biographical romance drama about the life of Polish-French scientist Marie Curie, but with a twist – it's based on the 2010 non-fiction graphical novel 'Radioactive: Marie & Pierre Curie, A Tale of Love and Fallout' by Lauren Redniss.
Curie led pioneering research into the theory of radioactivity (a term she coined) and techniques for isolating radioactive isotopes (which upended the idea that atoms were indivisible in the process), and, in tandem with her husband and fellow researcher Pierre, discovered the elements polonium and radium. She was the first woman to win a Nobel Prize, the only woman to win two, and the only person to win the prize in two different fields – namely physics and chemistry.
And she did so at a time when women were barely tolerated in the scientific community – so much so that at a presentation before the Royal Institution of Great Britain on their research only her husband was permitted to speak. She died in 1934 from aplastic anemia (where the body fails to produce enough blood cells) contracted from exposure to radiation during the course of her research, and of which they were not aware of the dangers at the time.
Rosamund Pike (Gone Girl) stars as Marie Curie, while Sam Riley (Pride and Prejudice and Zombies) stars as Pierre Curie in this movie directed by Marjane Satrapi (Persepolis, The Voices).
The lengthy plot synopsis is as follows:
Marie Curie is the only person ever to win the Nobel Prize in two different fields, physics and chemistry. Though she opened the door to understanding some of the most potent forces in the universe, her century-old story endures in another sense: she was a brilliant woman fighting simply to be heard, to claim her rightful place beside, not behind, her husband. In Radioactive, as played by Rosamund Pike, Curie is a woman with an unmatched mind, a clarion voice, and her own eternal fire.

When she lands in Paris from Warsaw at age 24, Maria Sklodowska is passionately curious, but impatient with lesser minds. Meeting the more established Pierre Curie (Sam Riley) could be her salvation, but Maria — now Marie — proves disastrous at flirting and small talk. Yet even as the two argue, they recognize a mutual attraction. Soon Pierre and Marie agree to not just work together, but to marry. As they push their scientific investigation forward, the Curies unlock forces far beyond their control.
Let's take a look:
Thanks to some surreal visuals this is certainly a unique biographical drama, and that immediately piques my interest – most movies of this type struggle to attract my attention because they're often so dull and earnest. It also doesn't hurt that it looks damn good, with the period-piece setting looking authentic (as you'd expect in a standard biographical drama) and a powerful performance from Rosamund Pike.
The unique visual aesthetic of the movie, thanks to it being based on a graphical novel, has also given them license to play around with some historical accuracy (such as Curie witnessing the destructive power of her discovery even though she died before it was harnessed) while still remaining true to the core of the story.
What do you think?
Radioactive is due to open sometime next year. It also stars Anya Taylor-Joy, Aneurin Barnard, Simon Russell Beale, Ariella Glaser, and Indica Watson.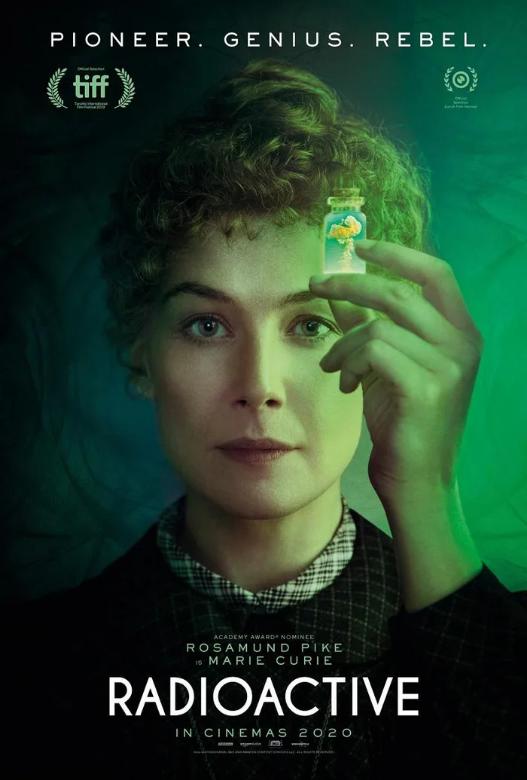 Last Updated: September 16, 2019