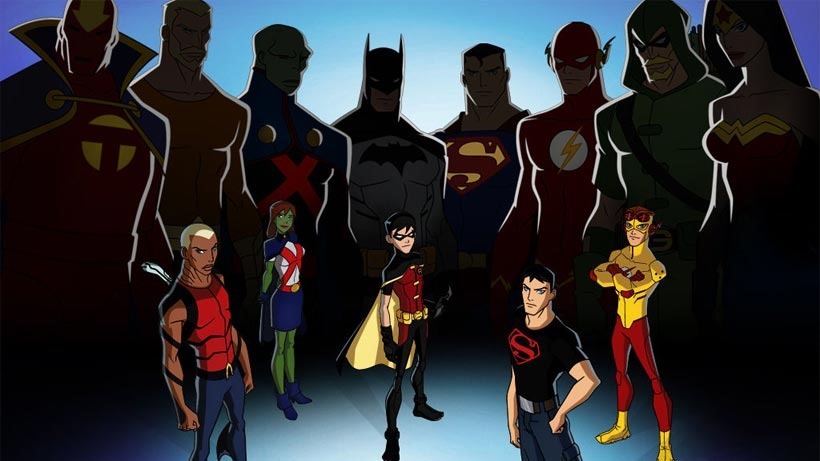 Netflix used to be a service where you could chill out for a weekend and spam an entire marathon of TV series while ignoring the crushing pressures of life. At least for a weekend. They're still mostly that, and more lately. Netflix as a platform for movies and TV series, is also becoming home to some excellent original content, like that lovely Narcos show about that Columbian fellow who establishes an empire backed by the sales of baking flour. I think, I can't read subtitles that quickly.
But as a platform that has the cash to bring back dead TV series? Now that's something special. Netflix is already flexing some of that necromancy with a new series of Full House, dubbed Fuller House because apparently somebody demanded that Dave Coulier be given a paycheck for making goofy sounds again. But Netflix is apparently looking at bringing back a series that really deserves a resurrection: Young Justice.
If you never watched Young Justice, then you missed out on one of the greatest animated TV series of all time. Imagine a show, centered on the next generation of heroes in the DC universe that was equal parts exciting and serious. Sort of like the polar opposite of Teen Titans Go then. It had a decent run, lasting from 2010 until 2013 and stretching over two seasons for a grand total of 26 episodes.
And then it got cancelled, because of a failing toyline. Although did you ever see the action figures for Young Justice? They look they were designed in a sweatshop by underpaid children that had lost several limbs while in the process of putting McDonalds Happy Meals together.
Anyway, the latest rumour comes hot on the heels of writer/producer Greg Weisman calling for fans to start streaming some Young Justice episodes on Netflix:
RT! #YoungJustice S1 AND S2 now on Netflix! Want YJ S3? One of best things u can do is watch ALL eps over & over on Netflix. Or buy BluRays!

— Greg Weisman (@Greg_Weisman) February 2, 2016
A few weeks later, and Aqualad's voice actor Khary Payton has also hit Twitter to share some good vibes:
So who's binge watching #YoungJustice on @netflix? #AskingForAFriend

— Khary Payton (@kharypayton) February 11, 2016
I've heard absolutely nothing official, but for some reason, I have a REAL GOOD FEELING about #YoungJustice season 3!!!

— Khary Payton (@kharypayton) February 11, 2016
It's all up in the air at this point, but dammit, I want this to be true and greenlit. Like I said, Young Justice was equal parts action and character development. It's the kind of show that pulled no punches, and didn't treat its audience like a collective of potential action figure consumers. Also, it brought back Lobo for a wonderfully short fight between the biggest bastich around and a tag team of Wonder Girl and Batgirl. FRAGGIN' AWESOME!
Now if you'll excuse me, I'm going to binge the hell out of this series on several Netflix accounts.
Last Updated: February 18, 2016