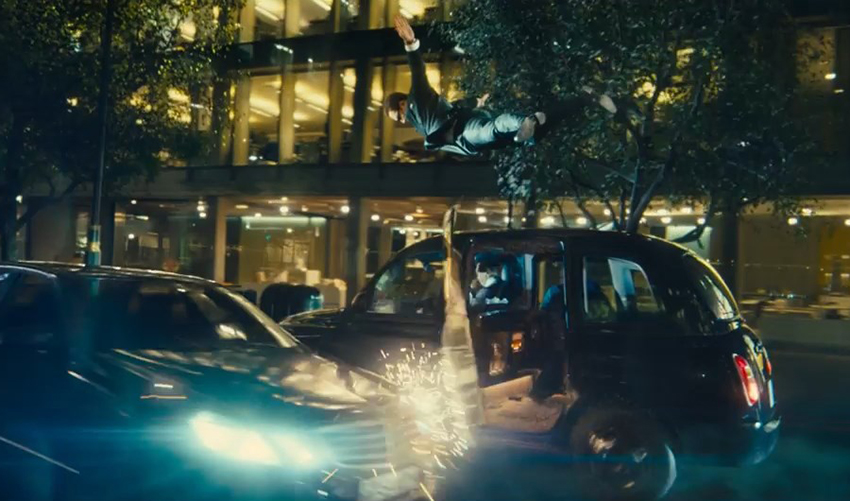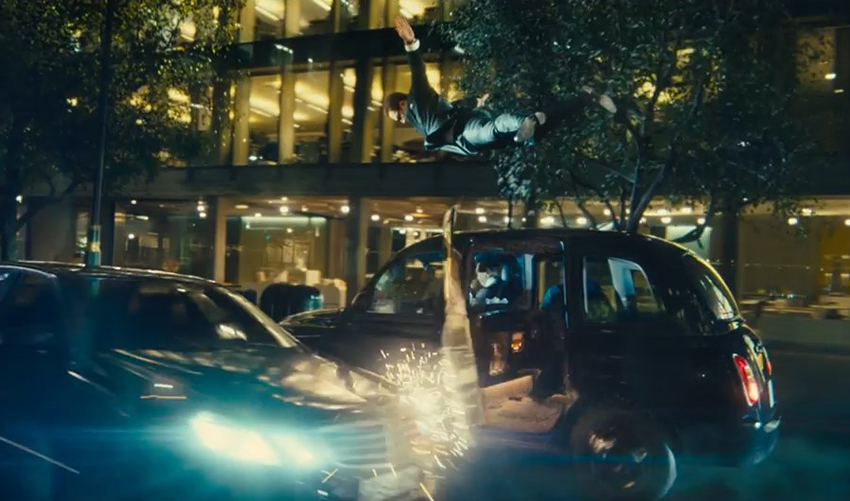 It's Comic-Con weekend, and it looks like the Kingsman are kicking things off early! Though San Diego Comic-Con only starts properly tomorrow, there are some events held tonight already. One of these will see The Kingsman: Golden Circle stars Taron Egerton, Colin Firth, Halle Berry, Channing Tatum, Jeff Bridges and Pedro Pascal, as well as screenwriter Jane Goldman and legendary comic book artist Dave Gibbons who drew the Mark Millar penned comic that this franchise is based on, hitting the famous Hall H for a panel on the upcoming sequel. Returning director Matthew Vaughn and villain Julianne Moore will not be in attendance, but to make up for that a brand new trailer has been debuted!
Well, actually trailers – plural – as this new preview comes in both red-band (aka with some naughty words and violence) and green-band (family friendly) flavours. You can check out the two variants below, both of which are looking superb as the English gentleman spy organisation introduced in the 2014 breakout blockbuster goes across the pond to hook up/tussle with liquor obsessed American counterparts.
F–k yeah indeed, Mr. Tatum! How good does that look?! I like that Vaughn is not toning down this sequel one bit and we still have all those kinetic, flowing action sequences, using crazy tools and weapons. This trailer completely glosses over the unexplained return of Colin Firth who you may recall took a bullet to the face in the previous film and was appropriately assumed dead. This movie does have an lazer lasso and cologne grenades, so bringing characters back from the dead is just par for the course, I guess.
Along with the new trailer(s), a series of character posters were also revealed recently, showing off how these characters are suited, booted and deluded.
The Kingsman: Golden Circle will also star Michael Caine, Vinnie Jones, Sophie Cookson, Michael Gambon and Sir Elton John. Yes, that Sir Elton John. It is scheduled for release on 22 September 2017. Here's the full official synopsis:
Kingsman: The Secret Service introduced the world to Kingsman – an independent, international intelligence agency operating at the highest level of discretion, whose ultimate goal is to keep the world safe. In Kingsman: The Golden Circle, our heroes face a new challenge. When their headquarters are destroyed and the world is held hostage, their journey leads them to the discovery of an allied spy organization in the US called Statesman, dating back to the day they were both founded. In a new adventure that tests their agents' strength and wits to the limit, these two elite secret organizations band together to defeat a ruthless common enemy, in order to save the world, something that's becoming a bit of a habit for Eggsy…

Last Updated: July 20, 2017