Spring is in the air , and if you suffer from hay fever you're probably heavily medicated and hiding indoors right now. But that's actually a good thing because it gives you plenty of time to watch movies, and the September DVD haul from Ster Kinekor Entertainment is an especially big one. Look out for our full reviews of some of these releases in the coming weeks.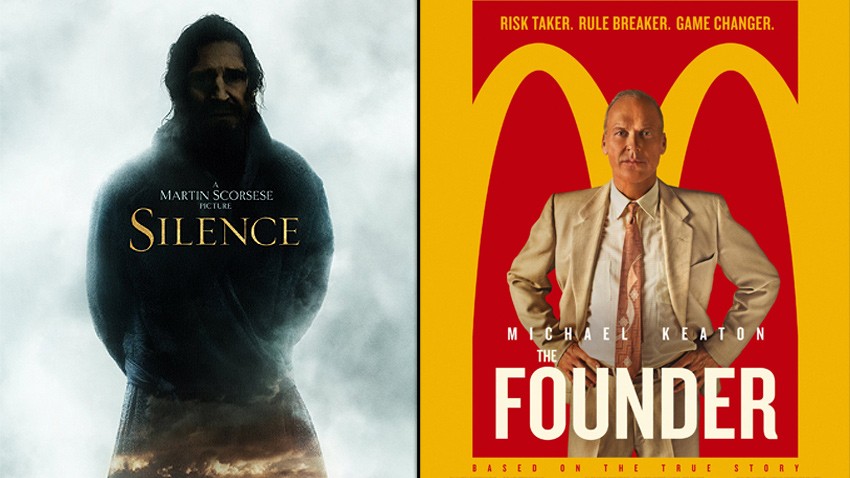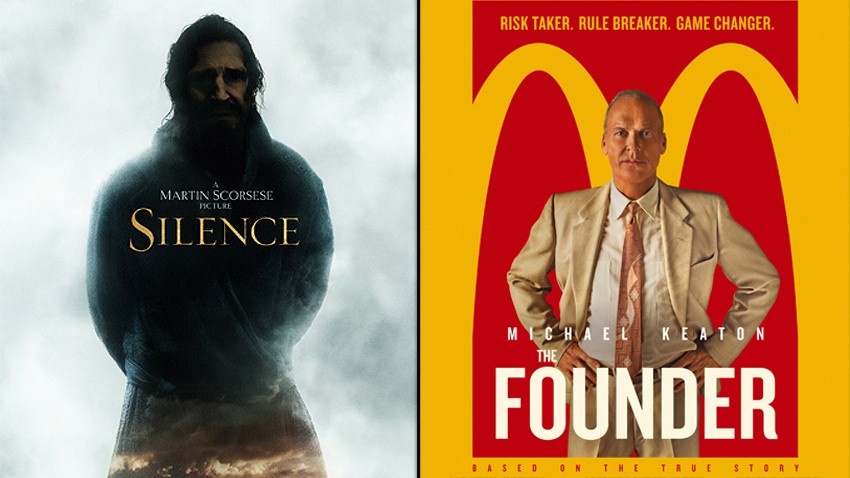 Silence
Genre: Historical Drama
Two Jesuit priests, Sebastião Rodrigues (Andrew Garfield) and Francis Garrpe (Adam Driver), travel to seventeenth century Japan which has, under the Tokugawa shogunate, banned Catholicism and almost all foreign contact. There they witness the persecution of Japanese Christians at the hands of their own government which wishes to purge Japan of all western influence. Eventually the priests separate and Rodrigues travels the countryside, wondering why God remains silent while His children suffer.
Silence is director Martin Scorsese's biggest passion project of the past three decades. It didn't score much Oscar love this year but reviewers have called it a stunningly shot and thought-provoking examination of faith. It's apparently a heavy and challenging three hours though.
Rotten Tomatoes: 84%
Metacritic: 79
The Founder
Genre: Biographical Drama
The true story of how Ray Kroc (Michael Keaton), a salesman from Illinois, met Mac and Dick McDonald, who were running a burger operation in 1950s Southern California. Kroc was impressed by the brothers' speedy system of making the food and saw franchise potential. He maneuvered himself into a position to be able to pull the company from the brothers and create a billion-dollar empire. The film also stars Laura Dern as Ray Kroc's first wife Ethel; John Carroll Lynch as Mac McDonald and Nick Offerman as Dick McDonald.
The Founder's success rests on a superb performance by Michael Keaton as slippery, ultra-driven Kroc. The movie is an entertaining and engrossing character study, although some reviewers have complained that it never digs deeply into the awfulness of real-life events. A solid watch.
Critical Hit: 7.5/10
Rotten Tomatoes: 84%
Metacritic: 66
Gold
Genre: True-life Drama / Crime
Kenny Wells (Matthew McConaughey), a prospector desperate for a lucky break, teams up with a similarly eager geologist and sets off on an amazing journey to find gold in the uncharted jungle of Indonesia. Getting the gold was hard, but keeping it would be even harder, sparking an adventure through the most powerful boardrooms of Wall Street. Also with Bryce Dallas Howard, Edgar Ramírez.
Gold seems to be in the same vein as Tom Cruise's American Made, currently on circuit. A physically transformed McConaughey gives another award-worthy performance, but it's not enough to sustain an uneven movie that haphazardly jumps tone and genre. It's also not especially involving despite the talent involved.
Rotten Tomatoes: 43%
Metacritic: 49
Bleed For This
Genre: True-life Sports Drama
Vinny "The Pazmanian Devil" Pazienza (Miles Teller), a local Providence boxer, shot to stardom after winning two world title fights. After a near-fatal car accident leaves Vinny with a broken neck, he is told he may never walk again. Against all odds and doctor's orders, renowned trainer Kevin Rooney (Aaron Eckhart) agrees to help Vinny return to the ring just a year after the accident for what could be the last fight of his life.
Like all boxing movies, Bleed For This contains its share of cliches. However, its realistic approach and a career-best performance (to date anyway) from Miles Teller make it worthwhile. It's not exceptional, but satisfies as a feel-good "triumph over adversity" tale that avoids the schmaltz.
Rotten Tomatoes: 71%
Metacritic: 62
The Sense of an Ending
Genre: Drama / Mystery
Tony Webster (Jim Broadbent) leads a reclusive and quiet existence until long buried secrets from his past force him to face the flawed recollections of his younger self, the truth about his first love (Charlotte Rampling) and the devastating consequences of decisions made a lifetime ago.
Novel adaptation The Sense of an Ending is definitely not one for the popcorn blockbuster crowd. It's been described as a mature, classy and thoughtful examination of the relationship between memory and time. Intriguing, and elevated by the performances of its cast – Broadbent especially, in a rare lead role for the character actor.
Rotten Tomatoes: 73%
Metacritic: 61
The Marine 5: Battleground
Genre: Action
While working as an EMT back stateside, Jake Carter after responding to a distress call, finds himself caught up protecting a person of interest from a biker gang ruthlessly hunting them down. With WWE stars Mike "The Miz" Mizanin, Maryse Ouellet Mizanin, Curtis Axel, Heath Slater, Bo Dallas and Naomi.
On the opposite end of the spectrum to The Sense of an Ending is this R-rated actioner from WWE Studios. There are no Rotten Tomatoes or Metacritic scores for this straight-to-DVD release, but apparently it's a decent throwback to those trashy, braindead actioners of the 80s and 90s.
We Don't Belong Here
Genre: Family Drama / Mystery
Every family has secrets but the Green family is different – its secrets run deep. When Max (Anton Yelchin) goes missing, his mother (Catherine Keener) and three sisters (Riley Keough, Kaitlyn Dever and Annie Starke) learn that a dark past haunts more than one of the Green siblings.
We Don't Belong Here is most notable for being the last movie to star Anton Yelchin before his tragic death. Sadly, this straight-to-DVD release is a terrible swansong for the young actor. According to a handful of IMDB reviewers it's frustratingly slow-burn, with robotic, mumbling characters and a convoluted plot involving precognition of all things.
Johnny Is Nie Dood Nie
Genre: Drama
It is 2002. The lead singer of the Gereformeerde Blues Band, Johannes Kerkorrel, just committed suicide. A group of friends gather to celebrate his life and the passing of an era. Through flashbacks and voice overs we re-live the rise of the Voëlvry movement and the rebellion of young, Afrikaans students in the build-up to the fall of the National Party. We share in the friends' confusion of being young and finding their place in the world.
Faaaaar removed from Afrikaans romcom fluff, play adaptation Johnny Is Nie Dood Nie is a sophisticated and potent examination of such topics as political awakening, and youthful idealism vs. the compromise of age. Local reviewers have typically scored this South African movie 8/10 and upwards.
Heartbeats
Genre: Dance / Romance
When a bubbly American hip hop dancer goes to India with her family for a wedding, she is impressed by a new dance style and falls in love with the man who introduced her to it.
There are few reviews online to gauge opinion on Heartbeats, a fusion of Hollywood and Bollywood from the writer-creator of the Step Up series and Save the Last Dance. Evidently if you enjoy this kind of thing, it's watchable, but largely uninspired.
The Swan Princess: Royally Undercover
Genre: Animation / Musical
After mysterious visitors arrive in the Kingdom, Princess Alise, Lucas and their friends go undercover on a secret spy adventure to see if they can be trusted. They will need all of their superior detective skills as well as some super cool gadgets to solve the royal mystery and save the Kingdom.
They've been churning out Swan Princess movies since 1994, and Royally Undercover is the seventh in the series. It's also, apparently, one of the better entries in the franchise, with a down-to-earth heroine, and a serious upgrade to its CGI-animation. Strictly for the kidlets though.
Last Updated: September 11, 2017