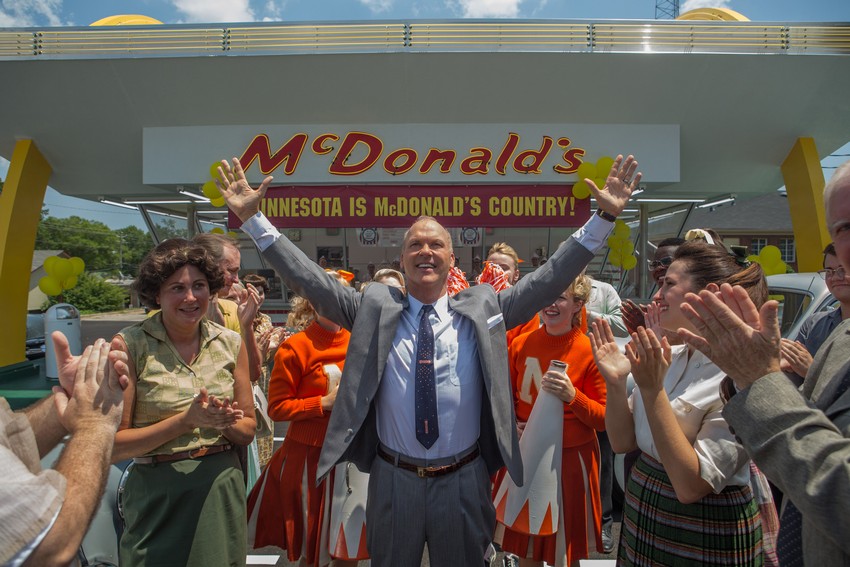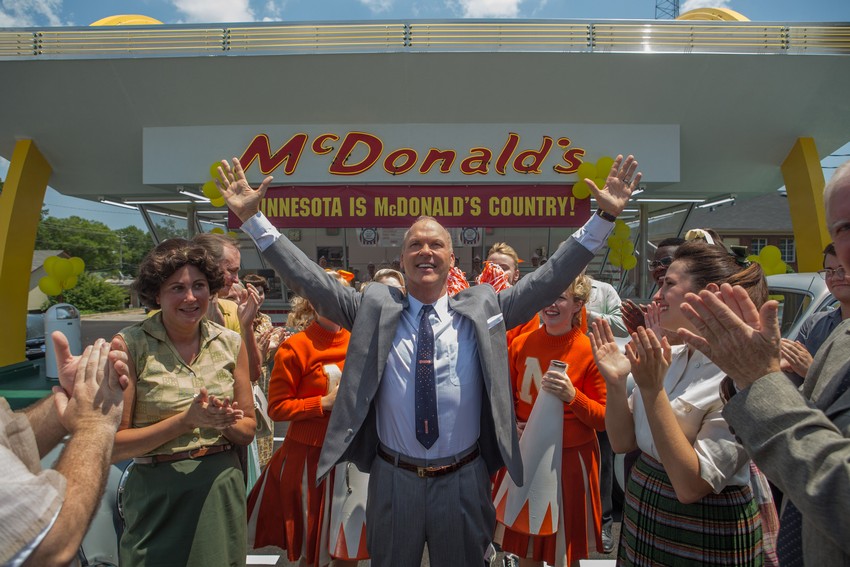 Biopics often sugarcoat the characters they portray, opting instead to tread the safe line that won't upset anyone too much. I mean the last thing you want is the family coming at you, right James Cameron? I was curious to see how writer Robert D. Siegel (The Wrestler) and director John Lee Hancock (The Blind Side) would deal with the egregious businessman Ray Kroc. Would they put a happy spin on the milkshake machine salesman or would they portray him as some repugnant human who created the whole mess we call the fast food industry? The Founder tends to veer between these two sentiments, at times revealing a vulnerable human side and at others a hard, remorseless megalomaniac worthy of our contempt.
Set between the 50s and 60s the film charts the rise of McDonald's mogul and fast food pioneer Ray Kroc, played by the legendary Michael Keaton. I honestly can't think of a better fit for the role as he steals every scene he's in, eating it up like a soon to be diabetic kid in a, well, McDonald's. Keaton brings an intensity to the role that exudes a sort of desperation; a hunger to have something that is just out of reach at practically any cost. You have to give Kroc his due – through a chance encounter selling more machines than he's ever done, he meets Mac (John Carroll Lynch) and Dick McDonald (Nick Offerman), and forever changes our perception of a 'quick bite'.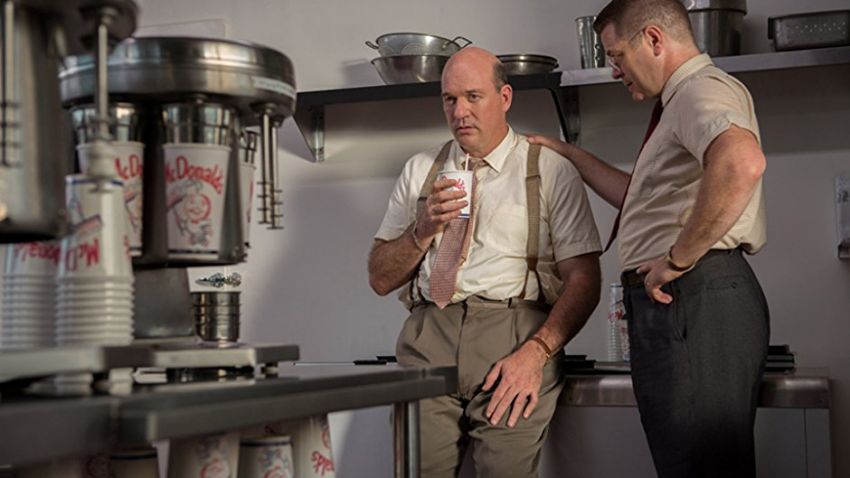 You see it's actually Mac and Dick who we can thank for the '30 second burger meal'; they were the pioneers who invented the rather cutely named 'speedy system' that so caught our anti-hero's attention. One thing The Founder does to the point of nausea though is portray the brothers as anything but the cutest and possibly most innocent lads in the country. I am sure to a certain degree they were, especially when juxtaposed next to the almost tyrannical Kroc and his scheming. This balancing act of 'he is being mean to them' and 'well, they don't want to grow, let him' works though.
Keaton revels in his role as lowly salesman turned franchise creating, land-grabbing bastard and we find ourselves slightly sickened at our own fist bumping to his success, and the success he ultimately achieves. When we see his plans grow to fruition, done by a collage of different parties signing on to the franchise, we actually feel really happy for him. It's also nice to see how he actually believed in the idea. Keaton's looks of frustration at how certain chains are not maintained and his brash reactions show a man really wanting to make it work, this one last time. Well he goes the extra mile to make it work and his treatment of others, in particular his passive-aggressive treatment of long-suffering wife Ethel (Laura Dern), is borderline abhorrent and dialed up to 10 for us to see.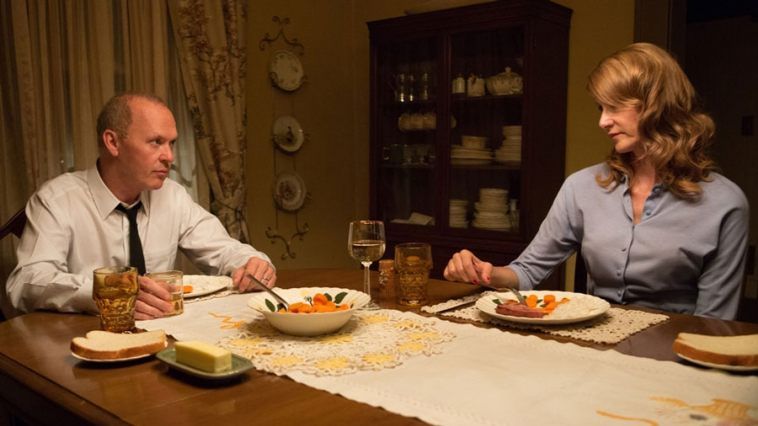 This is where I think the film falters, but only slightly. Kroc's relationship with his wife is most certainly needed in order to paint a picture of a man willing to go to any length for his own success. However, at times these moments feel a little forced. Scenes that demonstrate a frustrated Kroc and his demand to be supported, and very nearly worshipped, come off unnatural in their placement. Yes, we get that your wife thinks you are a bit of a failure, yes we can see no one takes fast food joints seriously, do we have to have grandstand moments to prove how this fuels you to show that?
In one scene Kroc sings a romantically charged duet (Pennies from Heaven) with Joan Smith (Linda Cardellini) in front of her now rightly nervous husband Rollie Smith (Patrick Wilson). It's a very obvious turning point in Kroc's consciousness that looks superb as he goes from running behind others to leading the dance and stealing the girl – but it stands out, and rather loudly, against the measured pacing of the rest movie due to its abrupt introduction. I preferred the slow moments of planned deception and outright stealing thought up by Kroc and his lawyer Harry J. Sonneborn (B.J. Novak). These sit more in line with the character: a scheming, planning businessman who was willing to sign deals on handshakes, then walk away like nothing happened (which literally happens).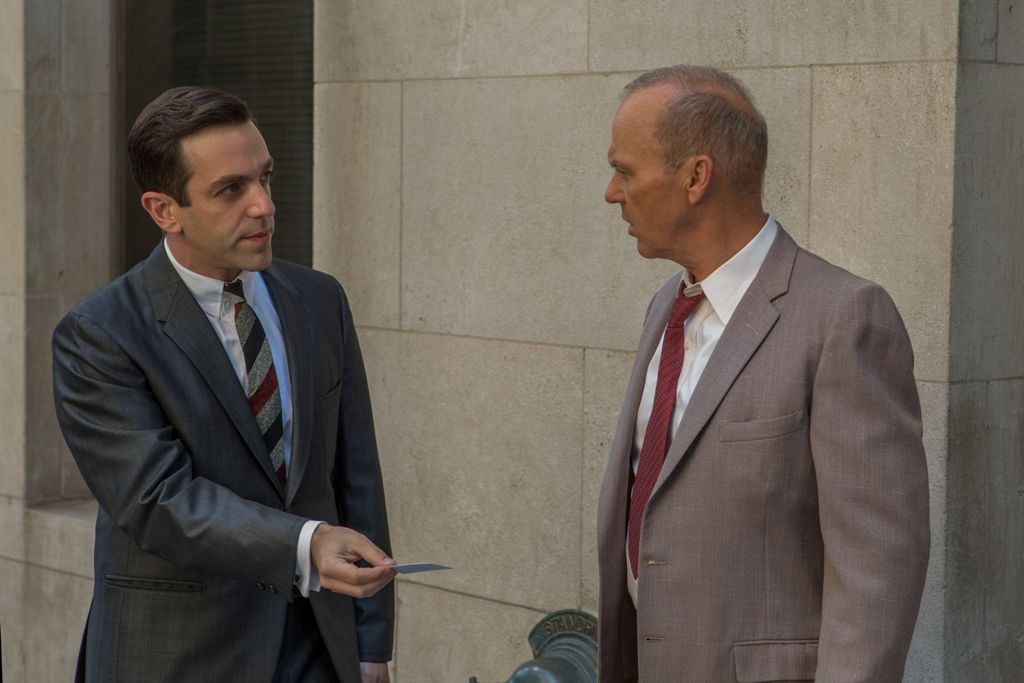 The Founder certainly paints Ray Kroc in a light, and not a pretty one. He is treacherous, backstabbing and downright loathsome in many regards. This wouldn't sit well with most audiences if we didn't get to enjoy it so much thanks to Keaton's superb performance. Really, I was grinning at things I shouldn't have been, that's how palpable his charisma is.
Director Lee Hancock also ensures that the scenery is absolutely stunning and shot in what almost looks like ultra-real colours. Blue, yellow and pink pastels pop out to create a very believable 50s and 60s that work perfectly with the music. Of course with a cast like this, in particular Laura Dern and Linda Cardellini, anything short of excellent would sour the pot which thankfully doesn't happen. The slightly inconsistent tone and occasionally boring moments take away from a movie that could have been otherwise great. With that, I'll happily recommend it as must viewing if you are a Keaton fan and if you are even slightly interested in how one of the largest business empires was founded.
Last Updated: May 26, 2017
The Founder

A fascinating insight into the rise of one of the most successful businessmen in America. Superbly acted by Micheal Keaton and only slightly let down by the inconsistencies of the narrative.