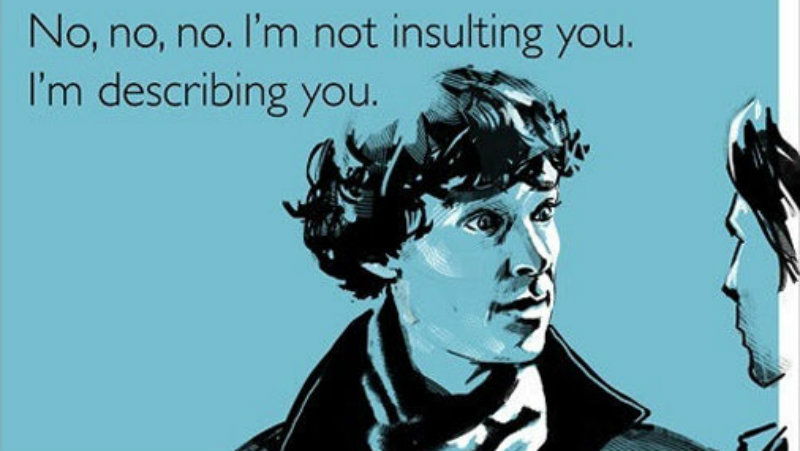 I went through a Sherlock Holmes phase a while back. I read the complete collection on my kindle, consuming as many of the original stories as possible. Then, I made a horrible mistake, bingeing on the BBC series Sherlock. It was on Netflix and I think it took me about a week to watch all three seasons of mini-movies. I loved it so very much, and then I realized the error of my ways – by bingeing on it, I had watched the whole thing and would need to wait for new episodes. Oh well, I thought, how long could the wait be? If only I'd known…
Thanks to the ridiculous popularity of the strangely magnetic Beezlebub Cragglethatch Benedict Cumberbatch, as well as Martin Freeman, I can only imagine the scheduling nightmare that ensued. Well, someone finally had their people talk to your people and filming is underway for Season 4. We even have pictures to agonize over. Here they are.
The new pictures reveal a first look at Toby Jones' Culverton Jones, the new baddie in the series that is pulled from "The Adventure of the Dying Detective". We also see Watson wearing his baby while Sherlock looks utterly befuddled by the tiny human. Wait, and does Watson have a dog now? Plus it's great to see Mycroft again; I really hope that they do more with him this season as I find his character utterly intriguing.
Season 4 is set to premiere in the US and UK on 1 January with an episode titled "The Six Thatchers". Between this and the Christmas episode of Doctor Who, my anglophile TV viewing should be much improved over the holiday period. Now to just count down the days until the end of the year… Oh wait, it's not even that long to wait anymore. Huzzah!
Last Updated: November 24, 2016