This article was sponsored. The editorial and content is entirely created in-house, unless otherwise specified.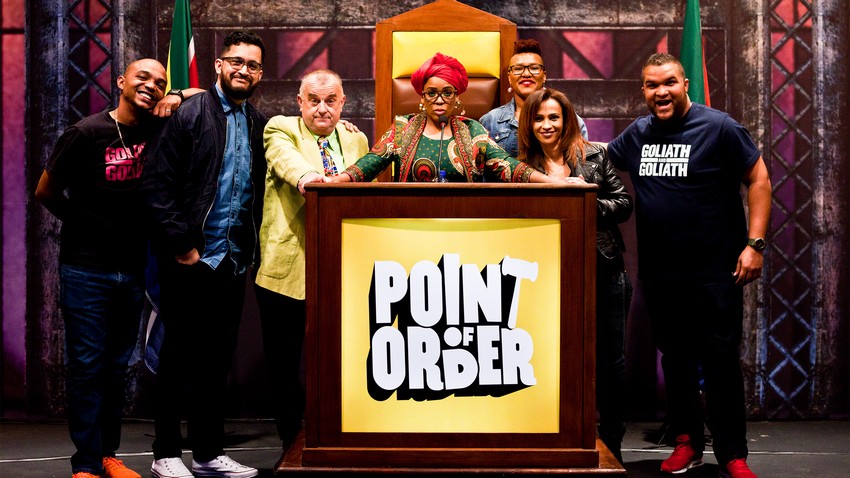 Full disclosure: I had a whole other first half of this article all written up, and then the paradigm-shifting events of the last few days happened. Matamela Cyril Rhamaposa is the new President of the Republic of South Africa. For many, this is a massive time for celebration, while for ex-President Jacob Zuma's staunchest supporters I'm sure there's a fair bit of simmering unease and anger.
Unease that won't be going anywhere right now. As wonderful as South Africa can be, it is also a country that still has plenty of prickly and incensing sociopolitical issues to work through. Luckily for us though, next to all the gold, platinum and diamonds, there's one other natural resource that we have in abundance: The ability to laugh about it all!
South Africa has always produced a slew of top comedic talent from all walks of life, offering their laugh-a-minute perspectives on our often very unique little corner of the world. And now hearing those humorous takes on the struggles of life in our rainbow nation could not be easier thanks to Showmax's excellent lineup of standup comedy.
Building on from Showmax's strong bouquet of Afrikaans content, Skerpsterts is an Afrikaans comedy show headlined by the hilarious trio of Schalk Bezuidenhout, Melt Sieberhangen and Hannes Brümmer. With quirky energy and frenetic jabs, the three funnymen poke fun at everything from the over-the-top vigour of Afrikaans pop singers to Afrikaans versions of popular reality TV shows (The Amazing Race just becomes "F*KKEN HARDLOOP!").
If you're a fan of Bezuidenhout – who hilariously proclaims himself to have been raised in a "bring-back-Apartheid" town next to the airport in Johannesburg – you can also catch the funnyman in one of the several Comedy Central "Live at Parker's" recordings that sees local comedians doing their thing at the legendary Parker's Comedy and Jive club. Since its inception in 2008, Parker's has become the de facto home of stand-up comedy in SA, but not everybody is able to attend the regular shows at the venue in Montecasino, which is why these recorded shows are so great.
Along with Bezuidenhout you will find the likes of David Kau, Jason Goliath and more all hosting evenings there, as they introduce a string of upcoming and established comedians.
If you want something a bit more raucous and funny-because-its-true though, then look no further than Point of Order, the award-winning game show based on the shenanigans of our very own South African parliament. Even more funny than the real thing (and that's really saying something with comic genius displays like these), Point of Order is a parliamentary parody which sees some of the country's biggest comedians and local celebrities compete for the attention of Madame Speaker Tumi Morake as they engage in side-splitting debates about serious topics that have gripped the country.
Coming from the minds of Both Worlds, the creators of the two-time International Emmy nominee ZANews' Puppet Nation, Point of Order kept up that pedigree by winning the Best TV Game Show award at the SAFTA's last year, with Morake also being nominated for her work as Best TV Presenter. Guests include DJ Fresh, Zapiro, Leanne Manas, Mpho Osei-Tutu, Jeannie D, Chester Missing, Tim Noakes and more. Random and unscripted but always funny, Point of Order is a great way to see the lighter side of some of our country's political absurdities.
These aren't the only local bits of humour on Showmax though. Suzelle DIY's mockumentary series Tali's Wedding parodies all those bridezilla shows, Hotel sees Schalk Bezuidenhout (again!) leading this SAFTA-nominated sitcom about the comings and goings of a platteland boutique hotel, while Die Radio Raps Show gives the Afrikaans internet sensation a weekly platform for his antics. There's even a selection of classic local series like Orkney Snork Nie, Vetkoek Paleis, Spies en Plessie and more, if your tastes lean towards the retro. All in all, something for everybody to laugh at.
Last Updated: February 16, 2018