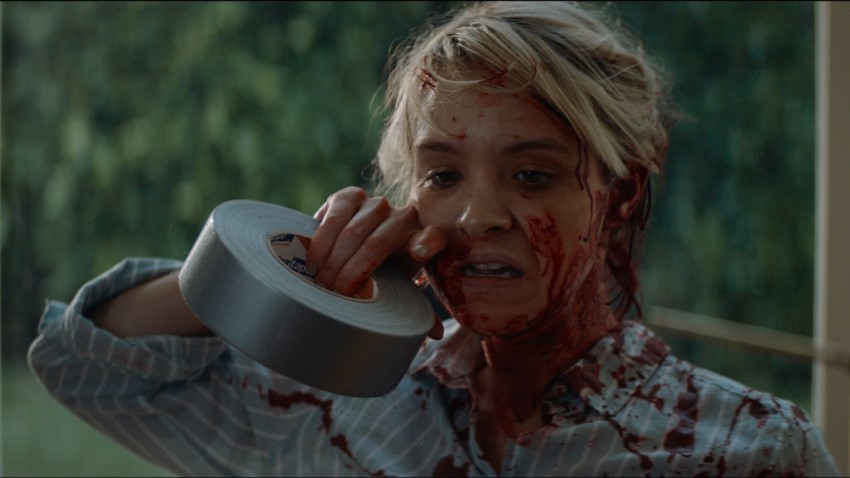 Lucky is Shudder's upcoming horror thriller that's throwing us for a time loop. Directed by Natasha Kermani (Imitation Girl), it was written by and stars Brea Grant (Heroes, Dexter).
Grant plays a regular married woman who's shocked to discover that she's not only trapped in a time loop, but that at some point in the day she'll be attacked and possibly murdered by a mysterious man in a mask. To make matters worse all the people around her, including her husband, accept this as perfectly natural and show little inclination to help her stop what's happening.
The official plot synopsis is as follows:
Life takes a sudden turn for May (Brea Grant, After Midnight), a popular self-help book author, when she finds herself the target of a mysterious man with murderous intentions. Every night, without fail he comes after her, and every day the people around her barely seem to notice. With no one to turn to, May is pushed to her limits and must take matters into her own hands to survive and to regain control of her life.
Let's take a look:
I think my favourite part of this trailer is just how nonchalantly everyone (except for May, obviously) treats this rather messed-up situation – like it's just a normal and accepted part of their lives because they're not the ones being violently attacked and possibly murdered every night. Pretty much like real life, now that I think of it.
Lucky is billed as a horror thriller, but this really strikes me as more of a mystery because the main focus of the movie seems to be on solving the mystery behind the time loop and finding out how to escape it, and it doesn't look especially tense or scary while doing so – the whole concept of the time loop works against that I feel. Also, while Grant's performance looks decent I can't really say the same for the rest of the cast, most seemed quite stiff and awkward to me. But I like the movie's concept and I'm curious to see how the story plays out, so I think Lucky might still be worth a shot.
What do you think?
Lucky will premiere on on-demand service Shudder on 4 March. It also stars Yasmine Al-Bustami, Kristina Klebe, Kausar Mohammed, Dhruv Uday Singh, and Hunter C. Smith.
Last Updated: February 19, 2021