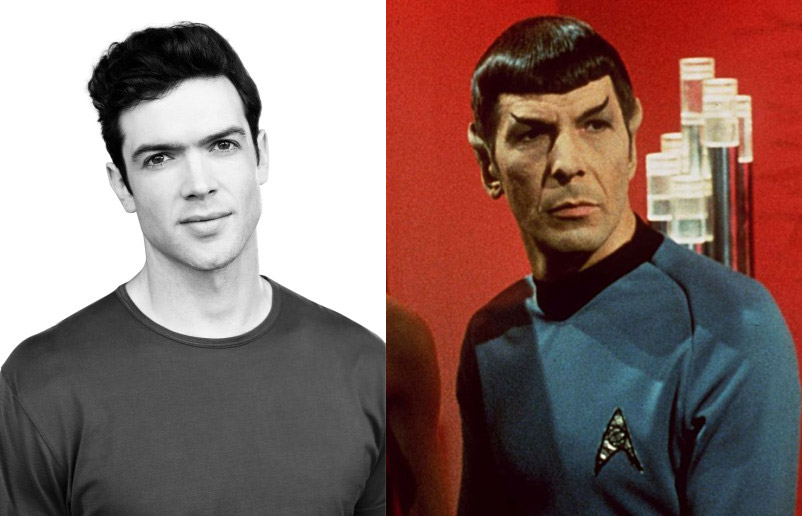 It's time for Star Trek: Discovery to boldly go where no Star Trek has gone before. Well, not on TV, at least, as Ethan Peck has been cast to play Mr. Spock in the show's upcoming second season. One of the more controversial narrative choices for CBS's revival of the legendary sci-fi franchise was to make Sonequa Martin-Green's lead Michael Burnham the foster-sister of Spock, the famed half-human/half-Vulcan science officer of the USS Enterprise originally played by the late great Leonard Nimoy in the classic series/movies. How had Spock had this foster-sister who was so heavily involved in massive key moments in Star Trek lore and just failed to mention even a hint of her before now? We still don't have the answers for that but maybe we'll get some now that the role has been cast.
The grandson of Hollywood legend Gregory Peck, Ethan Peck will be the second person to play a different version of Spock after Zachary Quinto brought another young version to life (damned well, I might add) in JJ Abrams' rebooted – and unrelated – modern movie series. Peck's been in the business for a while now, mostly doing smaller roles and video game voiceover work. His biggest gigs to date appear to be Andrew Niccol's 2011 sci-fi actioner In Time, and playing Patrick Verona (previously played by the late Heath Ledger) in the TV adaptation of 10 Things I Hate About You. However, as Discovery showrunner Alex Kurtzman explained in a press release, he had all the right qualities to be the pointy-eared alien.
Through 52 years of television and film, a parallel universe and a mirror universe, Mr. Spock remains the only member of the original bridge crew to span every era of Star Trek. The great Leonard Nimoy, then the brilliant Zachary Quinto, brought incomparable humanity to a character forever torn between logic and emotion.

We searched for months for an actor who would, like them, bring his own interpretation to the role. An actor who would, like them, effortlessly embody Spock's greatest qualities, beyond obvious logic: empathy, intuition, compassion, confusion, and yearning. Ethan Peck walked into the room inhabiting all of these qualities, aware of his daunting responsibility to Leonard, Zack, and the fans, and ready to confront the challenge in the service of protecting and expanding on Spock's legacy. In that spirit, we're thrilled to welcome him to the family.

It's uncertain just how much screen time Peck's Spock will be given in the upcoming second season of Discovery. The show takes place about a decade before the events of the original series in which Nimoy played Spock, but it's played very loose and fast with continuity – a major annoyance for certain sections of the fandom – so who knows what this younger Spock will be like here. He won't be the only classic era character to show up though, as Anson Mount will play Captain Pike, the original captain of the USS Enterprise before James T. Kirk stepped aboard.
Pike first appeared in the unused Star Trek: The Original Series pilot, before showing up in two iconic later episodes (and he was played by Bruce Greenwood in the 2009 movie reboot), but it appears that he will be taking on a considerable role in the upcoming second season of Discovery based on the first trailer for the show. Maybe Spock will also feature as heavily seeing as he was the USS Enterprise science officer at the time? We'll know when the show returns to our screens (here in SA, those screens being Netflix) sometime in early 2019.
Thanks to the Nimoy family for your open arms, warm welcome, smiling curiosity and support, for making me feel worthy, as I embrace and take into my heart the iconic half alien we know as Mr. Spock. It is an incomparable honor. ?? #StarTrekDiscovery #LLAP pic.twitter.com/jEXG1T253Z

— Ethan Peck (@ethangpeck) August 14, 2018
Last Updated: August 15, 2018