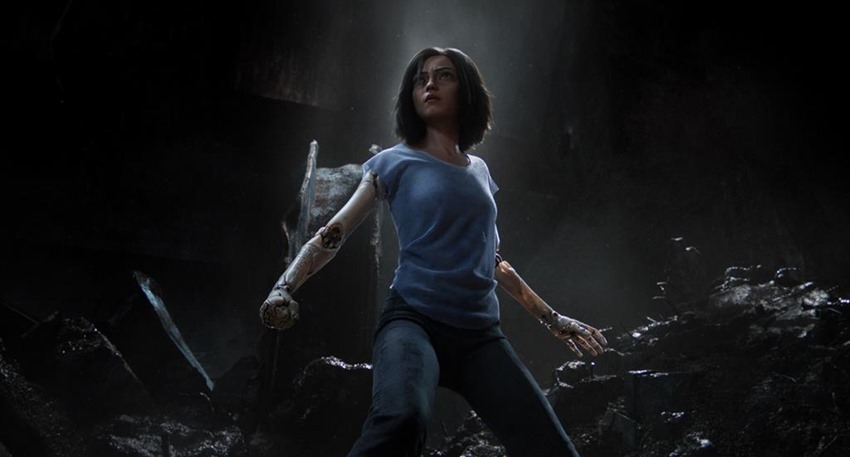 I can't stop staring at those damn eyeballs. There's a lot of stuff about Alita: Battle Angel that I am loving with every snippet of new footage released, but those damn peepers. Jeepers creepers, where'd she get them? Honestly, I should stop focusing on them, because on the one hand, this is how you do justice to the source material. This is how you look at a cult classic manga and anime series, and say "f*** it, let's embrace the weirdness".
I'm kind of happy that director Robert Rodriguez did go this route, because the end result looks an homage to its origins. There's some actual love and care in Alita: Battle Angel, a film which has been in development for decades ever since James Cameron got his hands on the project. Two trailers later, and Alita: Battle Angel is back with a third teaser that fleshes out the dystopian future that Yukito Kishiro created so many years ago in his beautiful manga. Check it out below:
When Alita awakens with no memory of who she is in a future world she does not recognize, she is taken in by Ido, a compassionate doctor who realizes that somewhere in this abandoned cyborg shell is the heart and soul of a young woman with an extraordinary past. As Alita learns to navigate her new life and the treacherous streets of Iron City, Ido tries to shield her from her mysterious history while her street-smart new friend Hugo offers instead to help trigger her memories.

But it is only when the deadly and corrupt forces that run the city come after Alita that she discovers a clue to her past – she has unique fighting abilities that those in power will stop at nothing to control. If she can stay out of their grasp, she could be the key to saving her friends, her family and the world she's grown to love.
DAMMIT THOSE EYES! Distracting, in your face…and a powerful window into the heart of a machine who very much possesses the kind of soul that I long since sold to the devil in exchange for a Tex chocolate that one day when I was peckish. Alita: Battle Angel is out next year on February 14 because nothing is more romantic than seeing robots utilise exotic limb-contorting martial arts with which to pummel one another into scrap metal. NOTHING.
Alita: Battle Angel stars Rosa Salazar, Christoph Waltz, Jennifer Connelly, Mahershala Ali, Ed Skrein, Jackie Earle Haley, Keean Johnson and at least an entire oil tanker of CGI saline solution for Alita's eyeballs.
Last Updated: November 15, 2018