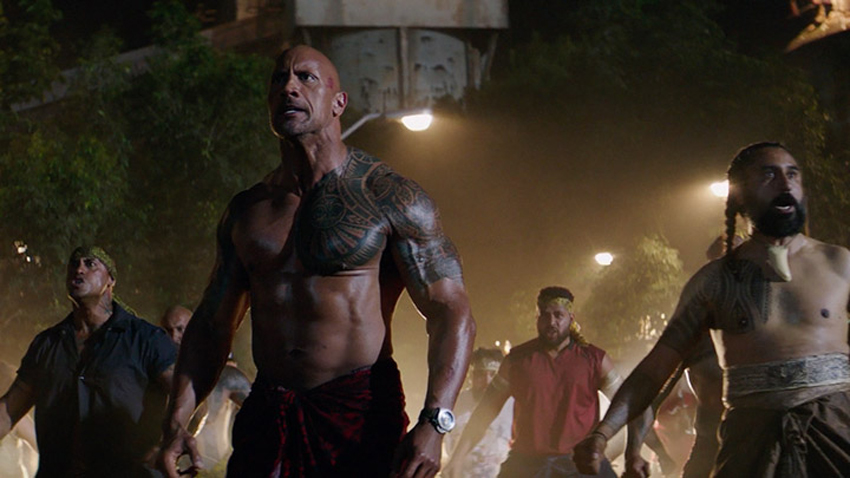 If the headline above was actually a perfectly accurate representation of my reactions, it should have read "The final trailer for Hobbs & Shaw is even more gloriously ridiculous than the already bonkers first two trailers and OMG I cannot wait have this streamed into my eyeballs!".
I'm not even going to bother wasting your time with a whole bunch of words, because I have a feeling this movie isn't going to either. All you need to know is that Dwayne Johnson's Agent Luke Hobbs and Jason Statham's sorta-criminal Deckard Shaw need to team up again to tackle Idris Elba's genetically engineered super-baddie Brixton. So yes, this is all just going to be bulging biceps, snarky one-liners, and over the top action. Including, apparently, one seriously cool transforming motorcycle. And axes. And The Rock seemingly out-muscling an attack helicopter. Check it out below.
Ever since hulking lawman Hobbs (Johnson), a loyal agent of America's Diplomatic Security Service, and lawless outcast Shaw (Statham), a former British military elite operative, first faced off in 2015's Furious 7, the duo have swapped smack talk and body blows as they've tried to take each other down.

But when cyber-genetically enhanced anarchist Brixton (Idris Elba) gains control of an insidious bio-threat that could alter humanity forever — and bests a brilliant and fearless rogue MI6 agent (The Crown's Vanessa Kirby), who just happens to be Shaw's sister — these two sworn enemies will have to partner up to bring down the only guy who might be badder than themselves.

Hobbs & Shaw blasts open a new door in the Fast universe as it hurtles action across the globe, from Los Angeles to London and from the toxic wasteland of Chernobyl to the lush beauty of Samoa.
Fast and Furious Presents: Hobbs and Shaw (yes, that's the terrible full title) is directed by David Leitch of John Wick and Deadpool 2 fame off a script from long-time franchise architect Chris Morgan with Drew Pearce (Iron Man 3, Mission: Impossible – Ghost Protocol). The upcoming spinoff also stars Vanessa Kirby, Roman Reigns, Eiza Gonzales, and Helen Mirren. It is scheduled for release on 2 August 2019.
Last Updated: July 1, 2019