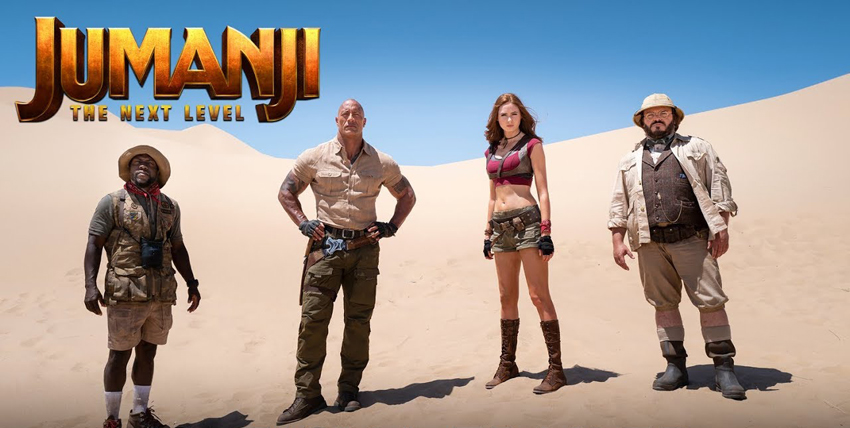 Listen, I really, really wanted to hate Jumanji: Welcome to the Jungle. When Sony announced all the way back in 2012 that they were going to "reimagine" and "update" the franchise that began with 1995's beloved fantasy adventure film Jumanji, hackles were immediately raised. Fans like myself became even more against the idea when Robin Williams, the beloved star of the original, tragically passed away in 2014. No way was any dumb studio mandated modern-day reboot going to tarnish his memory!
Of course, Jumanji: Welcome to the Jungle ended up not being a reboot at all, but rather a sequel set two decades later. What's more, it was stupid amounts of fun! While the follow-up was indeed updated for modern sensibilities, it was fueled by genuinely hilarious turns from its four main cast members – Dwayne Johnson, Kevin Hart, Karen Gillan, and Jack Black – and easily ended up being my biggest surprise of 2017. And now the sequel is getting… well, a sequel.
As revealed recently, the new third Jumanji film is officially titled Jumanji: The Next Level and we just got our first trailer for it! And as we see in this preview while the gang is all back together again, things are nothing like you remember!
In Jumanji: The Next Level, the gang is back but the game has changed. As they return to Jumanji to rescue one of their own, they discover that nothing is as they expect. The players will have to brave parts unknown and unexplored, from the arid deserts to the snowy mountains, in order to escape the world's most dangerous game.
Okay, I am definitely in for that! Even it's just to see Dwayne Johnson and Kevin Hart do respective Danny DeVito and Donald Glover impersonations!
Jumanji: The Next Level also stars Nick Jonas, Alex Wolff, Madison Iseman, Ser'Darius Blain, Morgan Turner, Awkwafina, and Rhys Darby. It is scheduled for release on 13 December 2019.
Last Updated: July 1, 2019