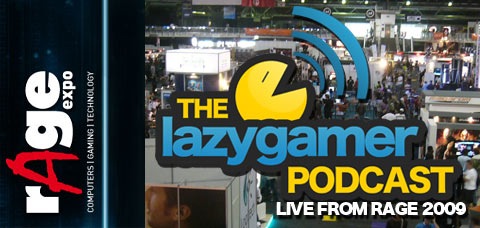 Welcome to the "don't miss this one" episode of The Lazygamer Podcast as we bring you an earlier than usual special episode from rAge 2009 that you won't want to miss out on.
We have a very special treat for our listeners this week. We recorded our podcast live from rAge 2009 and managed to get David Holse from 2K Games and Brent George from Ubisoft to come in and join us for an awesome podcast. For all you fans out there, we even managed to get our very own Geoff to join us as well!
With us also being so impressed with Megarom's stand this year, I also managed to get an interview with their marketing manager Jason Borea and have put it up right after the podcast.
This is our awesomest-er-est podcast so far and a good one to celebrate our 20th episode, so to all our readers that have not yet give the podcast a listen, now is the time!
Side Note (thanks to EvilRedZombie): If you are using a Blackberry phone and cannot download the podcast due to the 5mb restriction, download Opera Mini and everything will be sorted.
Write to us with your thoughts, or even if you just have something that you really want to say at podcast@lazygamer.co.za and if you have an interesting suggestion, topic or question, we may even read it on the podcast. It's just like being on TV, except it really isn't.
Don't forget to tell your friends, subscribe and rate us on iTunes and if you prefer downloading the MP3 directly, or want to stream it right now, you can do so below.
Last Updated: October 5, 2009