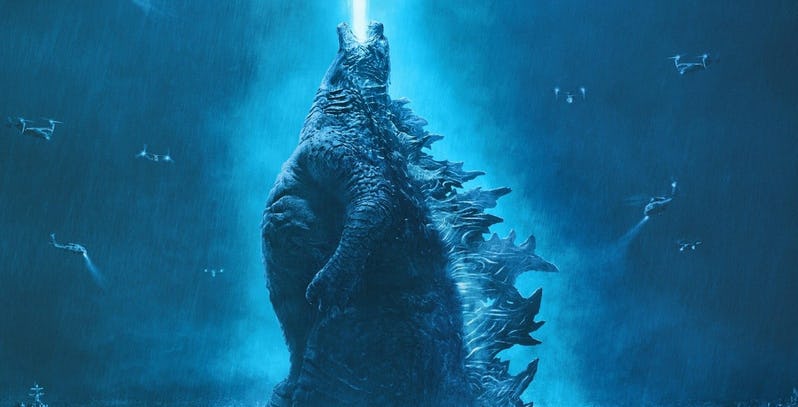 We can get so caught up on the Marvel and DC Cinematic Universes that it is easy to forget that here are other massive movie stomping grounds doing the rounds. Or at last attempting to establish themselves. In terms of the size of its characters, nothing is bigger than the MonsterVerse from Warner Bros., which features the likes of Godzilla and King Kong all trying to fight for space on our big screens which are infinitely too small for them.
It's not a world with just one oversized gorilla or giant lizard, but one with as many as 17 different Titans (the presence of which was set up by 2017's Kong: Skull Island) and creatures that could probably own wipe out humanity if they really wanted to. Thankfully though, in the upcoming Godzilla: King of the Monsters, they're less interested in wiping out mankind and more interested in trying to outdo each other so that the true alpha of them all can rise up. I guess given the name of the movie – we all know where this is headed:
Godzilla: King of the Monsters is co-written and directed by Michael Dougherty and serves as a follow-up to the Gareth Edward's directed reboot from 2014. Where that movie did its best to keep the character of Godzilla hidden, this movie already has us seeing the kaiju king in all its magnificence in the latest trailer, likely meaning that we will be seeing a lot more Godzilla action this time around. Something which makes me very excited.
The film has Ken Watanabe returning as Monarch scientist Dr. Ishiro Serizawa and also features Vera Farmiga as Dr. Emma Russell and Stranger Things' Millie Bobby Brown as her onscreen daughter, Madison. It's Brown's character in particular who is seemingly the focus of this trailer and so there is clearly some strange connection between her and that of Godzilla. A connection we're going to have to wait until May 31 to figure out.
Last Updated: April 24, 2019