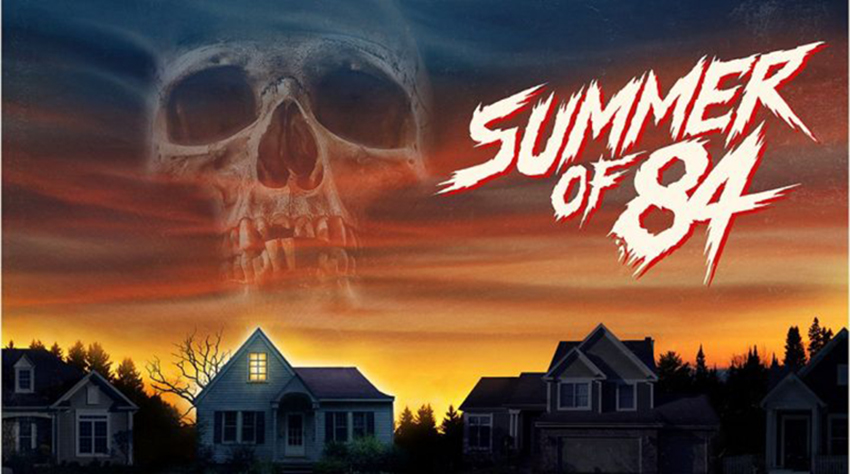 Thanks to pop culture phenomenon like Stranger Things and the new adaptation of Stephen King's It, 1980s nostalgia is at an all-time high. "All Time High", bee tee dubz, is also the title of a classic 1983 ballad by Rita Coolidge used as the theme song for Octopussy. I throw in this random bit of guilty pleasure trivia so that you know that my love of the 80s runs deep.
As such, I was all over this new trailer for upcoming retro slasher/coming of age flick Summer of '84 from the moment that incredible synth soundtrack kicked in, transporting me to an idealised version of my childhood. A childhood that was thankfully free of any serial killers in my neighborhood, which is more than the kids can say in this upcoming movie from RKSS (the collective name for the directing trio of François Simard, Anouk Whissell, and Yoann-Karl Whissell, the folks behind cult film festival darling Turbo Kid). And as can be seen in this new trailer for the film, Summer of '84 appears to tick all the right nostalgic boxes.
As Sam pointed a few weeks ago in his thinkpiece though, good nostalgic movies don't just rely on nostalgia alone to sell itself. It's still too early to tell how Summer of '84 will eventually stack up to that claim, although it does appear to have a loveable cast of losers and some fitting chills and thrills. Either way, until we get to see this ourselves, I'm just going to watch the trailer a few more times for those awesome synth retro feels.
Every serial killer is somebody's neighbor. For 15-year-old Davey, the thought of having a serial killer in his suburban town is a scary yet exciting prospect at the start of a lazy summer. In hormonal overdrive, Davey and his friends dream of sexual conquests until the news reports of the Cape May killer. Davey convinces his friends that they must investigate, and they uncover that his next-door neighbor, an unassuming, single police officer, could be the prime suspect. Could Davey possibly be right, or is it his overactive imagination?
Summer of '84 stars Graham Verchere, Judah Lewis, Caleb Emery, Cory Gruter-Andrew, Tiera Skovbye, Jason Gray-Stanford, Shauna Johannesen, and Rich Sommer. It's scheduled for limited release on 10 August.
Last Updated: July 5, 2018