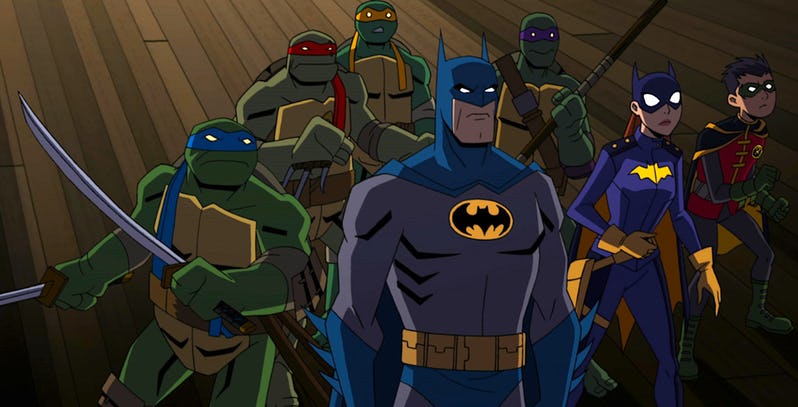 I'm going to admit that when I first heard of the idea of a Batman and Teenage Mutant Ninja Turtle cross-over movie, it didn't quite sit well in my head. While comic book cross-overs are not an uncommon occurrence, throwing in mutant turtles and intergalactic bad guys into a Gotham City which has always been a little grounded has always seemed like an odd choice to me. Not to mention the different tone of the comics and movies as I remember them.
However, Darryn and Kervyn, who are a little more familiar with these things than I am, assured me that this new idea of a crossover movie is actually a good thing and that the actual comic book series on which this new movie is based, is actually quite alright. I had to take their word for it, but now that a trailer for the movie has arrived, I can finally form my own opinion on whether this crossover will work or not.
And I hate to say it, but it seems like they were both right as this movie looks like a lot of fun. As different as they may be, the various personalities of the Ninja Turtles, Batman and his side-kicks could actually make for a lot of fun scenarios. And with the movie featuring a full range of bad guys from both comics, means that the action is bound to be epic. So much so that I think I just heard Darryn's squeal of excitement all the way from the mother city. Darryn's note: You're gosh-darn right Craig.
This Warner Bros. and Nickelodeon collaboration doesn't have a release date as yet, other than US Spring window. That's actually coming up pretty soon now that I've checked my calendar. Now I know the movie will have our crossover heroes teaming up and fighting bad guys, but I would be really interested to know who would honestly win in a straight-up fight between Batman and the Ninja Turtles. Batman may be cool and all, but having four freaky ninjas to contend with means my money is on them winning that brawl.
Who do you think would emerge triumphant if these heroes had a death battle?
Last Updated: March 14, 2019