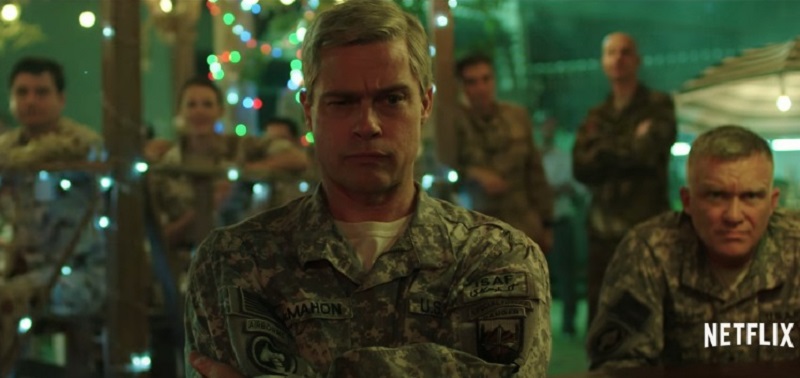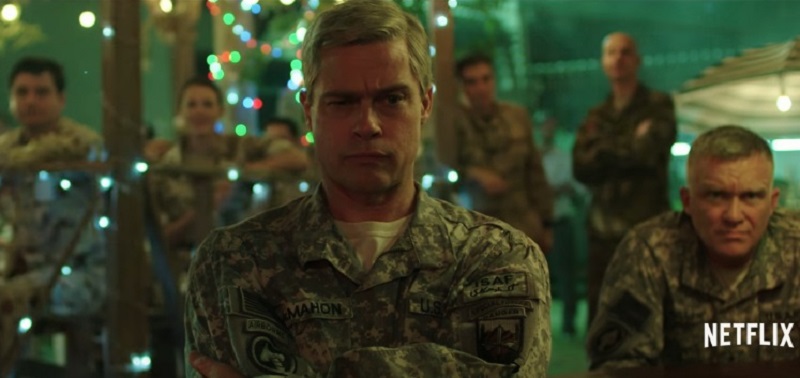 Contrary to popular perception, Brad Pitt is not much of a box office draw. Outside of a few films like World War Z and Mr & Mrs Smith, how many movies has he stars in are actually big successes at the box office? Yes, there was the Ocean's series, but that was an ensemble cast and probably more to do with George Clooney than Brad Pitt. Despite his lack of box office lustre though, he is a superb actor. And an eccentric one at that, not being afraid to take on unusual roles that are probably a little too weird to be accepted by mainstream audiences.
His new movie, director David "Animal Kingdom" Michod's original Netflix production War Machine, appears to be a more ordinary role on paper about an effort to redeem the war in Afghanistan.
I honestly love the approach Netflix has taken with this film. Turning a delicate situation into a comedy that essentially laughs at America. I thought we had the news channel for that. Pitt's performance looks a little oddball, but actually suits the style of this movie and with a host of accomplished actors including Emory Cohen, RJ Cyler, Topher Grace, Anthony Michael Hall, Anthony Hayes, John Magaro, Scoot McNairy, Will Poulter, Alan Ruck, Lakeith Stanfield, Josh Stewart, Meg Tilly, Tilda Swinton, and Ben Kingsley all adding their own unique take on the material, this should make for a fun film to look out for.
It's definitely not your traditional box office type fare from Netflix, which fits in perfectly with their model and Brad Pitt's style. War Machine is still due for limited release to the US cinema market though before its Netflix release on May 26. 2017. It's probably a movie better suited to TV, so we're not missing anything by not getting it at our local box office.
The full synopsis for War Machine is below:
In a film for our times, writer-director David Michôd (Animal Kingdom) recreates a U.S. General's roller-coaster rise and fall as part reality, part savage parody – raising the specter of just where the line between them lies today.  His is an anti-establishment, pro-soldier exploration in the form of an absurdist war story of a born leader's ultra-confident march right into the dark heart of folly.  At the story's core is Brad Pitt's sly take on a successful, charismatic four-star general who leapt in like a rock star to command NATO forces in Afghanistan, only to be taken down by his own hubris and a journalist's no-holds-barred expose. War Machine addresses the debt we owe to soldiers to question the purposes to which they are being directed.  
Last Updated: April 3, 2017