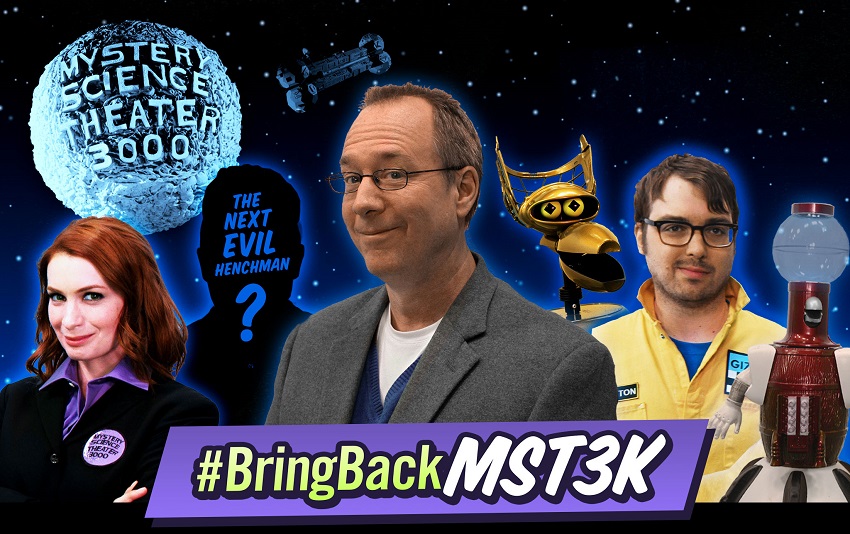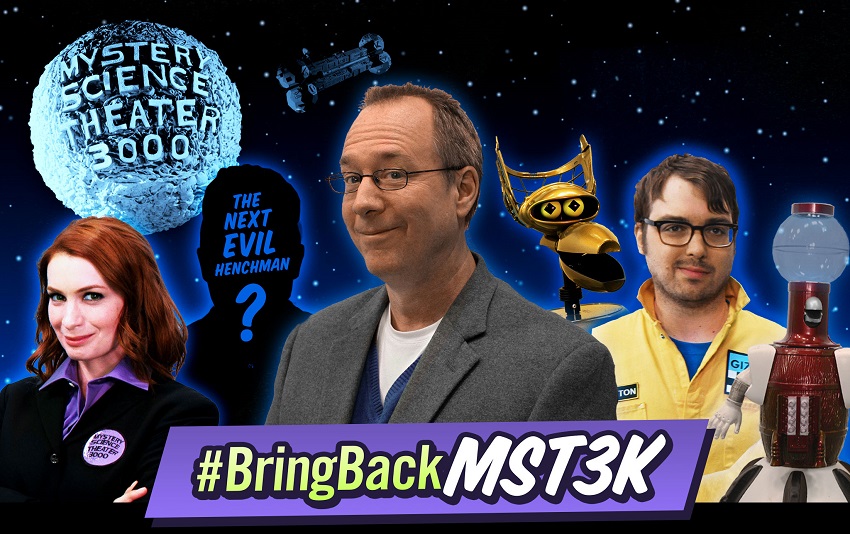 The Mystery Science Theater 3000 relaunch is a crowd funding success story. The beloved franchise launched its Kickstarter campaign back in November 2015 and smashed through its initial $2 million goal, ending up with slightly over $5.7 million in funding to produce new episodes. Those episodes are now heading to Netflix next month.
For those who don't know what the original show was about, like me, here's a brief summary:
Joel Robinson (played by show creator Joel Hodgson) is shot into space and forced to watch bad movies while mad scientist Dr. Clayton Forrester (Trace Beaulieau) and his crony, TV's Frank (Frank Conniff), monitor his mind, Joel builds a cast of lovable robot sidekicks to help keep his sanity: Crow, Tom Servo, Gypsy and Cambot. It's only through their wisecracks, quips and friendships that they make it through a barrage of increasingly terrible cinema–and the audience in turn gets a veritable treasure trove of gut-busting hilarity.
Here's what else you need to know about the show, faithfully copied from the press release because I'm energy efficient:
– The new season of Mystery Science Theater 3000 will be available exclusively on Netflix in the U.S., Canada, UK, Ireland, Australia and New Zealand.

– Original creator Joel Hodgson will be joined by comedian Jonah Ray ("Jonah Heston") as the new host and Felicia Day (Geek & Sundry) as "Kinga Forrester." Joel McHale and Dan Harmon have attached as writers. Additionally, Mary Jo Pehl ("Pearl Forrester"), Bill Corbett ("Crow T. Robot") and Kevin Murphy ("Tom Servo") from the original cast will reprise their roles in the new series.

– Elliott Kalan, Emmy-winning former head writer of The Daily Show, will serve as the new head writer on the revival.

– A Kickstarter starter campaign, spearheaded by Hodgson and Shout! Factory, surpassed the goal of funding the production of 14 new episodes and set the world record as the highest-funded film and TV crowdfunding campaign in history.

– Mystery Science Theater 3000's national broadcast life began in 1989. Set on the Satellite of Love where a human host is trapped by mad scientists with his two robot sidekicks and forced to watch an endless run of B movies. The format proved to be popular, and during its eleven years and 198 episodes on the Comedy Channel and Sci-Fi Channel, it attained a loyal fan base and critical acclaim, including a Peabody Award and two Emmys® nominations.
Somehow they overlooked Patton Oswalt appearing as the Forrester's henchman TV's Son of TV's Frank. It doesn't look like it'll be launching on Netflix locally, so if you want to watch it you'll need an international account and something that rhymes with "shmee ree wen". Anyway, on to the show:
That's some real low-budget cheese, and it's perfect considering it's essentially a show designed around watching low-budget cheese. We can see from the trailer that one of the movies they'll be watching is the 1961 Danish/American monster feature Reptilicus, which saw a regenerated giant prehistoric reptile going on a rampage through Denmark.
Mystery Science Theater 3000 will air its 14-episode-long 11th season on Netflix on 14 April.
Last Updated: March 23, 2017