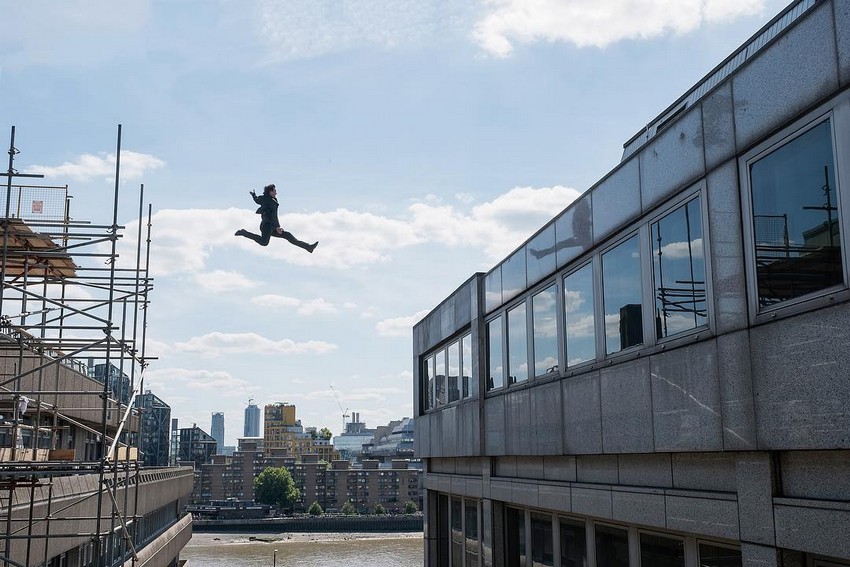 Water is wet. Grass is green. Tom Cruise is bat guano bonkers. These are simply stone cold, unequivocal facts of our existence. Thing is, even though we all know very well the 54-year old Cruise is certifiable, he keeps coming up with ways to remind us of this over and over again, as he pushes his body to breaking point with insane stunts on his movie.
This aspect took a very literal twist last year, when Cruise broke his ankle while doing a stunt for the recently titled Mission: Impossible – Fallout, delaying the production by months. At the time we only had some very shaky set footage of Cruise attempting the stunt – a rooftop to rooftop leap that would have Cruise's Ethan Hunt fall just slightly short so that he slams into the side of the building before pulling himself up. That appears to be exactly what happened, however Cruise then mysteriously limped off camera and collapsed. Later it was revealed that he had snapped his ankle and somehow just soldiered through the accident to finish the shot, but it was quite hard to figure out how he hurt his foot at all as it was his chest and arms that smacked into the building as planned.
Well, the mystery has now been revealed, and it may be too much for the more squeamish among you. Several members of the cast of the upcoming sixth Mission: Impossible – Rebecca Ferguson, Henry Cavill and Simon Pegg – joined Cruise on The Graham Norton Show recently, where the British talk show host revealed slow-mo footage of the incident as Cruise described what happened. Check it out below, but get ready to grimace.
Ow. Ow. Ow. Ow. Ow. Say what you will about Cruise as a person with his kooky religious beliefs and deranged couch jumping, but the guy has really put his body on the line to entertain us over the years. Mission: Impossible – Fallout is supposed to contain the biggest stunt the franchise has ever done – which is already saying something – and based on the fact that Cruise is alive (well, hologram technology has advanced pretty far) it looks like that one was at least pulled off successfully.
Mission: Impossible – Fallout is written/directed by Christopher McQarrie, returning after helming the critically acclaimed previous film, and also stars Alec Baldwin, Ving Rhames, Michelle Monaghan, Angela Bassett, and Vanessa Kirby. Here's the recently released synopsis:
The best intentions often come back to haunt you. Mission: Impossible – Fallout finds Ethan Hunt (Tom Cruise) and his IMF team (Alec Baldwin, Simon Pegg, Ving Rhames) along with some familiar allies (Rebecca Ferguson, Michelle Monaghan) in a race against time after a mission gone wrong. Henry Cavill, Angela Bassett, and Vanessa Kirby also join the dynamic cast.
Last Updated: January 29, 2018