Neill Blomkamp has proven that he is back to his sci-fi making best with the short films he's producing through his own Oats Studios. However, Oat Studio has not just been an opportunity for Blomkamp to flex those sci-fi muscles but has given him the opportunity to explore a wide number of genres and show that he has a lot more range than what he is usually given credit for.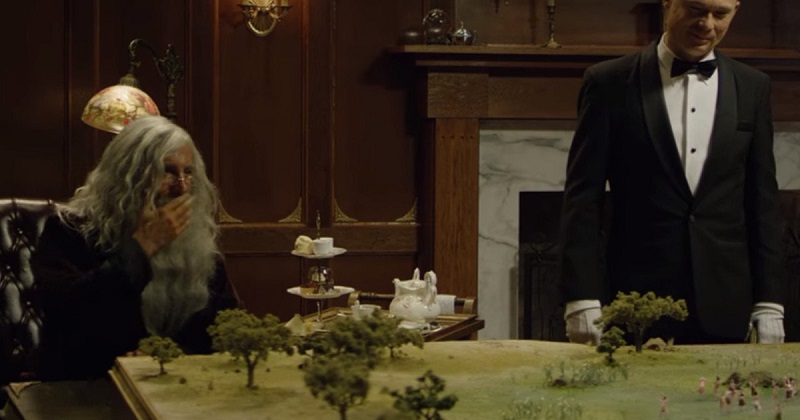 Blomkamp started it all off by releasing the impressive 20-minute movies Rakka (an alien invasion with Sigourney Weaver) and Firebase (a Vietnam war movie with monsters and advanced weaponry). There is another 20 minutes film on its way soon as well, in what looks set to be the rather gory Zygote. However, the studio is also releasing shorter 3-4 minutes skits on the side that are going to fall more into the genres of comedy or spoof, which is where Blomkamp's new short falls. This time starring friend and frequent collaborator Sharlto Copley playing the role of God
God: Serengeti is a somewhat unconventional and potentially blasphemous take on the character of God as he becomes equally bemused and frustrated when the Neanderthals under his command create fire 200 000 years or so ahead of schedule. God: Serengeti might only run for less than 4 minutes, but it still packs quite a lot of punch in its short running time as God and his butler Jeffrey try to take control of the situation.
I really like what Blomkamp is doing with his short films which are not only fresh but incredibly well put together. He keeps production values high in the hope that it will attract a high number of viewers on their different distribution platforms like Steam and YouTube.  There are more shorter skits like this one to come and we will probably see a lot more in this series involving Copley's God character as he tries to make sense of the human race. Good luck to him then.
Last Updated: July 7, 2017