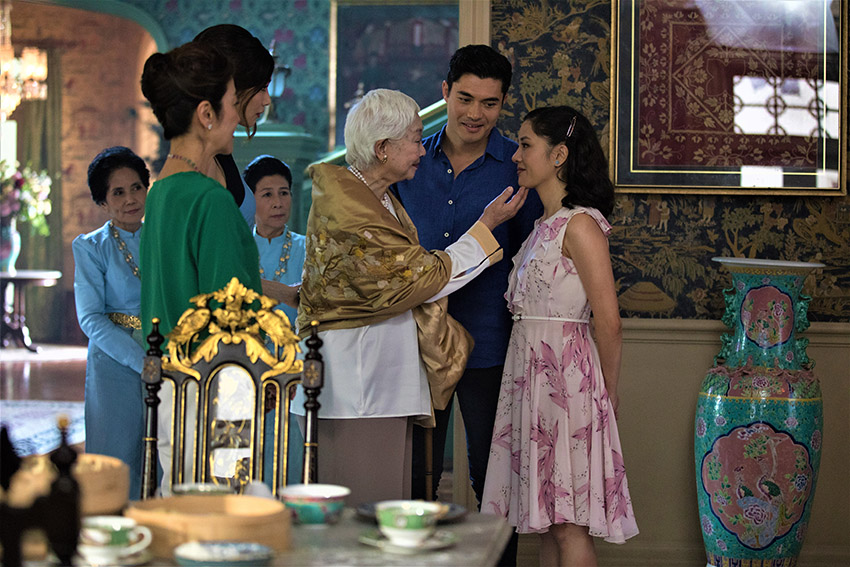 Crazy Rich Asians will most definitely keep on being crazy rich. The historic film – the first predominantly Asian production from a major Hollywood studio in 25 years – proved beyond any shadow of a doubt that last weekend's overperforming debut was not a fluke as the film posted the best second-weekend holdover of 2018. Dropping just 5.7% (whereas most films drop ten times as much) the John Cho directed rom-com added another $25 million to its coffers to bring its domestic total to $76 million after 12 days.
Crazy Rich Asians does still have a very staggered international release as it added just 12 more markets this weekend past with Singapore currently leading the way with $1.6 million. Spurred on by the film's success though, several markets have pushed their release dates forward by up to a month in some cases. As it eventually hits worldwide properly, the $30 million production could theoretically reach $200 million worldwide, really putting it in elite company when it comes to the rom-com genre and definitely for Asian-led Hollywood movies.
It was a one-two combo for Warner Bros again as The Meg also held onto its 2nd place spot from last week. While the Jason Statham shark thriller wasn't as impressive as Crazy Rich Asians, it still did good numbers by gobbling up another $13 million in its 3rd weekend. This actually pushes the film past that magical $100 million mark domestically. Internationally, The Meg has been even more successful as another $32.7 million means that worldwide the film has now breached $400 million. Not bad for something that was once destined for straight-to-video B-movie infamy.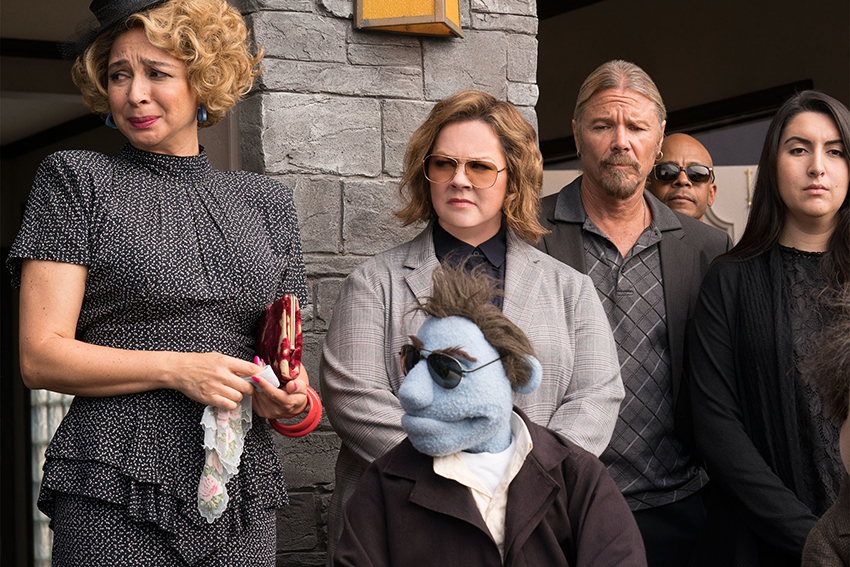 Maybe The Happytime Murders should have gone straight-to-video though, as the Melissa McCarthy-led R-rated puppet movie just didn't have the stuffing. The film, which has been savaged by critics, could only manage a 3rd place opening worth $10 million. That's one of the lowest openings of McCarthy's career, and with a $40 million price tag attached to the film, it doesn't bode well for its overall performance. At least The Happytime Murders can say it wasn't the worst debut of the weekend as A.X.L., the boy-meets-robot-dog movie, opened in 9th place. I guess everybody agreed with Tracy's assessment of the film after watching the trailer, as it could only scrape together $2.9 million from over 1700 theatres in the US. This may just be one of the final nails in the coffin for distributor Global Road which looks like it's on the verge of declaring bankruptcy.
And now for some good news to counter that depression. Way down in 21st place, the John Cho-led drama Searching opened in just 9 cinemas, but managed to earn $360 000 giving it the best per theatre average by far with $40 000. To put it into comparison, Crazy Rich Asians is the next best PTA at just over $7000. And keeping things Asian (kinda), Ant-Man and the Wasp may have exited the US top 10 a few weeks back, but it finally opened in China this weekend past and there was nothing small about the shrinking hero sequel. The Marvel film earned a massive $68 million debut, the fourth largest for the entire Marvel Cinematic Universe in the Asian market, pushing Ant-Man and the Wasp to a very impressive global total of $544 million.
Let's see what the rest of the US box office chart looks like:
| No. | Movie Name | Weekend gross | Percentage change | US Domestic gross | Worldwide gross | Last Week's Position |
| --- | --- | --- | --- | --- | --- | --- |
| 1 | Crazy Rich Asians | $25 million | -5% | $76.8 million | $83.9 million | 1st |
| 2 | The Meg | $13 million | -38% | $105.3 million | $408.6 million | 2nd |
| 3 | The Happytime Murders | $10 million | NE | $10 million | $10 million | NE |
| 4 | Mission: Impossible – Fallout | $8 million | -25% | $193.9 million | $538.7 million | 4th |
| 5 | Christopher Robin | $6.3 million | -28% | $77.6 million | $112.7 million | 6th |
| 6 | Mile 22 | $6 million | -56% | $25.1 million | $31.4 million | 3rd |
| 7 | Alpha | $5.6 million | -45% | $20.1 million | $27.4 million | 5th |
| 8 | BlacKkKlansman | $5.3 million | -27% | $32 million | $40.3 million | 7th |
| 9 | A.X.L. | $2.9 million | NE | $2.9 million | $2.9 million | NE |
| 10 | Slender man | $2.7 million | -42% | $25.4 million | $33.4 million | 8th |
Last Updated: August 27, 2018