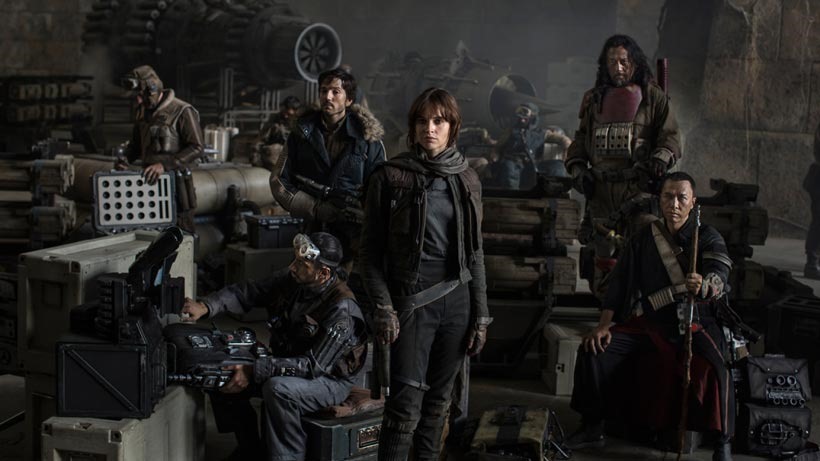 When Disney paid over $4.5 billion for control of Star Wars, some people scoffed. Scoffed to the max. Enough money to buy gold-plated turbo-mansions ten times over for a franchise about magical space wizards chopping people up with laser swords? C'mon, that's never going to make enough money at the box office. Right?
WRONG. Star Wars: The Force Awakens went on to earn over an easy billion of those US dollars, proving that there's still plenty of magic left over in that particular galaxy. But Disney has been clever with their new license to your childhood memories. It's not enough for the house of mouse to make just one new trilogy of Star Wars movies, as they're filling the wait between main entries with side-stories.
The first such interquel comes in the form of Rogue One: A Star Wars Story. Here's the first proper trailer for it:
Looks pretty cool, right? As much as Star Wars is a franchise about Jedi battling evil Sith, it's also kind of refreshing to see various rogues and rebels take the stage and shine in the spotlight for once. Set before the events of Star Wars Episode IV: A New Hope, Rogue features a group of rebels and mercenaries who are tasked with stealing the plans to the Death Star and its particularly vulnerable exhaust port, right from under the nose of the Empire.
And presumably seeing a few Bothans murdered in the process. Directed by Gareth "Godzilla" Edwards and starring Felicity Jones, Diego Luna, Donnie Yen, Forest Whittaker, Riz Ahmed, Jiang Wen and Alan Tudyk, this is one Star Wars movie that'll have a more grounded and gritty feel as the war between the Empire and the Rebel Alliance heats up.
Rogue One: A Star Wars Wars Story is out on December 16 this year.
Last Updated: April 7, 2016