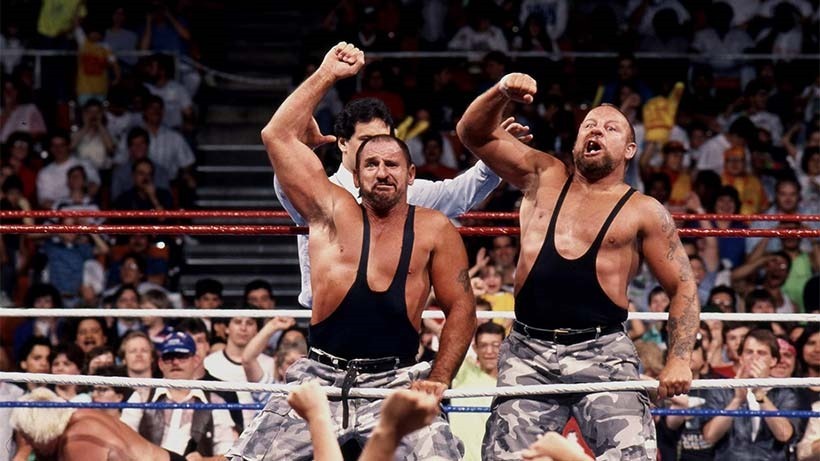 If you're like me, you watched the WWE back when it still had an "F" on the end instead – and gave up on the soap opera featuring half-naked men in tights before it adopted its extreme attitude. Maybe you're not like me at all, and still love everything the greatest in sports entertainment has to offer (Hi Darryn!).
Either way, if you've ever liked wrestling and love games, then WWE 2K 16 is a pretty good package – but if you're an older fan, it doesn't quite has as much of that nostalgic magic as the last game. Well, it didn't.
The game's very last bit of DLC, The Hall of Fame showcase pack includes a bunch of fantasy matchups featuring some of the old ballies like The Bushwhackers and Earthquake. Here are the matchups:
"Macho Man" Randy Savage vs. Jake "The Snake" Roberts
Rikishi vs. The Rock
Alundra Blayze vs. Paige
Larry Zbyszko and Arn Anderson vs. Ricky "The Dragon" Steamboat and Dustin Rhodes
Tatsumi Fujinami vs. Ric Flair
The Bushwhackers (Butch Miller and Luke Williams) vs. The Natural Disasters (Earthquake and Typhoon)
The Outsiders (Kevin Nash and Scott Hall) vs. Harlem Heat (Booker T and Stevie Ray)
It's available right now as separate DLC, but it's also included as part of the game's season pass. As a reminder, the PC version of WWE2K16 is out next month, and brings with it all of the game's DLC at no extra cost.
Last Updated: February 24, 2016