WWE Monday Night RAW took place from Manchester, England. Here's all the action that went down.
Raw General Manager Kurt Angle appeared on "Miz TV"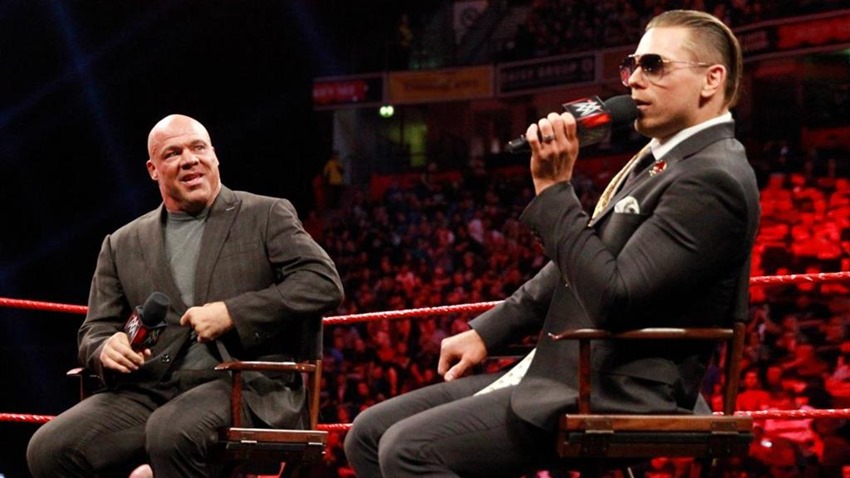 RAW kicked off with general manager Kurt Angle in the hottest of hot seats, as The Miz grilled the GM and accused him of unleashing Kane on the WWE again. More importantly, The Miz wanted to know why Braun Strowman was representing team red at Survivor Series. Simple really: Strowman was a hell of a negotiator.
The gift of destruction had agreed to join the RAW team, on one condition: That he'd get a match against The Miz. A match that Angle was more than happy to grant him.
Jason Jordan def. Elias in a Guitar-on-a-Pole Match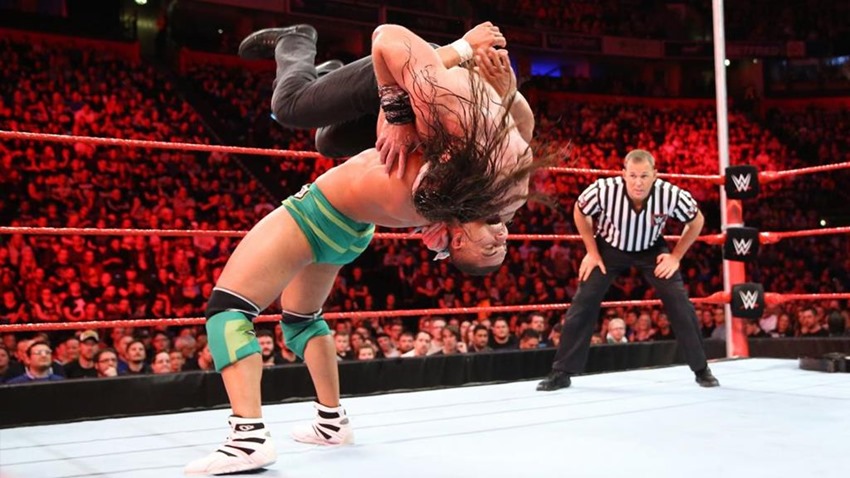 A bizarre match, with a simple stipulation: Retrieve the guitar at the top of the pole, be declared the winner. In a tense showdown, Jason Jordan finally overcame his rival Elias, retrieving the instrument and then smashing it over the back of the sinister songsmith to earn his victory. The night was just getting started for Jordan however, as he was later named as a member of Team RAW for Survivor Series.
A member that his father Kurt Angle knew that he could trust to get the job done.
Asuka def. Stacy Coates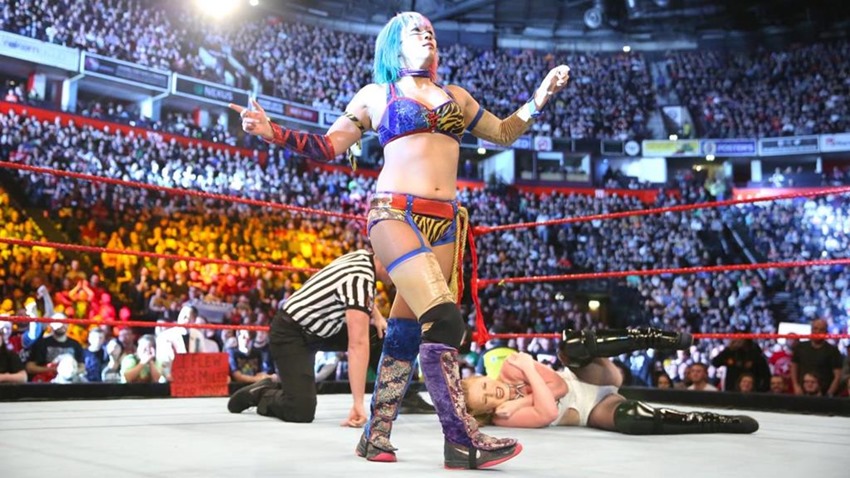 The empress of tomorrow has a legendary undefeated streak in NXT, and she looks set to start a new winning record on RAW as Asuka picked up another victory against some local talent. Asuka's tapout victory also came hot on the heels of the news that Alicia Fox had selected her for the RAW women's Survivor Series team, an obvious choice really.
Finn Bálor vs. Samoa Joe ended in a Double Count-out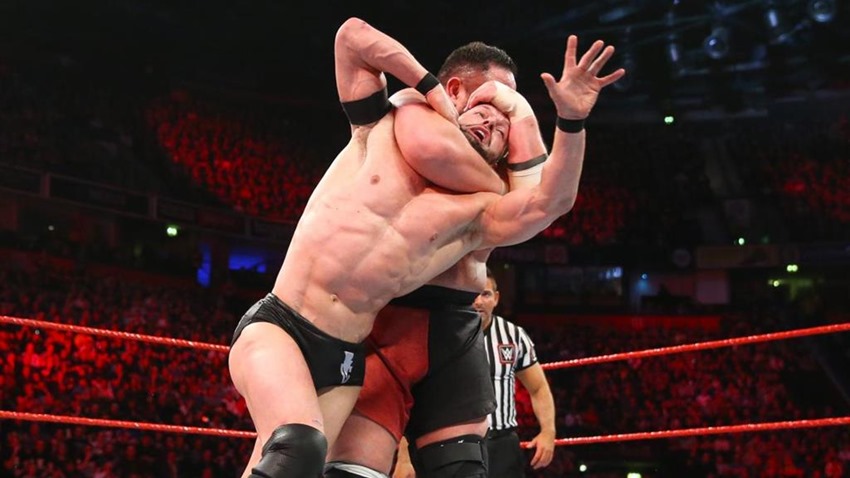 Speaking of NXT, two of the greatest rivals from that WWE brand once again clashed in the ring, as Samoa Joe issued an open challenge that Finn Balor answered. A brawl for all, there was only one way that a titanic clash of this nature could end and that was through a double count-out as they fought outside the ring.
Such ruthless aggression didn't go unnoticed however, as GM Kurt Angle decided to add both superstars to his RAW Survivor Series team.
Sasha Banks and Bayley def. Alicia Fox and Nia Jax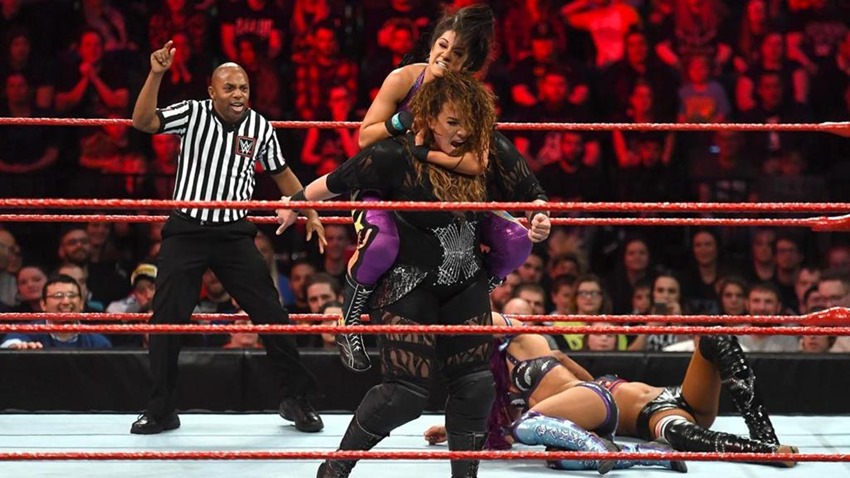 In a quick tag team bout, Sasha Banks and Bayley teamed up to focus their attacks on Nia Jax, leaving Alicia Fox open for a painful Banks Statement submission. A tense match, that ended with (SURPRISE) Banks being selected for the RAW women's Survivor Series team. I'm starting to notice a pattern here.
Braun Strowman def. Intercontinental Champion The Miz via Disqualification
The Miz may not have been much of a match for the Gift of Destruction, but Braun Strowman's onslaught of the A-Lister soon found itself conquered by something far more sinister: The big red machine known as Kane. The devil's favourite demon dropped in on the match, attempting to lock a chokeslam in on the monster amongst men.
Strowman answered back with a Running Powerslam however, sending Kane into a retreat and then demolished his way through the Miztourage, leaving plenty of bodies in his wake.
WWE United Kingdom Champion Pete Dunne def. WWE Cruiserweight Champion Enzo Amore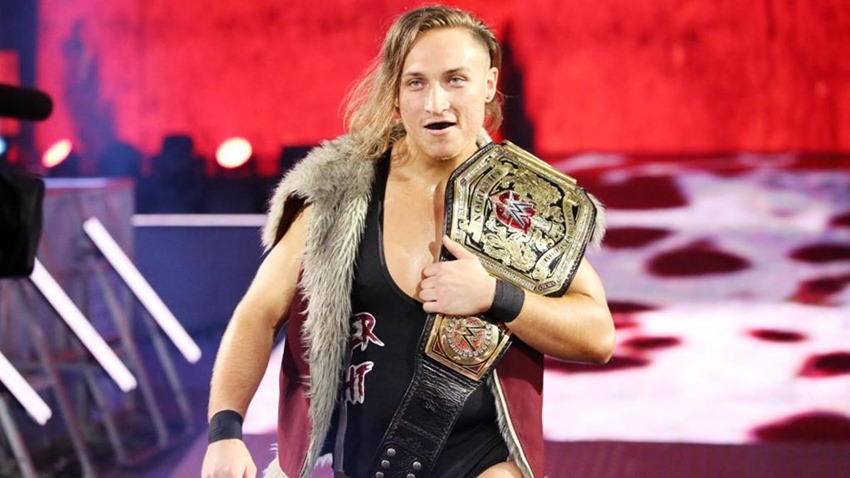 WWE Cruiserweight champion Enzo Amore may have the gift of gab, but he also received something else last night: A reminder that the world is full of challengers who'd like to get their hands on Mr Certified G. RAW GM Kurt Angle added some fresh competition for the champ, pitting him against none other than the bruiserweight Peter Dunne.
The WWE United Kingdom Champion ended with Amore demolished despite his attempts to play dirty, as a ringside Kalisto kept the match from ending in favour of the cruiserweight champ. Locking in his signature move The Bitter End, I guess you could say that Amore was…well Dunne. The British invasion continues this week in the WWE, as the entire UK division is being flown up to join the roster of 205 Live.
Cesaro and Sheamus def. RAW Tag Team Champions Dean Ambrose and Seth Rollins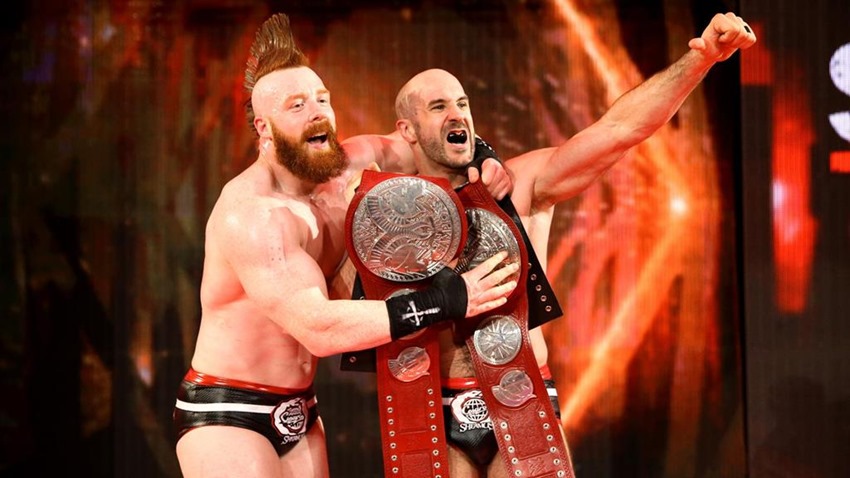 For months now, Cesaro and Sheamus have been on a quest to reclaim their WWE titles as tag team champions. Last night, the bar rose to the occasion, besting Seth Rollins and Dean Ambrose. While the match was fast-paced and featured both teams bringing their A-game to the showdown, it was the potential for another Smackdown LIVE invasion that proved to be the fatal distraction, as Sheamus hit a Brogue Kick on a distracted Dean Ambrose to secure a long-sought after victory.
Your winners and new WWE RAW Tag team champions: Sheamus and Cesaro.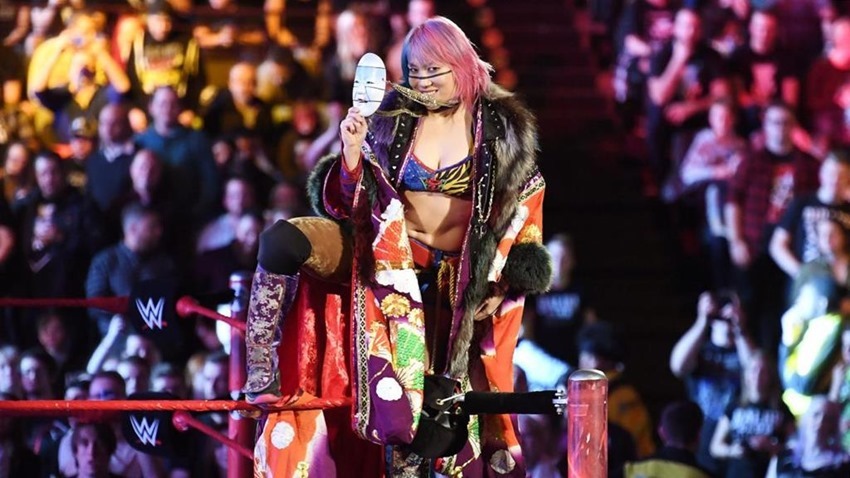 Last Updated: November 7, 2017