WWE Monday Night RAW took place from the T-Mobile Arena in Las Vegas. Here's all the action that went down.
Roman Reigns defeated Raw Tag Team Champions Luke Gallows and Karl Anderson via Disqualification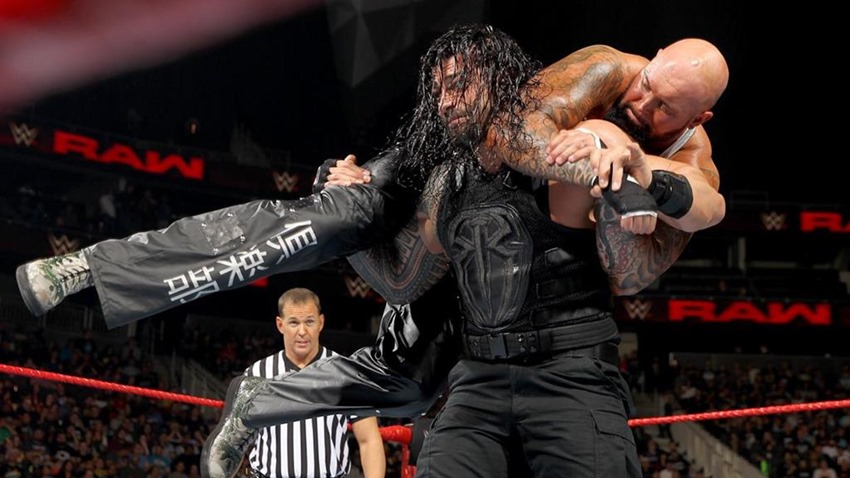 The road to Wrestlemania has begun for many a WWE superstar, but Roman Reigns found himself on thin ice with RAW boss Stephanie McMahon over his plans to intefere with current nemesis Braun Strowman's match later in the night. But at least there was a consolation prize! A handicap match against Luke Gallows and Karl Anderson!
Having a go at the current tag team champions on team red, Reigns took a beating of a savage note that lead to the ref disqualifying his opponents. Down but not out, Reigns still took some tremendous damage that night that left him in questionable shape.
Kofi Kingston defeated Bo Dallas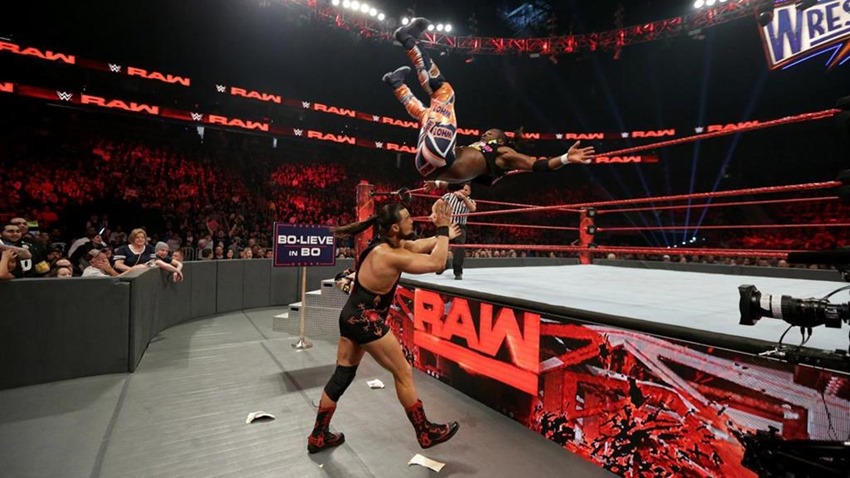 Last night on RAW, it was the power of positivity versus the power of Bo-lieving as Kofi Kingston matched Bo Dallas blow for blow after the madman tore up plans for a New Day ice cream machine. Taking Dallas to school, Kingston knocked out the Bo-Liever with the SOS. And then the New Day decided to cover Dallas in Booty-Os, because that's how they roll.
Jack Gallagher defeated Noam Dar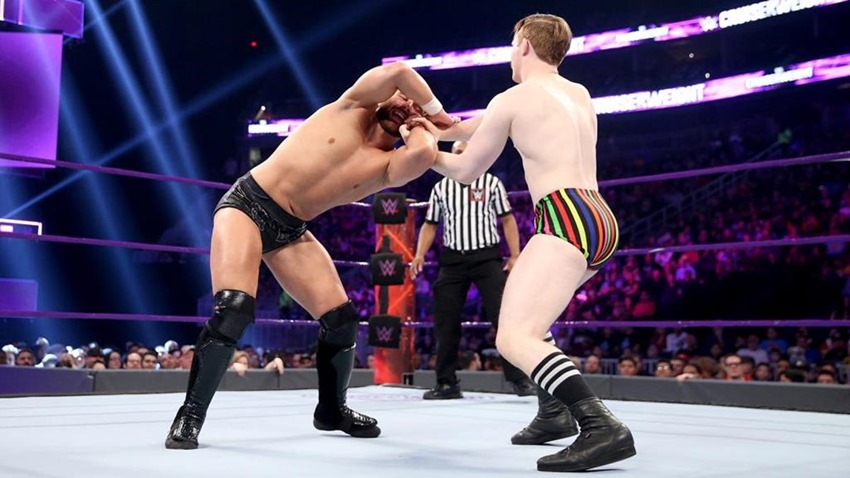 While Gentleman Jack may not be extraordinary enough to handle current RAW cruiserweight champion Neville, he was more than up for the task of a match against Noam Dar. And extraordinary he was, as the gentlemen wrestler survived an assault on his kneecaps to catch Dar with a headbutt and a running dropkick that earned him the win. Extraordinary, simply extraordinary as Neville watched on from high on top of the ramp.
Braun Strowman defeated Mark Henry
Braun Strowman may be a monster amongst men, but he faced one of the original destroyers of superstars last night: Mark Henry. Powerhouses collided on RAW, but it was Strowman who prevailed with a Powerslam that shook the ring and secured victory for him. And then Roman Reigns appeared, as Stephanie McMahon's order to not interfere during Strowman's match didn't exactly apply to what would happen after the bout had ended.
But clearly still nursing some damage from his handicap match earlier in the night, the big dog was no match for Strowman as he suffered a second beatdown that night.
Sami Zayn defeated Rusev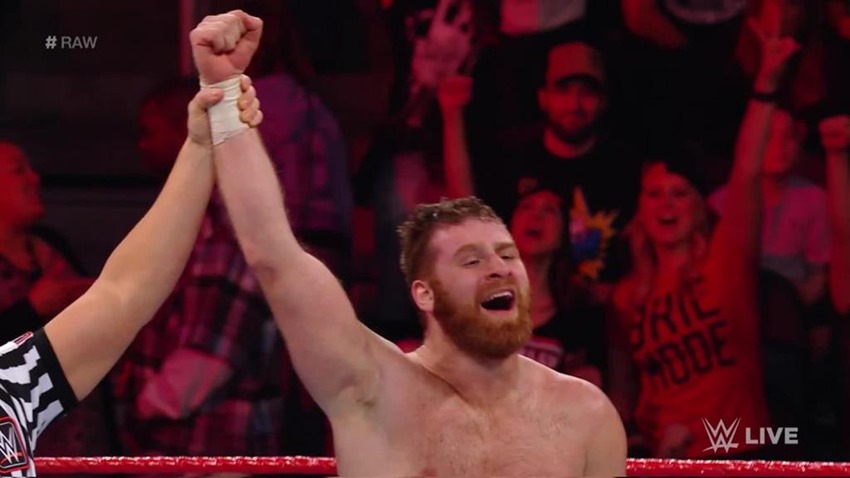 Some superstars like to pick on people smaller than them, but Sami Zayn may be the complete opposite. Having faced the likes of bigger men such as Kevin Owens and Braun Strowman, Zayn found himself in a RAW match against Rusev last night as the Bulgarian brute wasted no time in going after the underdog. But Zayn played the match with intelligence, lining up Rusev for a Helluva Kick that took him down for the count.
But Zayn's night wasn't over yet, as Samoa Joe's earlier trash-talking regarding the high-flyer evolved into a ruthless beatdown on top of the ramp that put the top-rope maniac to sleep with the dreaded Coqina Clutch.
Akira Tozawa defeated Ariya Daivari
There's a new challenger in the RAW cruiserweight division, and his name is Akira Tozawa! While The Brian Kendrick was ringside to join the commentary team, Tozawa put Ariya Daivari through his paces and ended the match with a Snap German Suplex that belongs in an art museum. Claiming that Tozawa is protege, the latest addition to the roster looked like he might have something to say about his self-appointed mentor before he returned to the locker rooms.
Cesaro defeated Enzo Amore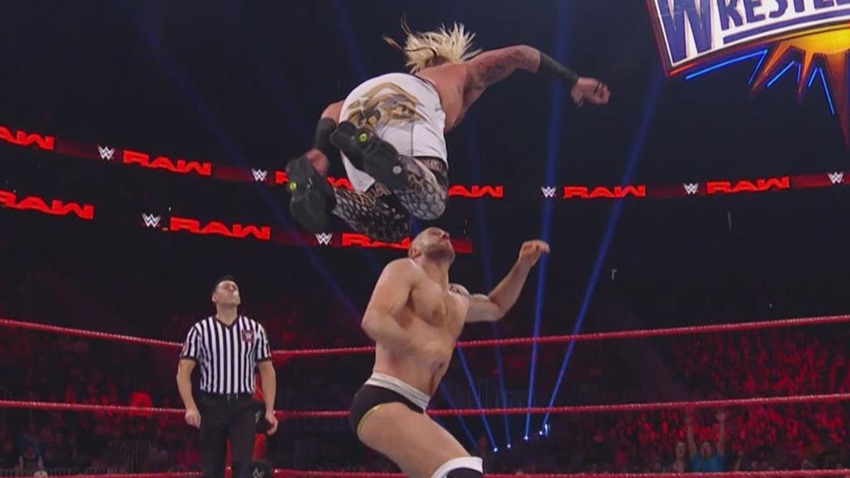 Luke Gallows and Karl Anderson may be tag team champions right now, but there's plenty of competition waiting to get their hands on the gold. Provided that they can stop sabotaging each other's efforts to do so. That was the case last week when Gallows and Anderson interfered with Enzo Amore, Big Cass, Cesaor and Sheamus in the ring.
And in a singles rematch brought on by Enzo's massive mouth, Cesaro shut him up with a European Uppercut as the rivalry between the two teams heated up.
The Festival of Friendship descended into chaos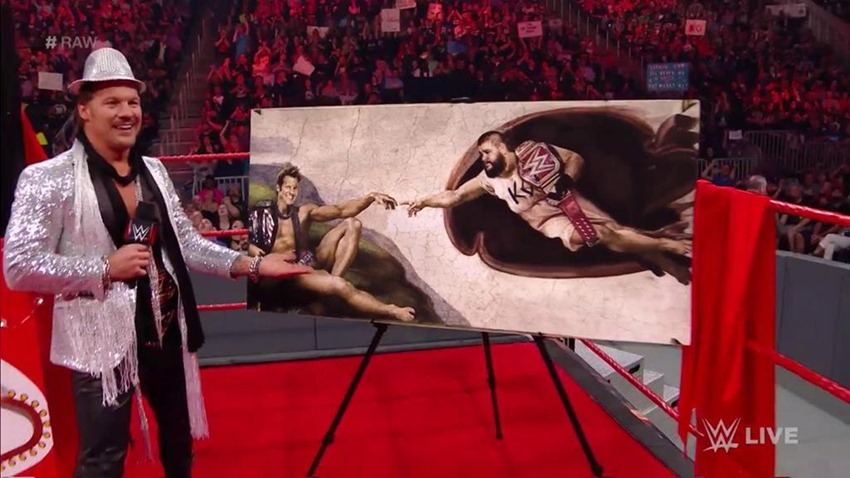 Chris Jericho and Kevin Owens: A bromance for the ages…that may finally be over. See, the current WWE Universal champ might be a tad bit ticked off with Jericho after he accepted a main event title match against Goldberg at WWE Fastlane on his belhalf. And in an effort to make amends, Jericho arranged a festival of friendship for Owens in the RAW ring. Gifts, art, Gillberg and a terrible magician who soon went on Jericho's list were all there.
And then Y2J began a heartfelt speech as he promised to be in the corner of his bestest pal at the Fastlane match against Goldberg. Owens clearly wasn't listening however, instead showing Jericho the List of KO. A list that had his name on it, as Owens utterly wrecked Jericho in the middle of the ring and ended their friendship with an apron powerbomb and a face-first introduction into an LED screen.
Bayley defeated Charlotte Flair to become the new RAW Women's Champion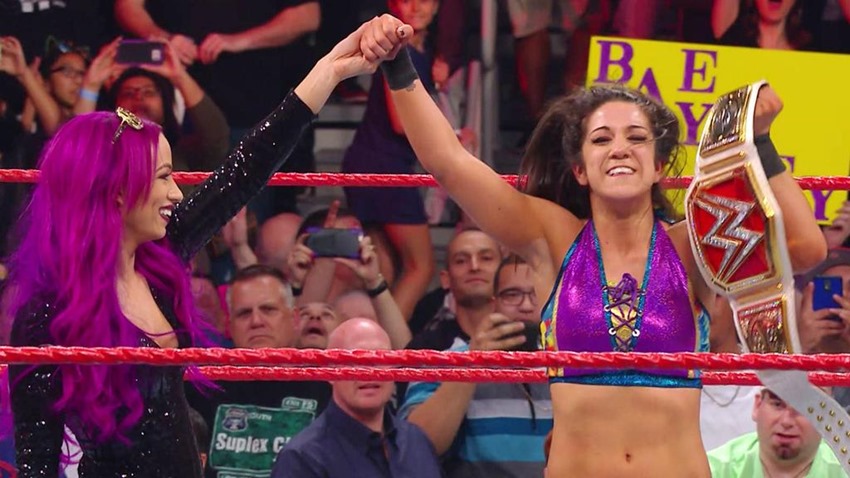 For months now, Charlotte Flair has been a bully to the most huggable of superstars, Bayley. But while Bayley may have been knocked down plenty, she never stopped getting up as her never say die attitude infuriated Charlotte more and more every week. Even sending Nia Jax in to demolish Bayley had no effect over the weeks to come, as the current women's champ finally met her most hated foe in championship showdown.
Which Bayley won.
Charlotte was absolutely savage however, introducing Bayley's face to the ring turnbuckle, applying various holds and firing a moonsault from on top of the fan barricade onto Bayley. But the doctor of huganomics soaked up all this torment with an arsenal of moves that culminated in a Figure-Four Leglock. It was at this point that Dana Brooke appeared to help save Charlotte, but Sasha Banks had other ideas as she nailed Charlotte with her crutch while the ref's back was turned.
Groggy and set up perfectly, Charlotte found herself on her back after a Bayley-To-Belly Suplex, staring up at the new RAW Women's champion.
Last Updated: February 14, 2017