WWE Monday Night RAW took place at the Quicken Loans Arena in Cleveland, Ohio. Here's all the action that went down.
Roman Reigns challenged Chris Jericho to a U.S. Championship rematch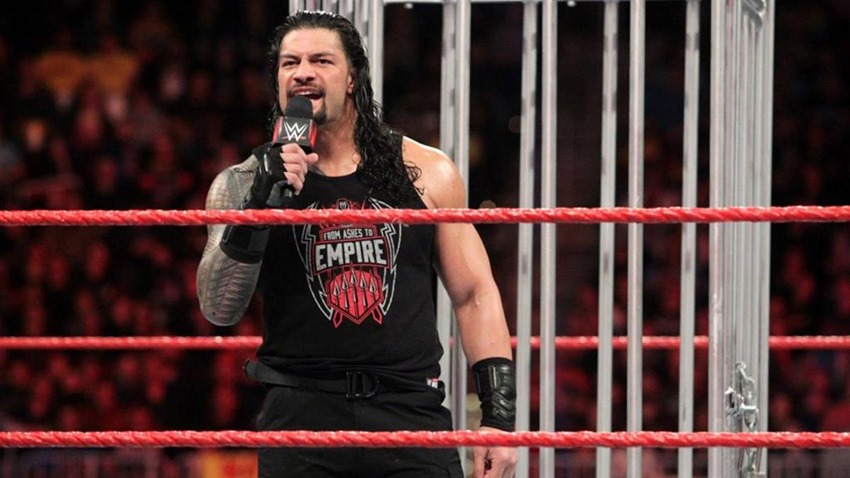 The United States Championship reign of Roman Reigns was an impressive one, but was ultimately cut short several weeks ago when Chris Jericho managed to finally defeat the big dog himself and add the vaunted belt to his grand slam collection of previous championships. Clearly missing the gold and irate after Jericho decided to interrupt his opening rambling on Monday Night RAW, Reigns invoked his rematch clause and demanded a shot at winning back his title.
Which WWE Universal Champion Kevin Owens accepted on behalf of his best pal, promising to have Reigns shoved into the infamous shark cage above the ring before the night was over.
Luke Gallows defeated Raw Tag Team Champion Cesaro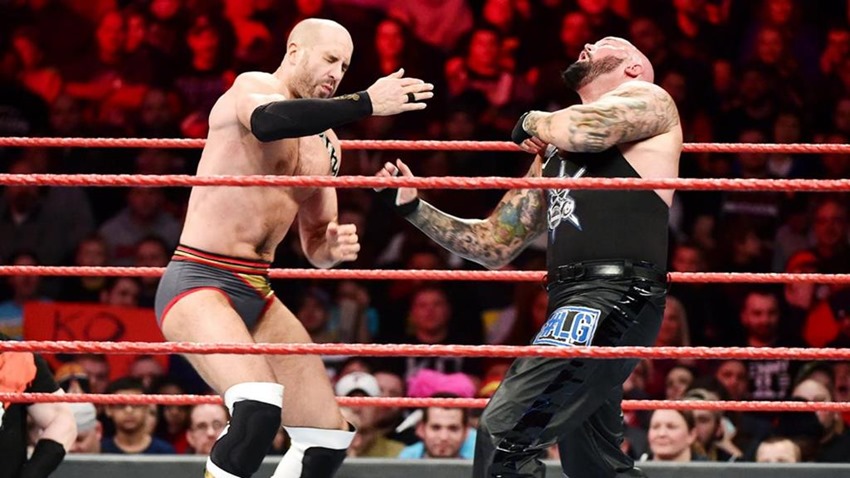 But enough banter, it was time for action! Kicking off RAW proper was some singles action between tag team members, as Luke Gallows squared off against the Swiss Superman known as Cesaro. It's a match that his partner Karl Anderson attempted to jump into, but was chased away from ringside by Sheamus leaving the two to duke it out on their lonesome for a while.
Anderson eventually returned to ringside to watch Cesaro run havoc all over Gallows, but managed to distract the referee from a devastating Sharpshooter as his partner began frantically tapping out. With the hold released and Cesaro distracted, Gallows was able to sieze the moment and lock in a Fireman's Carry Flapjack to get the win.
Sami Zayn defeated Seth Rollins to win Rollins' opportunity in the Royal Rumble Match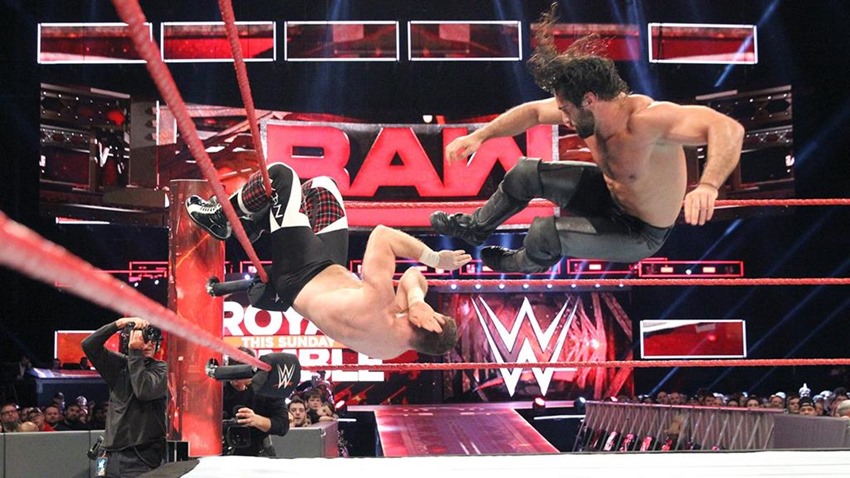 You can't trust anyone in the Royal Rumble, as that particular ring only has space for one superstar to stand tall over 29 other entrants. And that's something that Seth "freakin'" Rollins discovered when he clashed with Sami Zayn. The two may not have any lingering animosity towards one another, but RAW commissioner Stephanie McMahon didn't care.
And for a while, it looked like Rollins would win and retain his spot in the rumble. But upon hearing the entrance music of Triple H, Rollins found himself stopping dead in his tracks and waiting for his hated foe to hit the ring. But the Game wasn't showing up, as a distracted Rollins fell prey to a quick roll-up from Zayn that looks like it may have given his road to Wrestlemania a flat tire.
TJ Perkins, Jack Gallagher and Mustafa Ali defeated Ariya Daivari, Tony Nese and Drew Gulak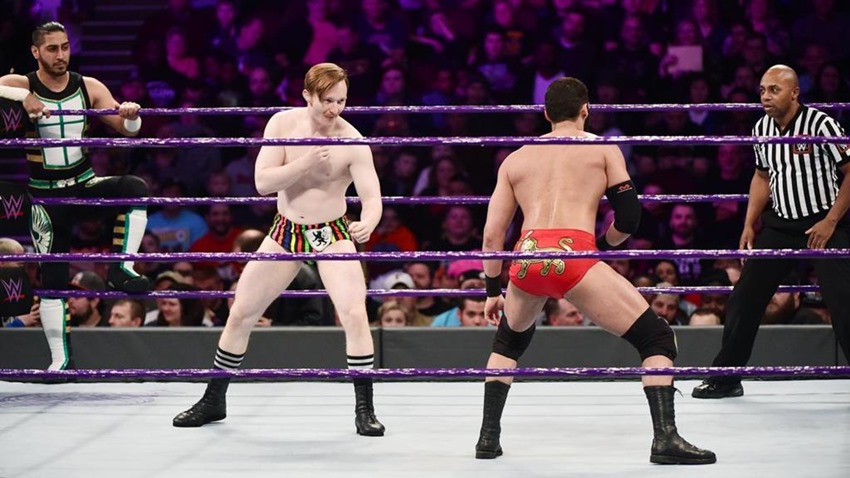 Cruiserweight action up next on RAW, as Mustafa Ali debuted on RAW in a big six-man tag team bout. While the ring was filled with flying lightweights, it was Ali who ended the match with an Inverted 450 Splash on Drew Gulak.
Braun Strowman, Rusev, Jinder Mahal and Titus O'Neil defeated The New Day, Enzo Amore and Big Cass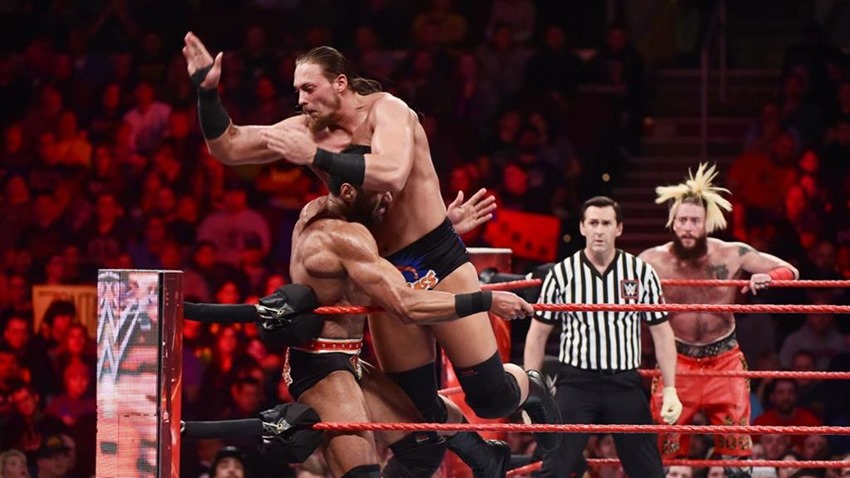 One of the biggest matches on RAW last night included some of the biggest athletes competing in the WWE today. But even the likes of Big Cass, Enzo Amore and the New Day were no match for a team of heels that was gifted with destruction in human form, as Braun Strowman ran riot and pinned Enzo to get the win for his team.
But Strowman wasn't the only big man in the ring, as the Big Show returned to the ring to face down Strowman. Deciding to keep his energy for the Royal Rumble, Strowman avoided an encounter with the original giant. But he won't be able to hide from him this Sunday at the Rumble.
Roman Reigns defeated U.S. Champion Chris Jericho via Disqualification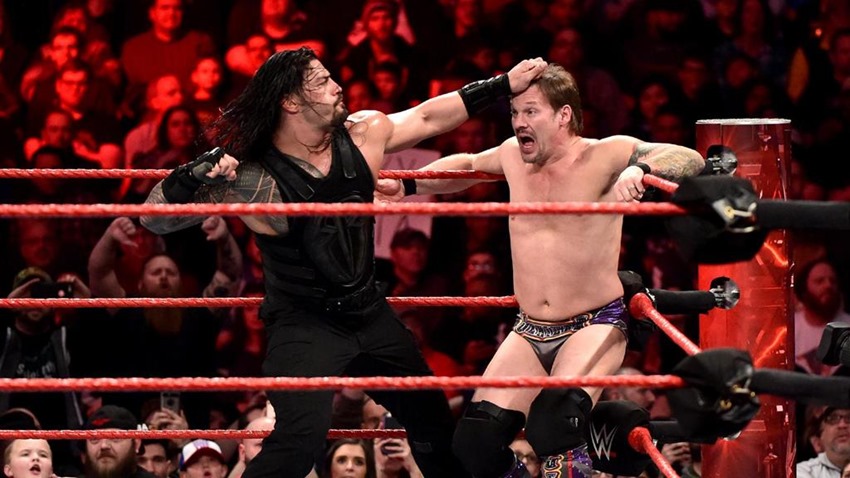 Well, it just wasn't meant to be for Roman Reigns last night. The big dog took Chris Jericho to school, keeping the Ayatollah of rock 'n rolla behind for some extra lessons in pain as it looked like the red, white and blue belt would soon be around his waist again on RAW. But Universal Champ Kevin Owens decided to get involved in the bout, dropping Reigns with heavy hands and giving him the win but not the belt via disqualification.
But Reigns wasn't finished yet. Attempting to shove Reigns into the shark cage, Owens found himself trapped inside the confining steel structure instead, while Jericho found himself on the receiving end of a Superman Punch from the edge of the cage. Also, a Spear because you can never be too certain when it comes to Y2J.
Could the night get any worse for Owens? Yes, yes it could. As it was announced that the Royal Rumble match for his Universal title against Reigns would now be a No Disqualification match.
Nia Jax defeated Ray Lyn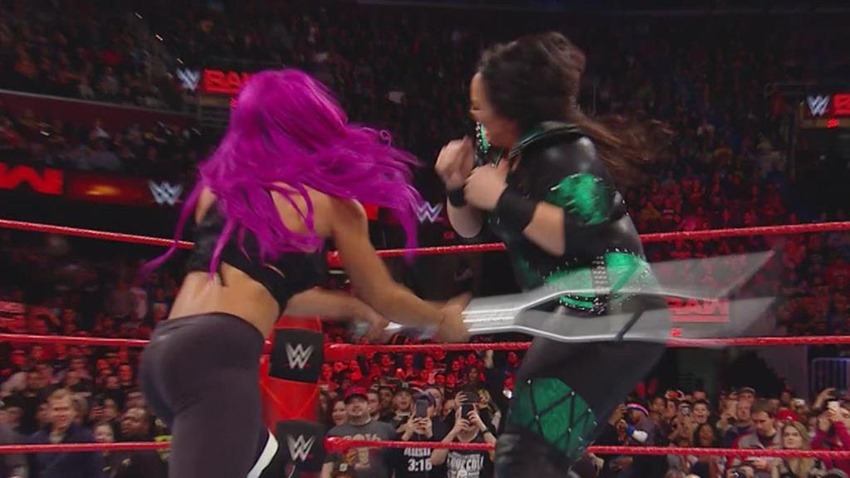 There's been a monster stalking the RAW women's division lately, and her name is Nia Jax. Having made quick work of local talent by the name of Ray Lyn, Jax took to the ring mic to wax lyrical about the time she broke the boss, having seemingly retired Sasha Banks a while back. But Jax was in for a surprise as Banks hit the ring, slowly hobbling in on crutches.
SURPRISE! Banks was far more mobile than she appeared to be, as she used her crutch to cripple Jax and shove her out of the ring. The Boss was back.
WWE Cruiserweight Champion Rich Swann defeated Noam Dar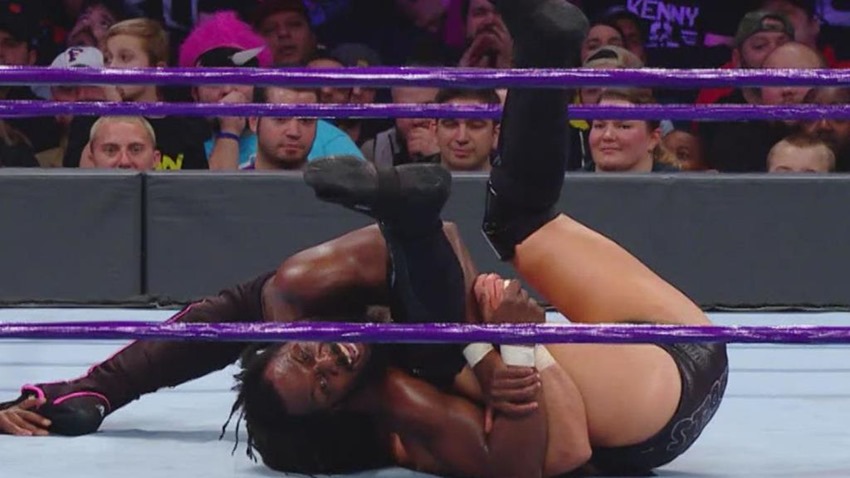 With a Spin Kick to the face that took down the Scottish Supernova known as Noam Dar, Rich Swann was standing tall yet again after a short RAW bout. Also Neville appeared, and was on the receiving end of some pain. NEXT!
Brock Lesnar confronted Goldberg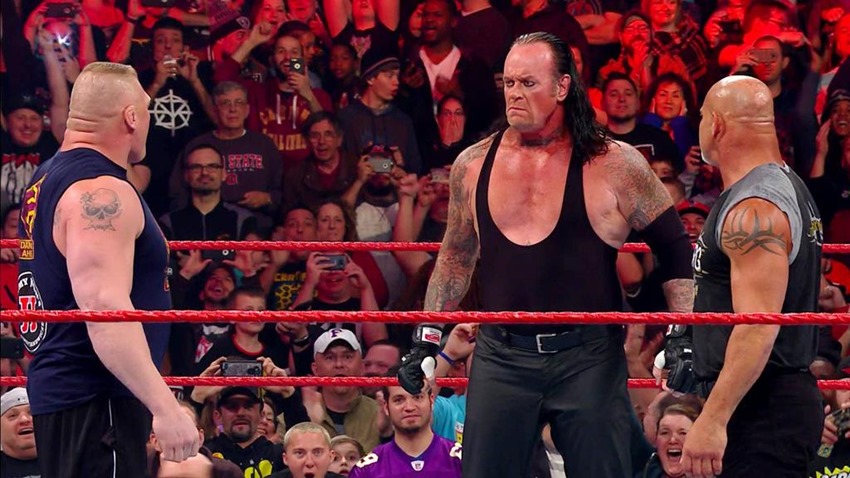 Ever since Goldberg returned to RAW in 2016, it was with one goal on his mind: To erase Brock Lesnar once and for all. Having secured a second victory over the Beast Incarnate at Survivor Series that left the big man humiliated, Godberg was more than ready to go for a hat trick within the Royal Rumble ring.
But Lesnar wasn't exactly scared of Goldberg. As his advocate Paul Heyman was happy to remind Goldberg, Lesnar was more than ready to personally evict his foe from the ring on Sunday and was saving himself for that ring in particular. But their emotions heated up, and it looked like Goldberg and Lesnar were about to throw down when…
GONG
A familiar bell tolled, as the lights cut and then came back on to reveal the Undertaker standing in the ring between the two men. And that's how RAW ended, as the deadman stood silent to remind both men that they may have their targets locked on each other, but they'd still have to deal with the phenom at the Royal Rumble.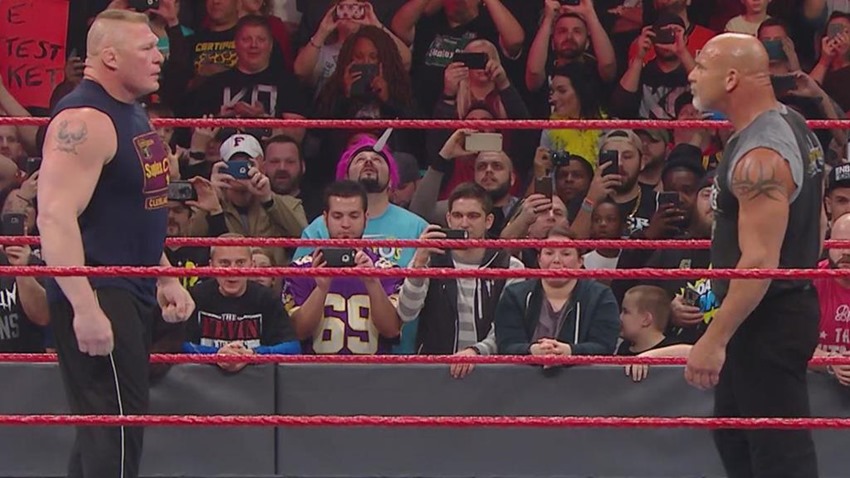 Last Updated: January 24, 2017