WWE Monday Night RAW took place from the O2 Arena in London, England. Here's all the action that went down that night as the road to Extreme Rules began to open up.
Kurt Angle named Intercontinental Champion Dean Ambrose the acting General Manager of Raw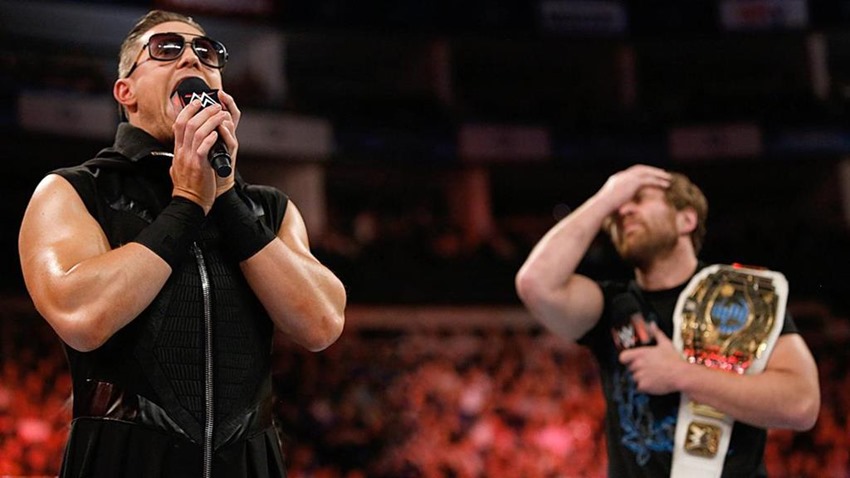 Current Intercontinental champion Dean Ambrose happens to be rather talented at dishing out pain, but the lunatic fringe may have another skill in his arsenal: Making matches. RAW General Manager Kurt Angle was so impressed with Ambrose's ideas for matches last week, that he decided to give the champ control of the show for the night.  With the Miz of course, as having Dean Ambrose as the only general manager was a bit too unpredictable as Stephanie McMahon explained.
First order of business?
Putting Braun Strowman in a rematch against Kalisto, albeit this time with an extra catch: If Strowman claimed that he could beat Kalisto with one arm tied behind his back, then so be it. Before that match could kick off however, Ambrose decided to give his old nemesis The Miz an education from the talented fists and feet of Finn Balor.
Finn Bálor defeated The Miz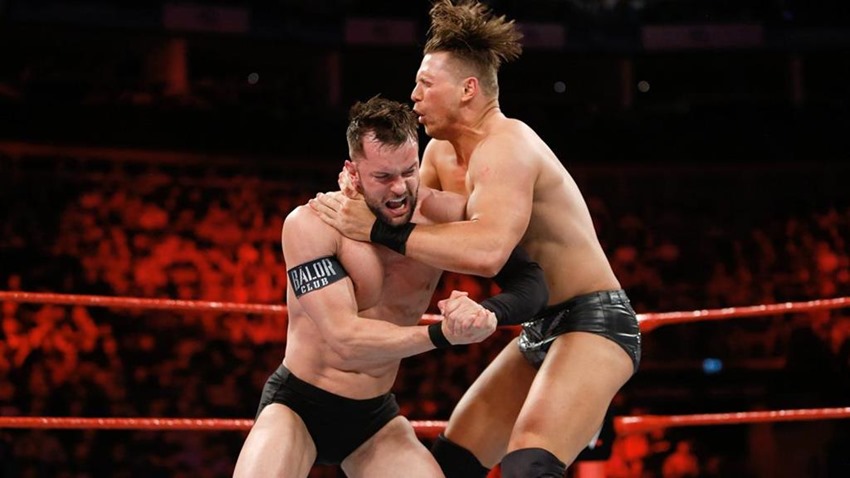 Still burning after he was handed his first ever pinfall defeat via The Miz and some help, Balor was looking for revenge. Revenge that was almost undone when The Miz tried to get Balor disqualified using his new co-acting general manager powers and a fallen referee, but found his tactics overruled by Ambrose. Back in the ring, Balor demolished the Awesome one, sealing the deal on a pin and earning the first victory of the night on RAW.
Raw Women's Champion Alexa Bliss defeated Mickie James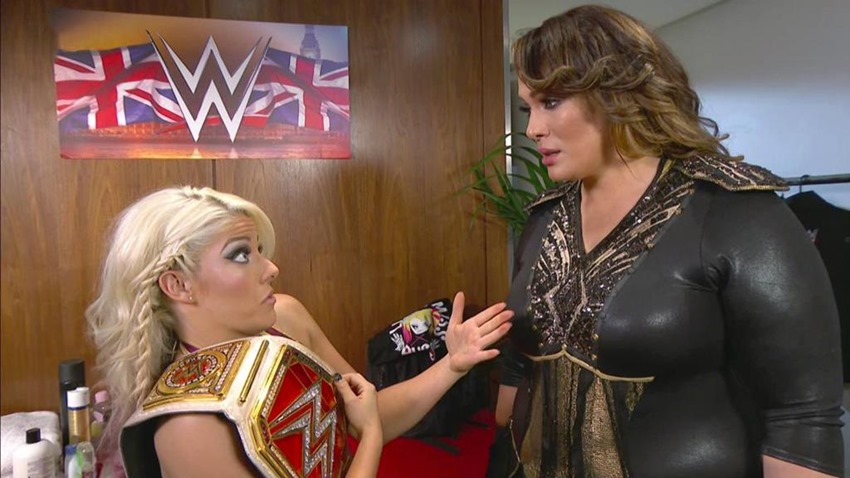 Alexa Bliss happens to owe Nia Jax a title match, and the titan plans to keep the champ in tip top condition until she delivers as she escorted her new best friend to the ring for a match against Mickie James. While that partnership may come back to bite her in the butt eventually, Bliss found that having Nia Jax in her corner had advantages that night at least.
With a little help from her friend, she was able to overcome the competition, even with Bayley present attempting to clear out any inteference. With a forearm to the face of James thanks to all of the ringside shenanigans, Bliss is still champ. But for how much longer?
Roman Reigns attacked Braun Strowman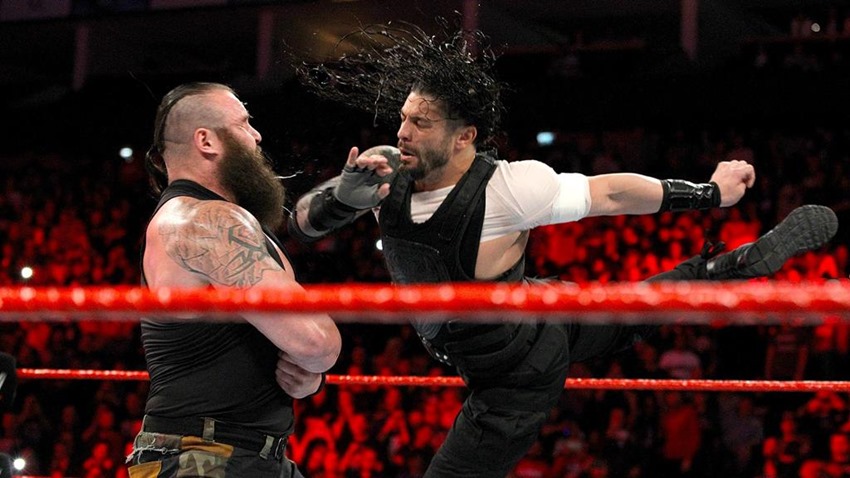 What, you thought the king of flight was going to make good on his promise to battle the king of flight with one arm tied behind his back? Ha, dream on! Still nursing a few injuries from his encounter with Roman Reigns a few weeks back, the monster of RAW decided to kick the crap out of Kalisto anyway until the big dog himself made an appearance.
Also injured, the two giants went at it as Reigns threw Superman punches at Strowman and slammed his shoulder into the ring post. A steel chair assault from Reigns proved to be too much for the gift of destruction to handle, as he quickly beat a hasty retreat.
Cesaro and Sheamus won a Tag Team Turmoil Match to become No. 1 contenders to the Raw Tag Team Championship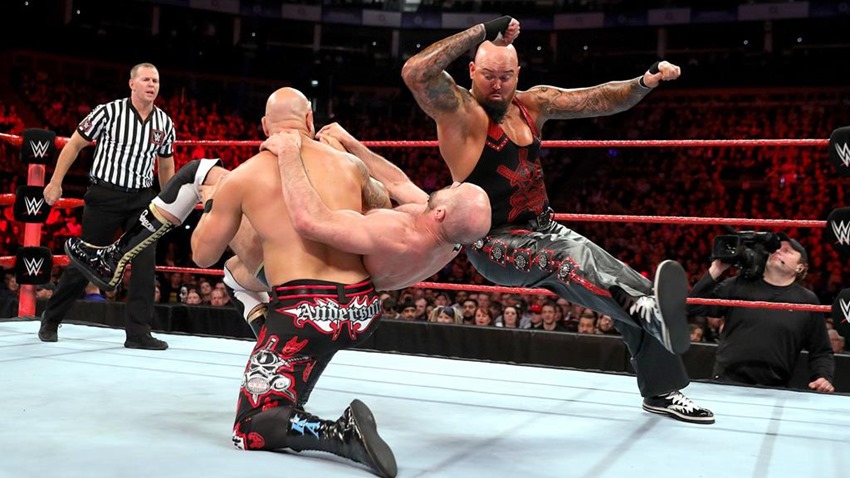 Stand back everyone else in the RAW tag team division: The Golden Truth is back! And they're gone already. Yup, Goldust and R-Truth may have set their sights on the RAW tag team championship, but they were no match for a very determined Cesaro and Sheamus who handed them a quick defeat, then proceeded to eliminate Enzo Amore and Big Cass, Heath Slater and Rhyno and Luke Gallows and Karl Anderson in succession.
That's one hell of a series of victories, as the two would-be champs have begun gunning for the Hardy Boyz.
Seth Rollins defeated Samoa Joe via Disqualification
There's one benefit to having a chink in your armour: You know where the enemy is going to aim his weapon at. That was Seth Rollin's plan, as he faced Samoa Joe with a few ideas to avoid having his vulnerable knee battered yet again. Instead, Samoa Joe decided to make full use of the ring, tangling Rollins in the ropes and whopping his face into the steelof an exposed turnbuckle.
The damage done, Samoa Joe kept on brutalising Rollins and earned himself a disqualification, carrying on the attack and leaving the architect a mess in the middle of the ring.
TJP defeated Gentleman Jack Gallagher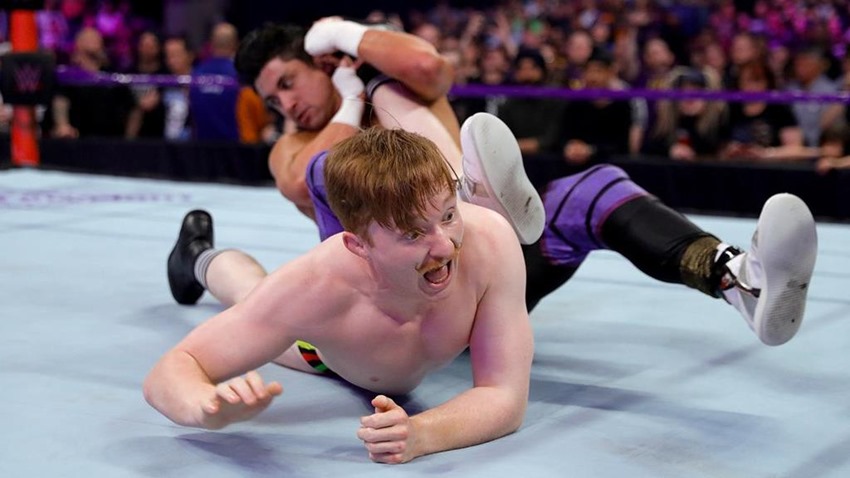 Cruiserweigh action next on RAW, as TJ Perkins was given a deal that he couldn't refuse: Remove Gentlemen Jack Gallagher from the Cruiserweight equation from the night, and Neville would grace his pawn with a title match. With a shot at the belt on the line, TJP delivered a victory with a technique most un-gentlemanly, grabbing Jack's tights to leverage a dirty pin.
Austin Aries then appeared to save Jack from being mauled after the match, stopping TJP from destroying the kneecaps of his competition. Backstage, a delighted TJP found that Neville wasn't exactly a man of his word, as his promise of a title match was merely a ruse. That's rather unsporting.
Sasha Banks defeated Alicia Fox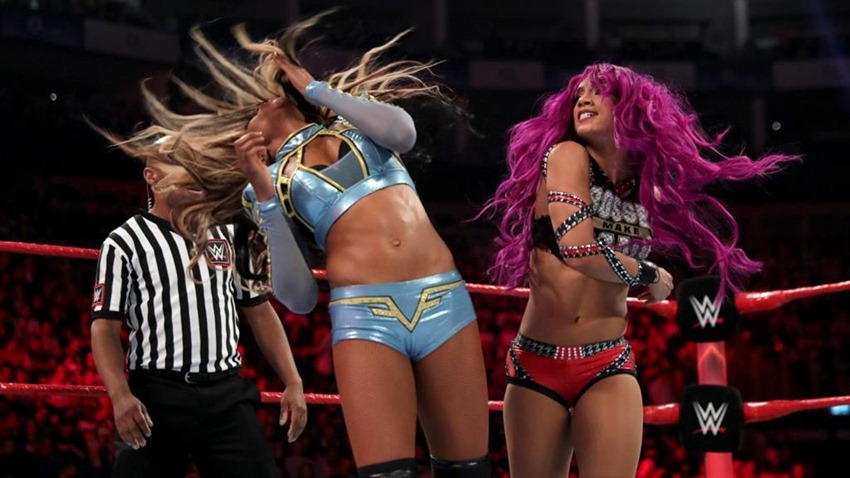 The Boss and Alicia Fox had a score to settle after last week's RAW match ended in chaos between them, chaos which seemed to follow them into this rematch. Fox may have held the momentum for most of the bout, but Banks managed to bounce back a top turnbuckle knee to the face that put Fox down for the count.Or did it? It certainly looked like her shoulder may have been up when the ref counted three. Sounds like a plan for another rematch then.
Bray Wyatt defeated Intercontinental Champion Dean Ambrose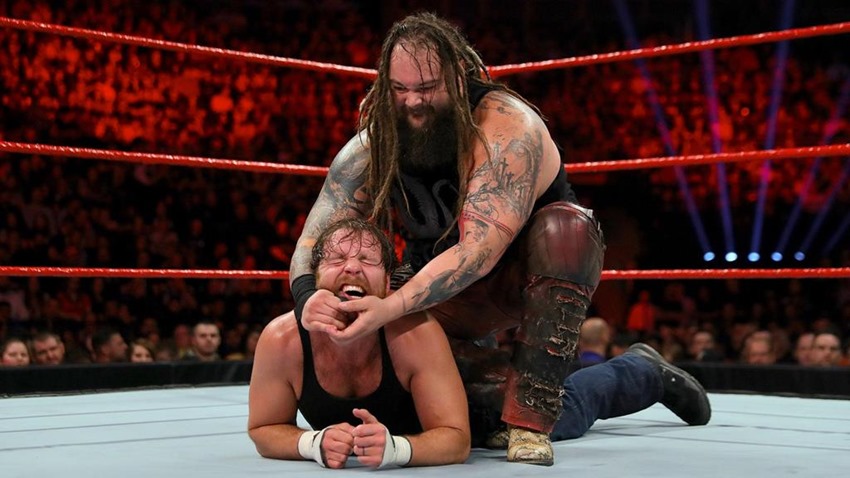 If Dean Ambrose was going to throw his co-acting general manager on RAW The Miz into a match, then the A-Lister was ready to return the favour. Pitting Ambrose against Bray Wyatt in a bid to soften the Intercontinental champ up before their newly scheduled title match next week on RAW, The Miz's plans certainly seem to have paid off. Running some inteference, Ambrose eventually lost the momentum and fell victim to Sister Abigail.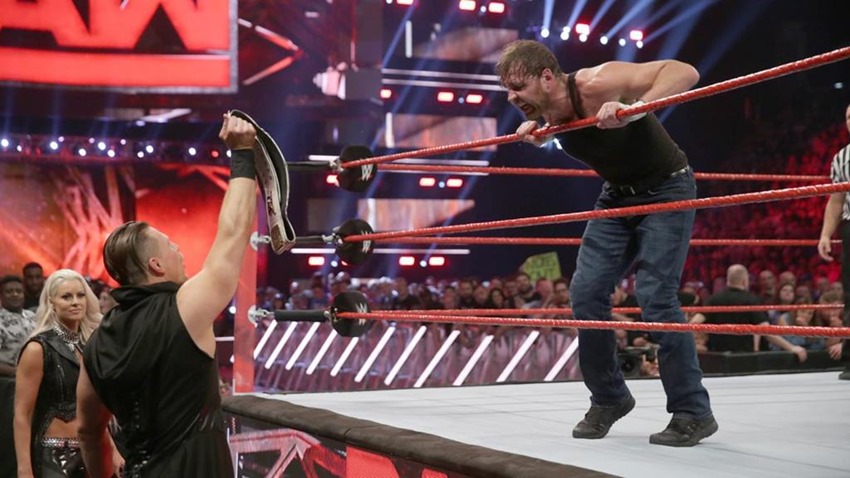 Down for the count, The Miz quickly pounced on Ambrose and delivered some pain as RAW went off the air.
Last Updated: May 9, 2017