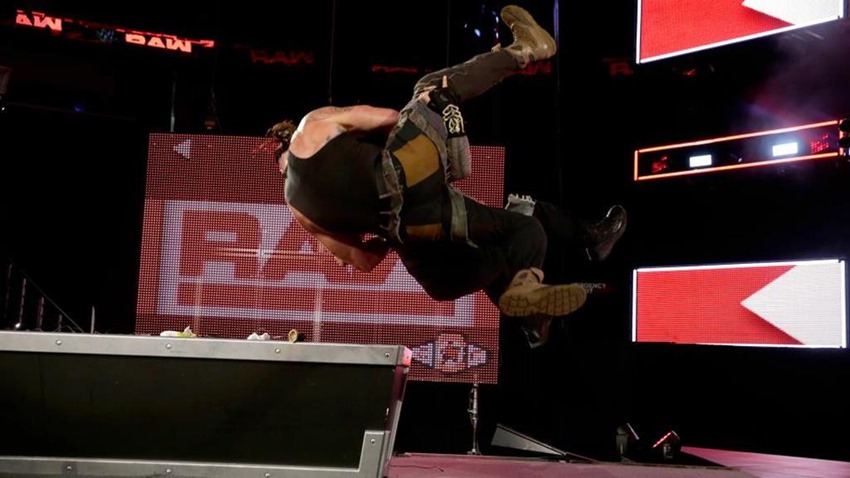 WWE Monday Night RAW took place from the Smoothie King Center in New Orleans, Louisiana. Here's all the action that went down ahead of the Hell In A Cell event that'll be held this Sunday.
The Shield confronted Braun Strowman, Dolph Ziggler and Drew McIntyre
The war between The Shield and Dolph Ziggler's merry band of fiends continued, but it was more of a cold war as the hounds of justice found themselves cornered by the police yet again and given a hard choice by acting general manager Baron Corbin. Either the trio would vacate the premises immediately, or they'd be stripped of their Universal and Intercontinental championships right then and there. Oh, and jail time, which would also suck.
Nikki Bella def. Ruby Riott
Thanks to her sister Brie Bella providing a little ringside backup to keep the rest of the Riott Squa d at Bay, Nikki Bella's return to ringside action saw her notch up another win over Ruby Riott in a hard-hitting match of power.
AOP def. Ronnie Ace and Nathan Bradley
With Drake Maverick steering the team, the Authors of Pain quickly racked up a brutal win against some local talent, locking in a Super Collider in a display of ruthless aggression.
Triple H addressed The Undertaker
The King of Kings ha plenty to say to his opponent at WWE Super Showdown, but his rant came down to a single line: "Out of the last little bit of respect I have left for you, Deadman, I will put you down."
Raw Tag Team Champions Dolph Ziggler and Drew McIntyre def. The B-Team; Dean Ambrose and Seth Rollins attacked after the match
I guess you could say, that it was not to B. Desperate to win back the tag team gold that had been claimed from their carcasses last week, Bo Dallas and Curtis Axel put in a valiant effort but soon found themselves facing the brunt of a Zig-Zag Claymore combo. The real story came after the bell had rung, when Dean Ambrose and Seth Rollins rushed the ring to deliver a beating to the tag team champs.
Had The Shield defied Baron Corbin's orders? Not exactly, as Rollins and Ambrose claimed that they were acting on their own, not as a united force. Convenient. That assault seemed to have paid off, as this Sunday's Hell In A Cell will feature Ambrose and Rollins facing Ziggler and McIntyre for the gold.
Kevin Owens attacked Tyler Breeze and revealed why he returned to WWE
Because he got a hell of a deal from acting general manager Baron Corbin: The freedom to do whatever he wants, without any consequences. Saved you a click.
Bobby Roode and Chad Gable def. The Ascension
The Ascension lost a match. In other breaking news, water is wet.
Raw Women's Champion Ronda Rousey and Natalya def. Alexa Bliss and Mickie James
Fighting through some damage to her ribs, Ronda ROusey picked up the win when she caught Mickie James in an armbar and forced her to tap out.
Mick Foley revealed he would be the special guest referee for Roman Reigns vs. Braun Strowman at WWE Hell in a Cell
How do you officiate a match between a Gift of Destruction and a titan? You get a man who is intimately familiar with Hell In A Cell, Mick Foley! The hardcore legend returned during an Elias segment last night to reveal that he'd be refereeing Sunday's main event. Not exactly happy with his performance being interrupted, Elias soon found himself in hot water as Foley apparently still had a little bit of juice left in his general manager tank, having authorised the next match for the night: Finn Balor versus Elias.
Finn Bálor def. Elias
And what a match it was. A hardhitting affair, Finn Balor managed to pick up a win against ELias by catching him in a small package, earning victory by the skin of his teeth.
Universal Champion Roman Reigns attacked Braun Strowman
Sending a message to Braun Strowman ahead of their showdown, Roman Reigns and the Monster Amongst Men had a hell of a tussle that eventually ended when the Universal champ drove the beast through the ring floor with a Samoan Drop.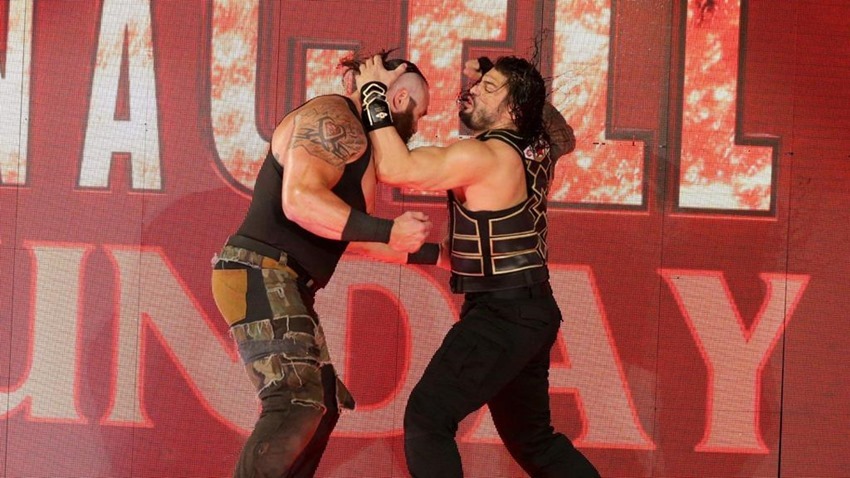 Last Updated: September 11, 2018