WWE Smackdown LIVE took place from the Pepsi Center in Denver, Colorado. Here's all the action that went down ahead of Hell In A Cell this Sunday.
Jinder Mahal launched a sneak attack on Shinsuke Nakamura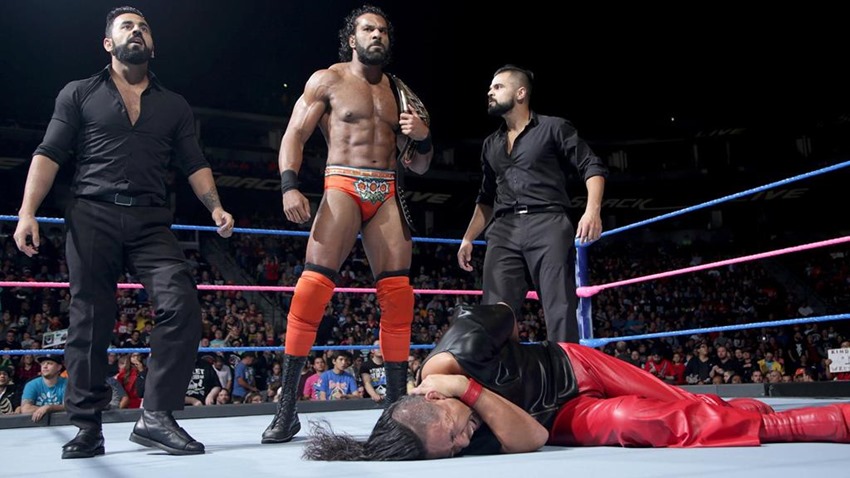 What was intended to be an in-ring interview to start the show, quickly turned into an ambush as the Singh Brothers provided a distraction for WWE champion Jinder Mahal to get the drop on Shinsuke Nakamura. With his cohorts at his side, Mahal laid out his Hell In A Cell opponent with a devastating Khallas, leaving the king of strong style broken before the upcoming main event this Sunday.
SmackDown Women's Champion Natalya and Carmella def. Charlotte Flair and Becky Lynch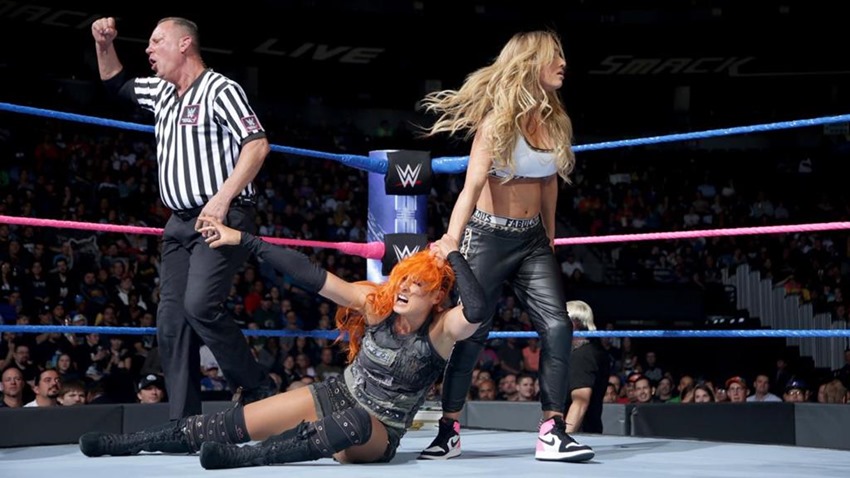 Charlotte Flair and Becky Lynch joining forces? Now that's one hell of a tag team, as the duo took on the combination of Carmella and Natalya. With the match looking to favour Flair and Lynch, Carmella took matters into her own hands when she used her Money In The Bank briefcase to attack Lynch, giving the Queen of Harts just the distraction that she needed to lock Flair into her trademark Sharpshooter and earn a submission win.
Bobby Roode def. Mike Kanellis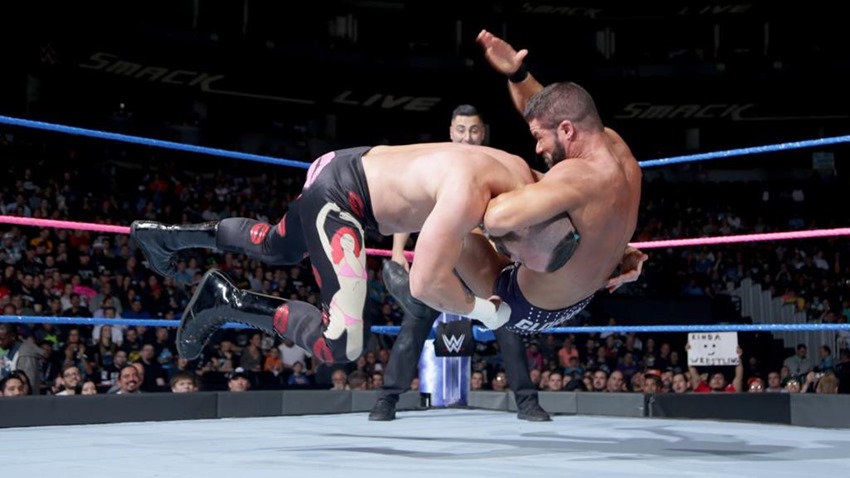 Mike Kanellis may have the power of love, but he didn't have the power of being simply…GLORIOUS. Taking Kanellis to school, Roode made short work of his opponent before locking in a Glorious DDT to earn the win. Dolph Ziggler then decided to interrupt with another mock entrance, promising Roode that that he'd see an entrance that he'd never seen before at Hell In A Cell (R10 says it's Roode's own entrance).
Also, Ziggler promised that the glorious one would be out-fought at Hell In A Cell. Sounds like someone is due for a Roode awakening.
The Usos read The New Day their rights; The New Day read The Usos their lefts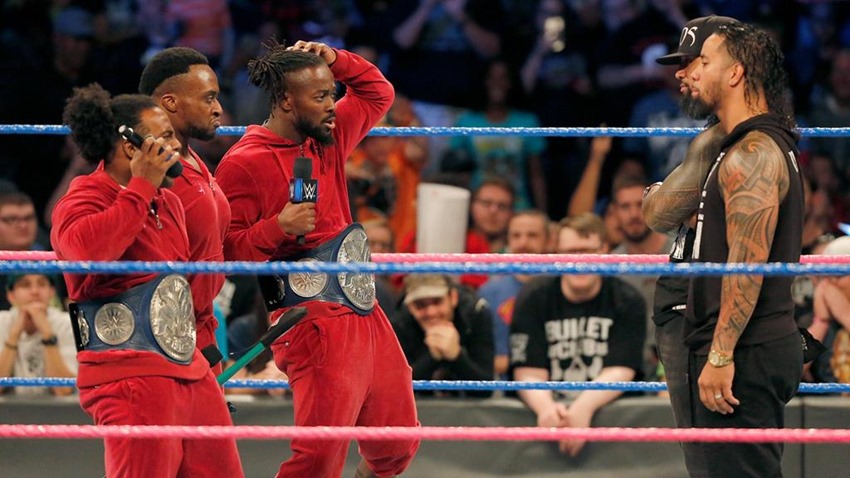 …These segments are getting weird. Amyway, two tag teams, one championship and plenty of in-ring banter between the two as the New Day told the Usos that their so-called Uso Penitentiary Hell In A Cell match would soon become a block party when the two teams tangled.
Tye Dillinger def. Baron Corbin
Back in action and looking for some revenge, the Perfect 10 pushed back against Baron Corbin's brute force, eventually trapping the lone wolf in a surprise roll-up to get the three-count. An impressive victory, which caught the eye of United States Champion AJ Styles as he promised Dillinger that shortcuts would be ineffective on him come this Sunday when the two lock horns.
Randy Orton def. Aiden English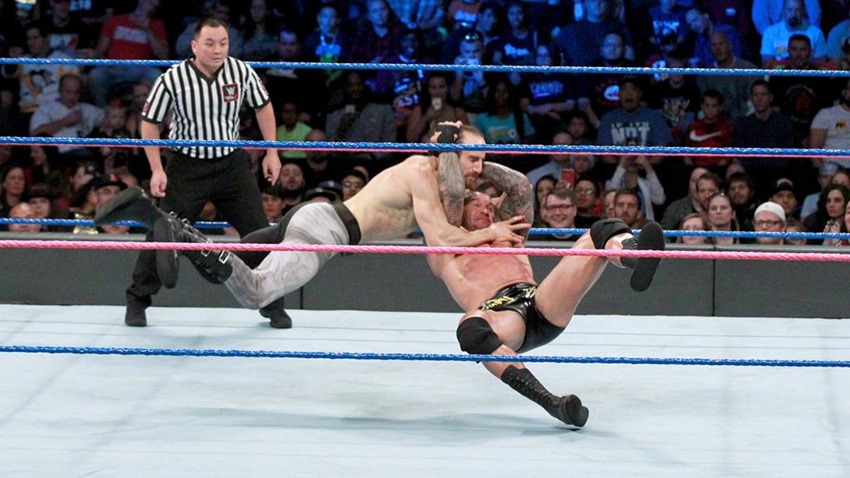 After having his serenade ruined by Randy Orton's gate-crashing of Rusev's pride of Bulgaria celebration last week, Aiden English wanted some payback. Instead, he got an RKO outta nowhere, with Rusev quickly attempting to blindside the Viper after the bell had rung. Ortonw as ready however, sending Rusev a message that this Sunday was going to be brutal for the Bulgarian.
Kevin Owens unleashed pre-Hell in a Cell assault on Shane McMahon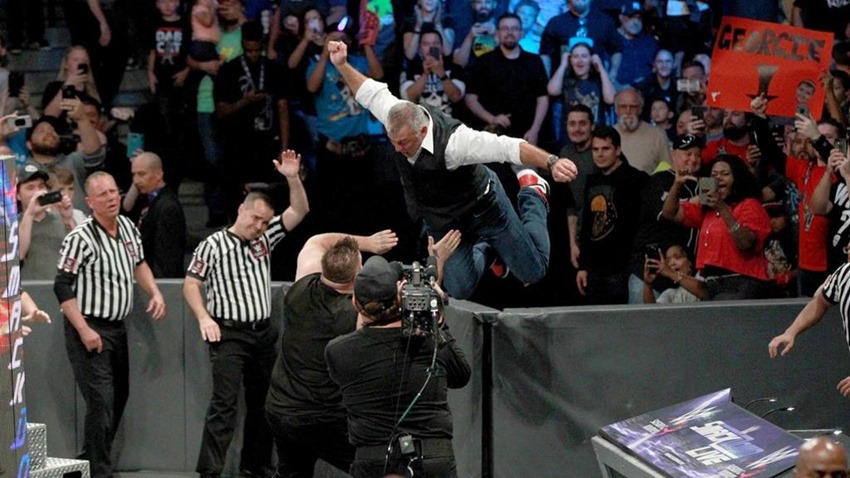 With only a few days left before Smackdown LIVE Commissioner Shane McMahon and Kevin Owens meet in the ring, the two bitterest of rivals came face to face last night for a verbal showdown and confirmation that their bout would now also have a Falls Count Anywhere modifier attached to it. Or at least that was the plan, as Owens instead popped up in the audience, spitting blame and vitriol at Shane and blaming him for the assault on Mr McMahon.
Chasing down Owens, Shane got caught in a sneak attack, eventually finding himself power-bombed through a merchandise table. That wasn't enough to put the younger McMahon down however, as he re-emerged and took another beating in the ring that ended with a headbutt and Pop-up Powerbomb combo.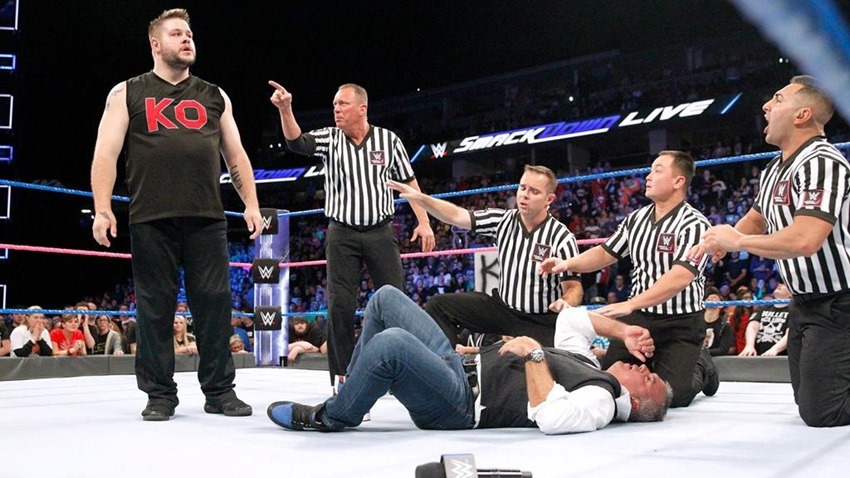 Last Updated: October 4, 2017