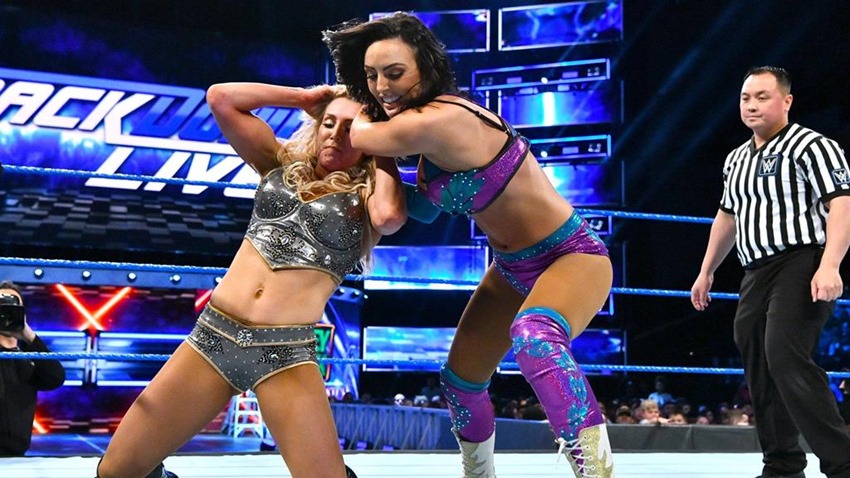 WWE Smackdown LIVE took place from the Royal Farms Arena in Baltimore, Maryland. Here's all the action that went down last night.
The Miz def. Jeff Hardy to qualify for the Men's Money in the Bank Ladder Match
M-m-m-m-money! In the bank! Or in a briefcase specifically, as it was time for Smackdown LIVE to find a few participants for a pair of ladder matches that would reward the victor with a championship contract. First up: United States champion Jeff Hardy and The Miz, who put on a slobber-knocker of a show. Just when it looked like Jeff Hardy's usual Twist of Fate and Swanton Bomb finisher combo were going to earn him another win, The Miz used Hardy's own momentum against him to score the winning pin.
Charlotte Flair def. Peyton Royce to qualify for the Women's Money in the Bank Ladder Match
Next up was the Ilconic's Pyton Royce as she attempted to make history in the ring. Charlotte Flair had other ideas for the night however, dropping the challenger and weathering several cheap shots from Billie Kay at ringside as she unlocked her spot in the Women's Money in the Bank ladder match.
Cesaro def. Xavier Woods
Xavier Woods picked up a huge victory last week when he defeated Sheamus, a feat that Cesaro was none too happy about. The Swiss Superman wanted to save the reputation of The Bar, while The New Day kept his partner at bay with slams and flapjacks. Woods may have had the heart to win in this match, but Cesaro's brutal uppercut killed any dreams of a two-for-two win when the face of Woods collided directly with that fist off of the top rope.
Mandy Rose def. Becky Lynch
With Absolution dead, Mandy Rose found herself facing a very determined Becky Lynch and not a single ally by her side. Without having to fight with eyes in the back of her head, Lynch was ferocious in her assault, making short work of any offense that Rose could throw at her. Surprisingly, Rose got the win when she countered a kick from Lynch into a rollup pin, proving that she had some skill on her own after all.
Rusev def. Daniel Bryan to qualify for the Men's Money in the Bank Ladder Match
Daniel Bryan may be back in action, but he's quickly learning that the WWE landscape has changed significantly in the three years that he was out of action. Barely defeating Big Cass at Backlash, Bryan faced Rusev for a spot in the Men's Money in the Bank ladder match. Still nursing some battered ribs from his encounter with Big Cass, Bryan's offense was cut short by Rusev's own ferocity and Aiden English having the super-athlete's back.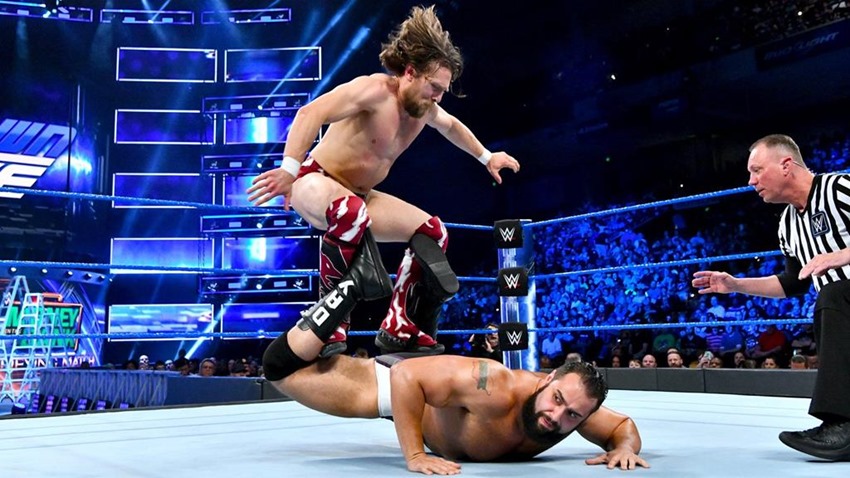 Wounded and struggling, Bryan eventually fell before Rusev who claimed not only a win but a chance at glory.
Last Updated: May 9, 2018