WWE SmackDown took place at the Pinnacle Bank Arena in Lincoln, Nebraska.Here's all the action that went down before Backlash kicks off.
Opening segment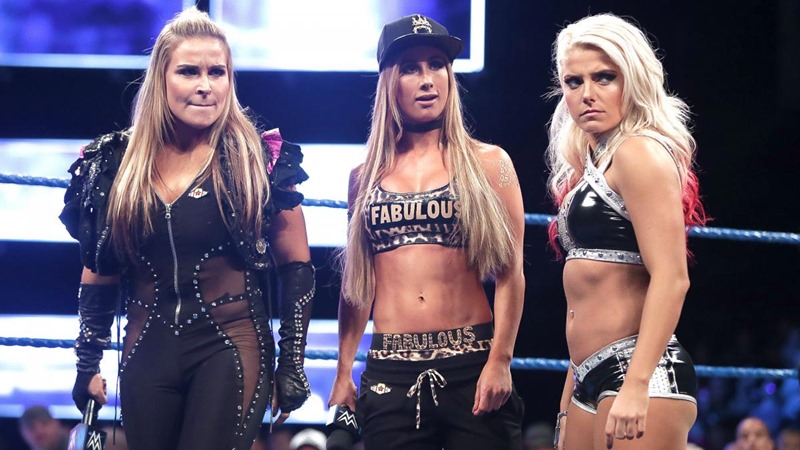 Daniel Bryan was in the Smackdown ring to kick the show off, inviting Becky Lynch out to talk about she wants to win the Smackdown Women's Championship. Fame and power? Probably. Anyway, Natalya then decided to interrupt and proclaim that she was the real star of the division. Which of course prompted Alexa Bliss and Carmella to appear and like totes get in each other's face. And then everyone started brawling, with Naomi and Nikki Bella joining the fray as well in a brouhaha that ended with faces triumphing over heels.
Backstage
Dean Ambrose really didn't like his coffee. More importantly however, Shane McMahon and Daniel Bryan were discussing the upcoming six-pack challenge in the women's division when The Miz decided to interrupt about having to do his job on Smackdown. Words were exchanged, and The Miz was given an ultimatum: Wrestle or be stripped of his Intercontinental title.
The Miz defeated Apollo Crews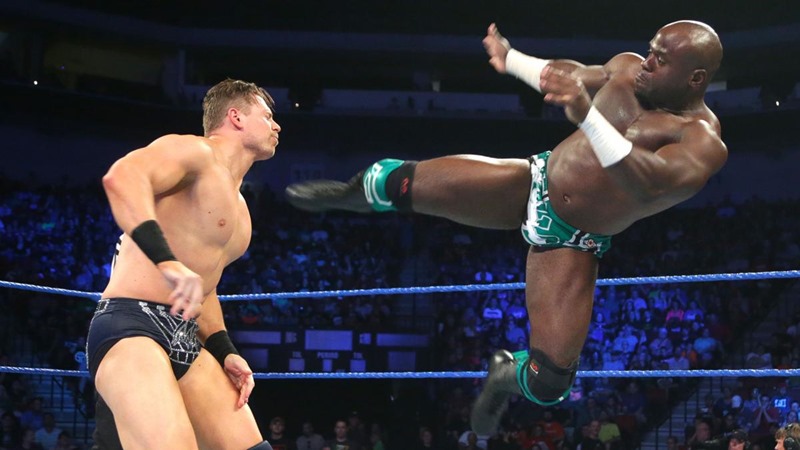 And thus The Miz wrestled! El Miz took on Apollo Crews in some heavy action while Dolph Ziggler stuck around the commentary table to poke fun at the awesome one for avoiding him. The Miz nailed backbreakers and neckbreakers on Apollo Crews, while the big man himself was in fine form with moonsaults and Sunset Flips.
After a brief altercation with Ziggler, the match wrapped up with a Skull-Crushing Finale on Crews to seal the deal on a win. Attempting to get his IC belt, Dolph Ziggler stood in the ring with it and told The Miz to come fetch it. Which he did, via the proxy of Maryse who was sent in to retrieve the belt.
Backstage
Quick wrap-up here: AJ Styles was angry over footage aired last week on Smackdown, the Usos prepped for a tag team title tournament and a pre-taped video starred Bray Wyatt cutting a promo on Randy Orton.
Natalya, Alexa Bliss and Carmella defeated Nikki Bella, Becky Lynch and Naomi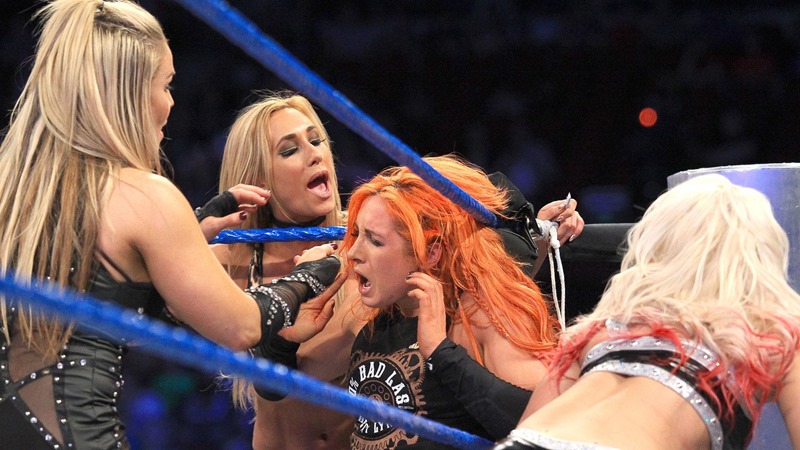 The ladies of Smackdown collided in one massive six-women tag team event, as clotheslines and slams flew everywhere. Victory came via Carmella locking Nikki Bella in the Code of Silence after the rest of the ladies had dropped enough finishers to clear the ring, sealing a win for the faces that night.
American Alpha defeated The Usos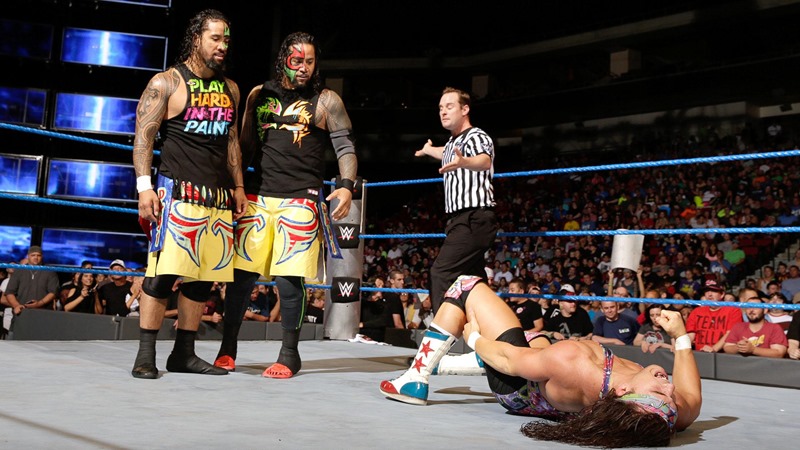 What looked like some good sportsmanship from the The Usos quickly turned into a slobber-knocker as they pounced on American Alpha the second that their backs were turned after they shook hands. Gable and Jordan weren't going to go down easy however, and after a mere couple of minutes into the match they managed to recover enough to land the Grand Amplitude for a quick win.
The two teams shook hands once again. And again American Alpha got blindsided by The Usos who left them with a beatdown and a knee injury on Gable afterwards.
Backstage
Randy Orton was interviewed about Bray Wyatt, and he spoke of a tale about a man in the woods being bitten by a snake. Something that Bray Wyatt will soon learn of at Backlash.
Fandango was in the ring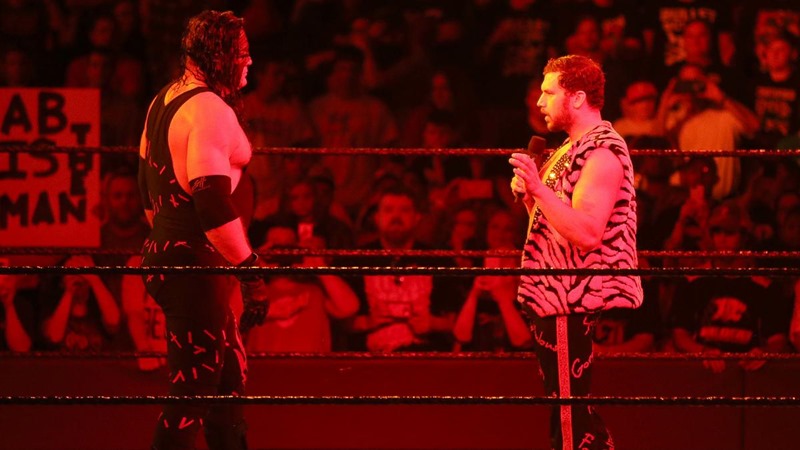 And he was ready to DANCE! With his partner Tyler Breeze not in the Smackdown arena for the night, Fandango chose a random girl to dance with him, but she didn't measure up to his standards apparently. Deciding to interrupt the dirty dancing, Demon Kane appeared. Obviously thinking that the big red machine wanted some lessons, Fandango told him to dance and to "feel the fire in his belly".
Kane decided to chokeslam him instead, presumably hard enough to knock the Macarena dance moves out of his memory.
Rhino and Heath Slater defeated The Hype Bros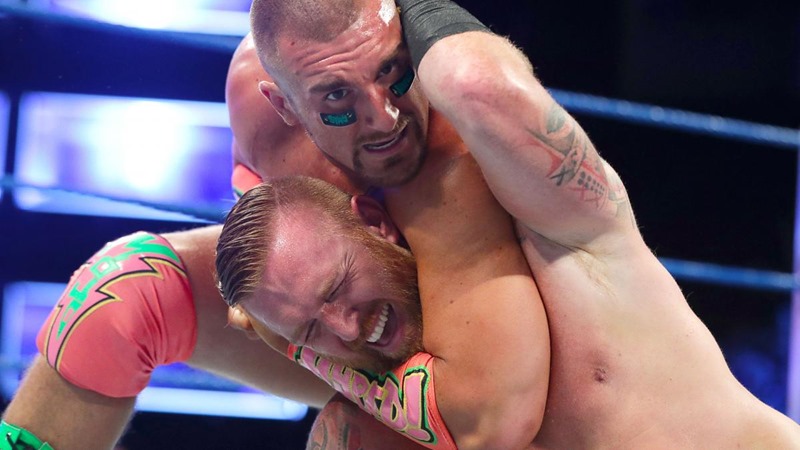 The two-man rock band had a great night on Smackdown, managing to overcome Ryder and Mojo long enough for Rhyno to carry the match and gore Ryder for a win.
Dean Ambrose and AJ Styles confronted each other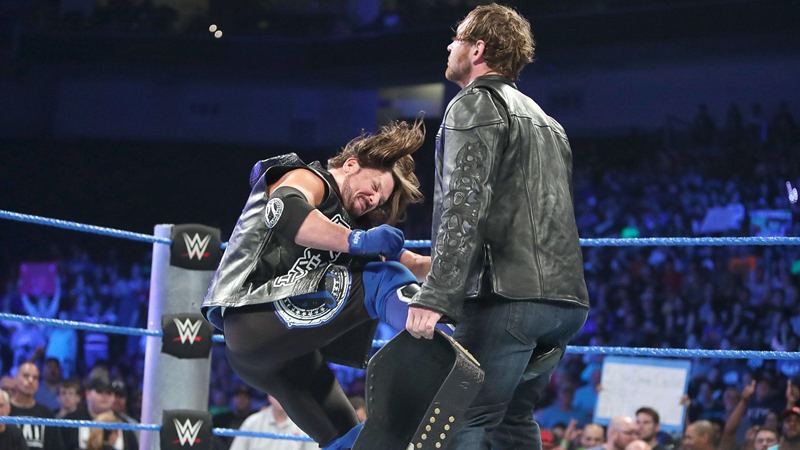 And Ambrose didn't need no interviewer in the ring for this bit. Deciding to air footage of AJ being taking a crotch-shot from the top rope again, Ambrose was all giggles while AJ fumed. But according to Ambrose, he was just trying to help AJ by giving him a higher-pitched voice to match his soccer mom haircut. Anyway, the two engaged in some verbal foreplay before the main event at Backlash, with the jousting ending with a crotch shot from Styles to Ambrose as Smackdown ended for the night.
Last Updated: September 7, 2016