WWE TLC was held at the American Airlines Center in Dallas, Texas. Here's all the action that went down.
Apollo Crews, American Alpha and The Hype Bros defeated Curt Hawkins, The Vaudevillains and The Ascension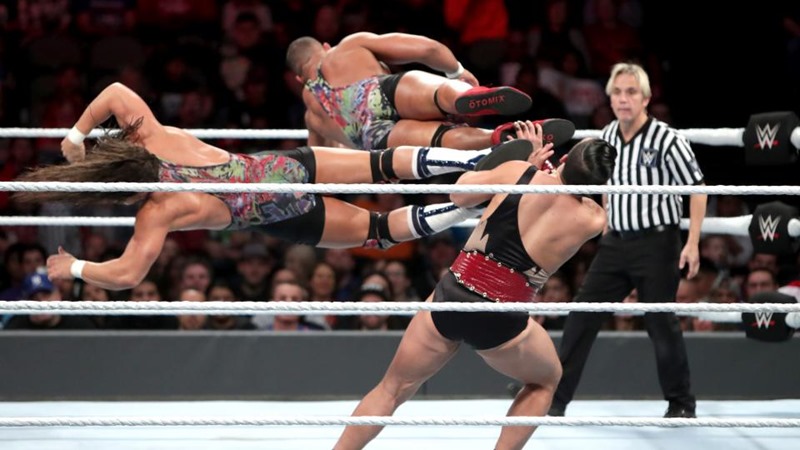 Kicking off WWE TLC this year was a massive 10 man tag team match, as some of Smackdown's best superstars started an exchange of blows and slams. While the match may have begun in a traditional manner of one on one action, chaos quickly erupted when all ten men went at it, leaving only a few teams standing.
But with the bout entering a high gear, it'd be American Alpha who'd claim victory thanks to a Grand Amplitude on Simon Gotch.
Randy Orton and Bray Wyatt defeated SmackDown Tag Team Champions Heath Slater and Rhyno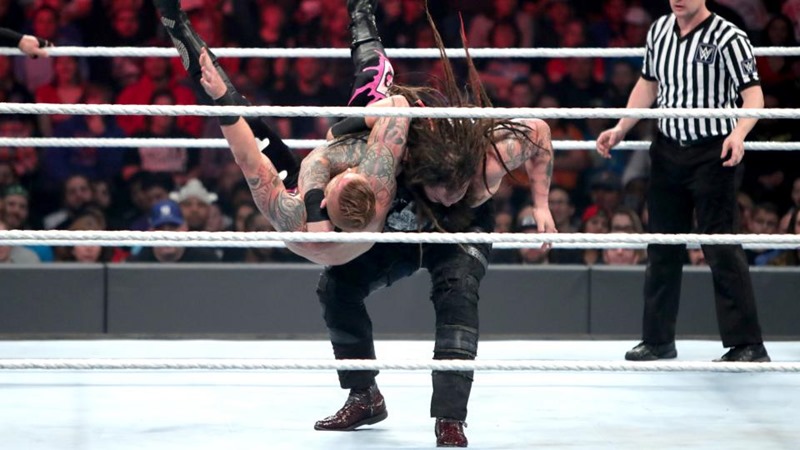 Much like 2016 itself, Randy Orton and Bray Wyatt weren't sticking around to take any prisoners. At WWE TLC, the Eater of Worlds and the Apex predator were ready to end the championship reign of Heath Slater and Rhyno, ferociously attacking with an eye on the prize. With Luke Harper making an appearance and sacrificing himself to take a gore that was meant for Orton, the Viper was able to easily lock in an RKO outta nowhere and help bring home the gold to the Wyatt family.
Nikki Bella defeated Carmella (No Disqualification Match)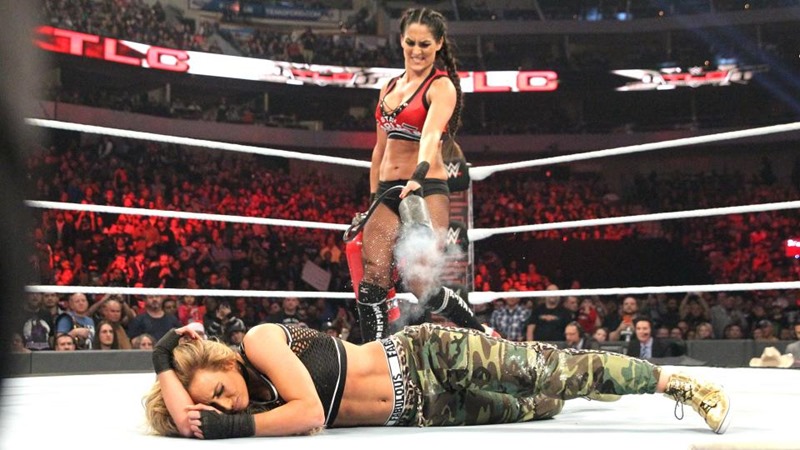 Nobody cares about Nikki Bella and Carmella deserves to be in far better feuds. SHE WUZ ROBBED. Nikki won with a fire extinguisher and Rack Attack 2.0 combo. NEXT WWE TLC MATCH!
Intercontinental Champion The Miz defeated Dolph Ziggler (Ladder Match)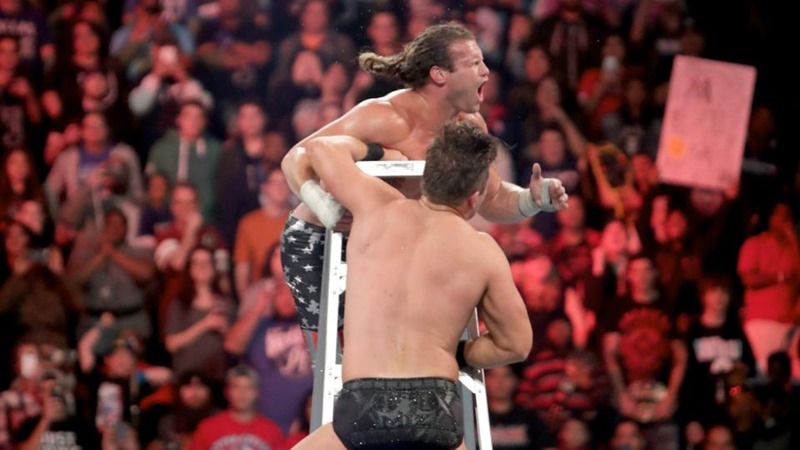 The Miz has been on a tear throughout 2016, having bounced back from any loss as the undisputed Intercontinental champion. He may have lost the belt earlier this year to his rival Dolph Ziggler, but The Miz quickly regained his title and held onto it with tenacity. And at WWE TLC, The Miz proved why he was one of the most dangerous men on Smackdown.
Quickly annihilating some cartilage in Ziggler's knee in this brutal ladder match, The Miz's TLC gameplan was to render the Show-Off incapable of climbing the ladder or performing any of his signature moves, a tactic that worked out aces for him. Throwing more punishment towards Ziggler's knee, The Miz even threw in a Skull-Crashing Finale onto a ladder for good measure, beating down Ziggler any time he showed signs of rallying to victory.
The match ended with a photo finish, as both men climbed the ladder and duked it out. But going low with his blows saw Ziggler crash and burn, his hopes of ever being able to challenge The Miz for an IC title shot ever again done and dusted.
Baron Corbin defeated Kalisto (Chairs Match)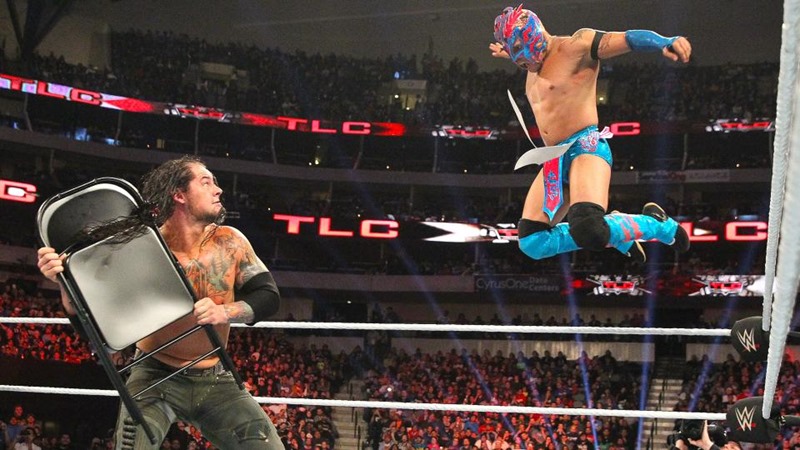 WWE TLC was home to another classic match of speed versus power. But with chairs added to the mix for good measure as Kalisto and Baron Corbin looked to end their 2016 feud with a statement. Kalisto wasn't holding back last night, as he prepared the ring with steel chairs and brought a flurry of attacks to the lone wolf in the opening minutes.
But taking the initiative, Corbin threw the luchador into a pile of chairs and began to setup a counterattck, using the furniture to deadly effect. Kalisto wouldn;t go down without a fight however, as one of the finest moments of WWE TLC saw him send Corbin crashing into a half dozen of the chairs with a well-timed Senton.
But the tide turned for the Lucha Dragon, when a risky top rope move saw Corbin swing and score a homerun with a chairshot that reverbrated throughout the arena. The End of Days arrived, as Kalisto was sent crashing into more of the unforgiving steel and the bell was mercifully rung.
Alexa Bliss defeated SmackDown Women's Champion Becky Lynch (Tables Match)
If anyone has earned their title in 2016, it was Alexa Bliss as the so-called "wicked witch" of the WWE was plotting pure evil at TLC. Current Smackdown Women's Champion Becky Lynch kicked off this match with bad intentions, but the challenger quickly gained the upper hand when she survived a crash into the tables by sinking her teeth into the flesh of Lynch.
Going full-on savage, Bliss wouldn't let up her assault, using any tactic or trick at her disposal to grab the gold. And grab the gold Alexa most certainly did, as she definitively proved herself the best woman of the night with a thundering powerbomb through a ringside table that knocked out Lynch. One, two and three: Smackdown had a new champion crowned last night at WWE TLC.
WWE World Champion AJ Styles defeated Dean Ambrose (Tables, Ladders and Chairs Match)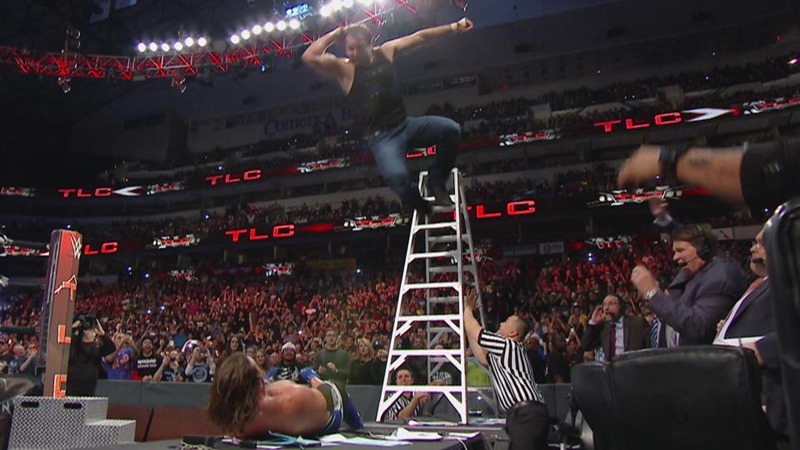 Two titles had changed hands at WWE TLC before this match began. Would the main event result in a hat-trick then? Well it came damn close, as the Lunatic Fringe almost reclaimed the highest of honours in the WWE TLC ring. Styles and Ambrose were ready to brawl even before the bell rung, throwing fists and slams at every single opportunity while setting up ladders to climb the path towards victory that hung above them.
AJ Styles felt the pain of a ladder blow early on, as the champ who runs the camp fell victim to all manner of punishment from Ambrose. A lethal fight, Ambrose and Styles made full use of the contents under the ring and began shaving years off of each other with ladder strikes and chair shots. The intensity was dialled up to 11 when Ambrose sent Styles through a pile of chairs, and began setting up a ladder on the announcers tables so that he could put down his foe with an elbow for the ages.
How these two were still alive after that is anyone's guess, as Styles somehow managed to pull of a 450 Splash from the top rope to even the odds. But it was the arrival of James Ellsworth that ended with the demise of Ambrose. The pal of the lunatic wanted to cause some interference, helping Ambrose hit the champ with a Dirty Deeds finisher so that he could finally climb to glory.
But just when Ambrose was about to grab the gold, Ellsworth pulled a metaphorical knife out and shoved the ladder holding him, sending Ambrose down to the ground in the most painful way possible. With Ambrose out for the count, the Phenomenal One had all the time in the world to reclaim his belt, as WWE TLC ended with a betrayal that nobody saw coming.
Last Updated: December 5, 2016