Write what you know. It's a fairly standard piece of advice. Certainly, William Moulton Marston, the creator of Wonder Woman, took that to heart when coming up with the iconic comic book heroine. The thing is, Marston's life was anything but standard.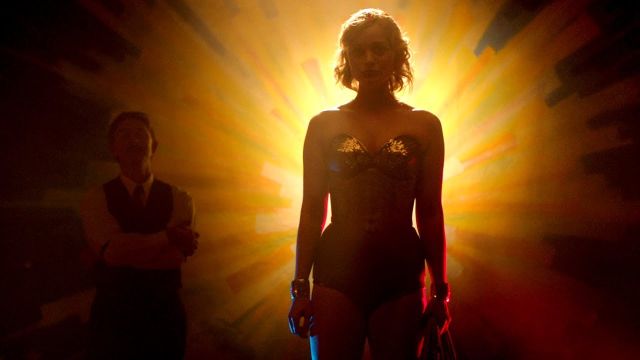 Even before trying his hand at comic book writing in the 1940s, Marston was an acclaimed psychologist and the inventor of a crucial lie detector component. He also lived happily with both his wife – multi-degreed attorney and fellow psychologist Elizabeth Holloway Marston – and his "domestic partner," bracelet-clad academic, Olive Byrne. Oh, and in-between the polyamory, he was into bondage and "loving submission".
With such a bizarre true story behind the development of the world's first female superhero, Hollywood had to come sniffing eventually. And they did. At some point during 2017, we can look forward to indie biopic Professor Marston & the Wonder Women. In it, Luke Evans (Beauty and the Beast, Dracula Untold) plays Marston, while the rule-breaking "wonder women" in his life, Elizabeth and Olive, are portrayed by Rebecca Hall (The Town, Iron Man 3), and Bella Heathcote (Dark Shadows, Pride and Prejudice and Zombies) respectively.
With Wonder Woman interest at a fever pitch right now, it's little surprise that the first teaser for Professor Marston & the Wonder Women appeared before some screenings of the smash hit DCEU movie last weekend in the United States. That same teaser is now online (see below), as is the official site, which promises more information soon.
The teaser is just that – a mere 23-second glimpse at the movie. What it establishes is that Professor Marston & the Wonder Women will play up a real-life "secret identity" angle. More specifically, Marston has to appear before a morality board to defend his comic creation against charges of "sexual perversion", while hiding the unconventionality of his private life. This is according to ComingSoon.net.
Biographical films can be plodding. However, with its strong leading trio, as well as its mix of feminism, progressive collaboration (both Elizabeth and Olive contributed towards Wonder Woman) and alternate lifestyles, Professor Marston & the Wonder Women has the potential to be a fascinating look at how the world's first female superhero was born out of courageous defiance and an embracing of the unconventional.
Last Updated: June 6, 2017