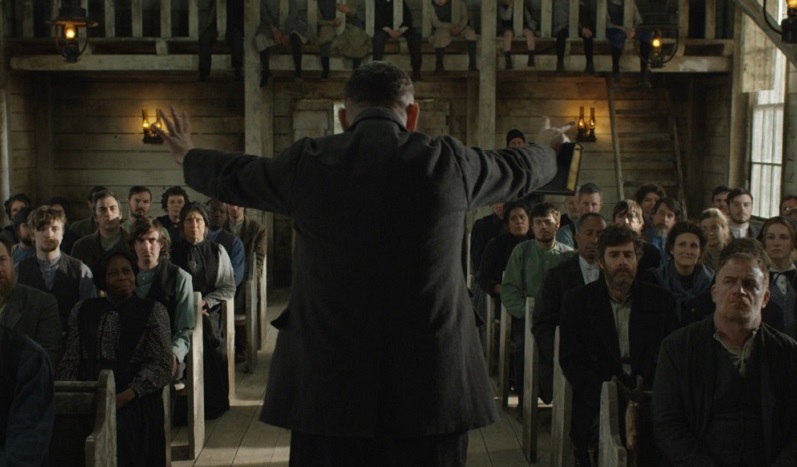 Netflix is releasing its new brutal and hard hitting horror movie written and directed by Gareth Evans (The Raid) and to make sure we're ready for it, they dropped a new short teaser that brings out the creepiness and gives us some brief glimpses of what we can expect from this dark, graphic and horrific tale:
And if I can answer them – I'm not sure I am ready for it. Yes, it looks like it is going to be an amazing movie, but not one that could be easy to watch. Everything we've seen so far is quite disturbing and it's likely to be one of those movies that could easily leave you feeling a little uncomfortable for having watched it.
Apostle sees Thomas Richards (Dan Stevens) travels to a remote island to rescue his sister after she has been kidnapped by a mysterious religious cult – headed by Prophet Malcom (Michael Sheen) – demanding a ransom for her safe return. However the more Richards explores this strange island, the deeper it takes him into the lies upon which the commune has been built and the darkly twisted ways they choose to live.
If there is anything that could potentially be scarier than Aliens for me, then its religious occultism and the demonic things that can be conjured up through certain demonic forces. So far this movie has been getting stellar reviews form critics who have been able to watch it and if it turns out to be as good as they say it is, who knows, we could be writing about this movie in future horror countdowns.
Apostle releases this Friday, October 12th on Netflix and along with Stevens and Sheen, also stars Lucy Boynton, Mark Lewis Jones, Bill Milner and Kristine Froseth.
Last Updated: October 11, 2018