You know a MOBA has to be pretty damn good if even Darryn "hater of everything" Bonthuys has nice stuff to say about it. No really, he hates that genre in particular with a fiery passion that rivals that of a thousand suns, but he enjoyed SMITE enough to give it a respectable eight D's outta ten!
Point I'm trying to get at, is that if Darryn enjoyed the third person MOBA, you probably will too. There's really no way to know for sure unless you download SMITE and try it out for yourself. That, or you could sit back and watch the World Championship instead, which just so coincidentally kicks off tomorrow (via VG247).
Granted, you probably will have no idea what the hell is going on, but hey, it's gods (and demi-gods) from various pantheons beating the snot out of each other, so what's not to like? This latest cinematic from Hi-Rez really encapsulates what the MOBA is all about…
Except, that's just a cinematic, and the game itself isn't that pretty. Still, there's a competition taking place over the next few days, and the stakes are nice and high!
The following 10 teams will be battling it out for their share of $1 million dollars:
Paradigm
Epsilon Esports
Cloud 9 G2A
Enemy
Pain Gaming
Isurus Gaming
Avant Garde
OMG B
QG
FNATIC
Both Paradign and Cloud 9, the European and North American champions respectively, have an advantage. They start out in the quarter final part of the championship. The other teams have to fight through two games to get to that very same spot. Here's an overview: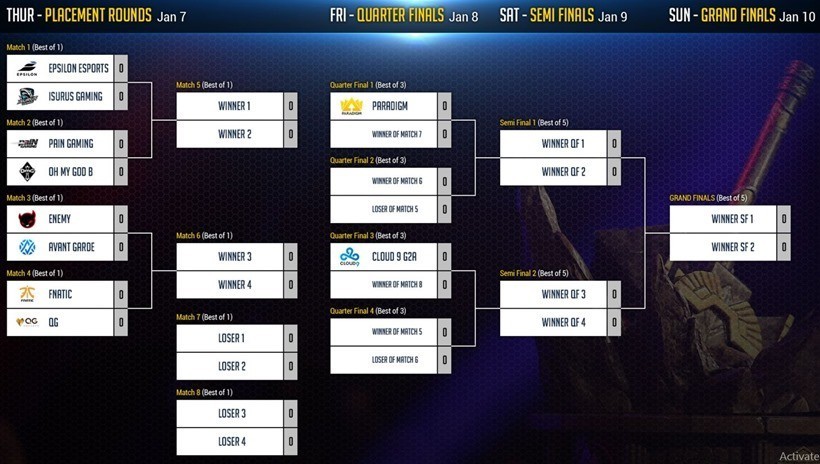 Having never watched competitive SMITE myself, I can't comment on who I think will win. I'm keen to catch some games though! What about you? Will you be watching The Smite World Championship?
Last Updated: January 6, 2016