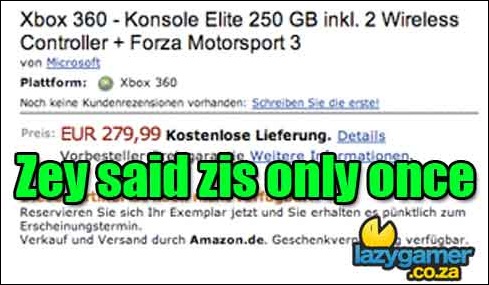 If you'll recall, 3 weeks before the PS3 slim was announced, Germany's localised Amazon had the product listed. Showing that they've plugged up all their leaks, they recently had the rumoured-but-yet-to-be-confirmed 250Gb version of the Xbox 360 Elite listed on the site. It seems that not only will you be able to pick up an elite with a nicely sized 250Gb drive, but you'll get two controllers and a copy of Turn-10's upcoming Forza Motorsport 3 thrown in.
The link to the listing now throws up a 404 error message in German – which I can only assume means Microsoft has concealed it, along with the portrait of The Fallen Madonna with the big boobies in a large knackwurst somewhere.
Amazon.de also had the price, and surprisingly it's lower than the new lowered retail price of the current Elite. At a very tasty and somewhat implausible 279 Euros (roughly 3129 ZAR) this bundle – if it's real – seems to be Microsoft's attempt to quell the current tide of the PS3 Slim fever.
Locally it seems that BTGames, despite there not being any official announcement from Microsoft,  has started advertising the 250Gb Elite for R4699 -  making it currently the most expensive current-gen console available.
Forza Motorsport 3 ships on October 23, so we'll have to wait until then to see if this bundle is the real deal or not, but if it is console buyers this holiday season are in for a few very difficult purchasing decisions.
Source : Engadget
[Thanks to eXp[ZA] for the tip]
Last Updated: August 28, 2009