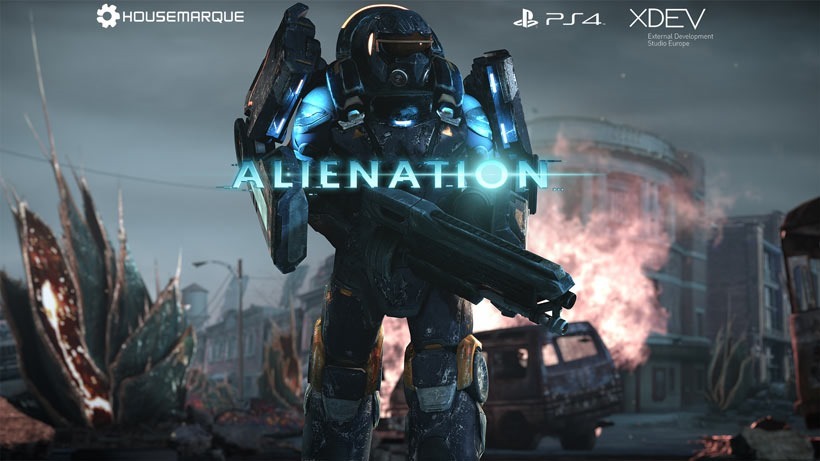 Housermarque, the chaps behind Resogun, Super Stardust and Dead Nation showed off their new game MatterFall yesterday. While it has a stupid name (why does it have to end in fall?) it looks incredible taking bits of gameplay from games like Vanquish, P.N.03 and even Megaman, I suppose.
It looks like something I definitely want to play – but its showcasing last night meant that Alienation; the sci-fi follow up to Dead Nation got lost . I loved Dead Nation, a simple, lite RPG twin-stick shooter that I played with the wife, as we blasted our way through hordes of the undead.
Alienation takes that premise, gives it some new-gen shine, and replaces the zombies with aliens and robots. It may not be the deepest game, but I'm dead certain it'll be a lot of fun.
"The aliens have taken over and it's time for humanity to kick ass and regain control. This explosive shooter takes you on an E.T. slaughter fest – right here on your home turf.

Join forces with up to 4 player co-op action, drop into your friends' games for instant action and keep the aliens grounded. Global eradication of the unwanted visitors is the goal and huge guns are the key. Rip apart and research the tech salvaged from puddles of slime, to turn it back against the enemy from outer space. There is no better time than now to stand up and fight."
Alienation was largely missing from the show last night – though astute viewers may have caught a glimpse of the game from Sony's pre show. There was a trailer, and you can watch it now.
On the surface, Alienation ooks a lot like the also awesome Helldivers, but this is a bit simpler with more of a focus on just killing everything that moves than strategically trying to move across a battlefield and complete objectives. There is, unfortunately, still no sign of a release date.
Last Updated: October 28, 2015