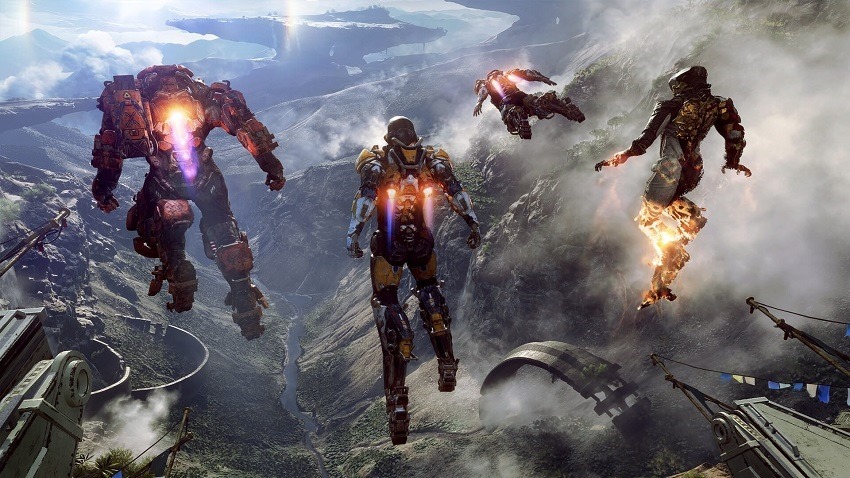 Anthem is the big bet both EA and BioWare are making on your time. It's another shared world shooter that is hoping you'll drop everything else and hand over most of your free time to it, as you pursue its evolving stories, third-person action and strange jungle-dense world. Because let's be honest – there's no one anyone is able to put in the right amount of time into all of these new massive games that they deserve. You're going to be deciding between this, Destiny, The Division, Warframe and so many more. So it's good that a little taste in February will give you an idea if it's worth that commitment.
Anthem is set to launch on February 22nd on Xbox One, PS4 and PC, and EA has announced that a vertical slice of the game will be made available early that month. On February 1st Anthem VIP demo will go live for anyone subscribed to EA Access on Xbox or Origin Access on PC. If you're on PS4 you'll need to pre-order Anthem for access, which is just slightly more of an investment. The demo won't be a limited technical test or beta, and instead a specially crafted slice of the game that launches weeks after. That's according to Anthem lead producer Mike Gamble, who announced the date during a panel at PAX West this past weekend.
Along with the news a new trailer for Anthem went live, promising some expansive stories that will take into account your actions and translate that into a noticeable impact on the shared world around you.
Anthem is looking good so far, but still has a lot of questions lingering. We've seen the use of the game's massive Iron Man like suits in action, and it looks like a lot of fun. Called Javelins, these suits embody the three class differences that Anthem offers, giving you a hulking brute akin to some personalized Hulkbuster armour to something more sleek and nimble but also far more fragile. EA hasn't shown off much other than the same jungle areas in gameplay, and I'm personally curious to see how much visual variety will be present at launch. BioWare is great at creating captivating, colourful worlds, and I want to see those skills stretched to the limit here.
Anthem is launching during a packed period, with Days Gone, Crackdown 3 and Metro Exodus sharing its release date. It's also out just before The Division 2, which launches in March.
Last Updated: September 3, 2018