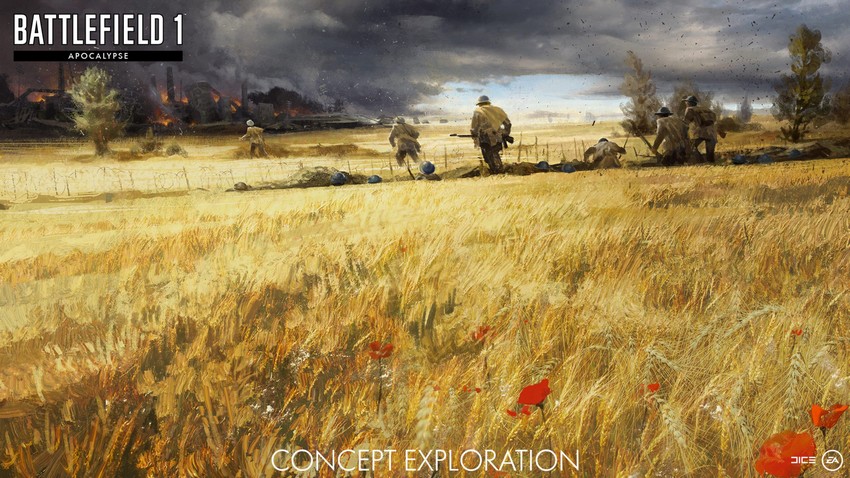 We're still about a week or so away from the second half of the Turning Tides DLC for Battlefield 1 going live, so we haven't even sunk our teeth into that incredible-sounding destroyer vs destroyer combat or shot up the two new maps, Heligoland Bight and Zeebrugge, yet but already the folks at DICE are hyping up the next expansion for their WWI shooter. That may sound like jumping the gun a bit, it's actually not as the Apocaplyse DLC will be out next month!
Yes, releasing some time in February for Battlefield Premium members, Apocalypse will take players to the final days of WWI, to "enter a living hell and participate in the most brutal battles of the cataclysmic Great War". Apocalypse will bring with it new weapons and vehicles to be tried out on five new maps, two of which – Razor's Edge and London Calling – will be home to a brand new dedicated aerial combat game mode called Air Assault. Yes, its time to see who the real Red Baron is among gamers as they dogfight it out without having to worry about those pesky infantry trying to blow them out of the sky.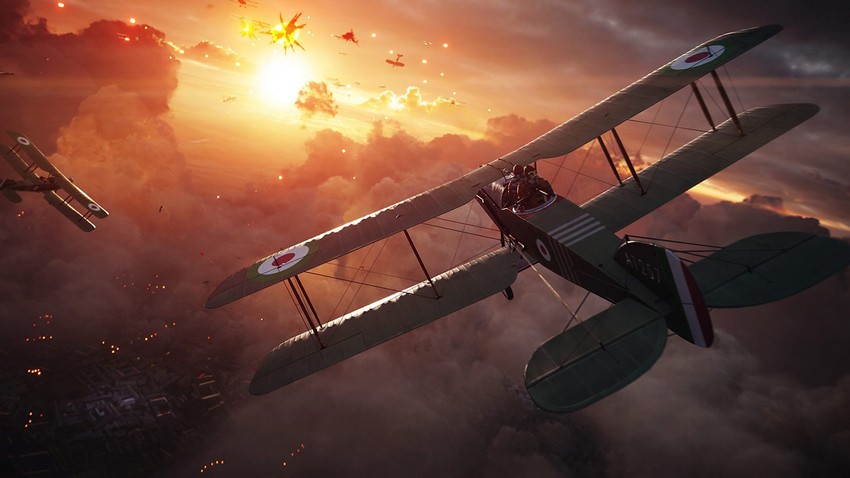 Seeing as I pilot a plane in BF1 about as well as Hellen Keller would have, I don't think I'll be spending much time in Air Assualt. No, I'll be down in the trenches checking out the new gear like anti-air rocket gun, the RSC SMG, and the controllable pigeon camera. Or maybe even unleashing poisonous hell on enemies with the new Livens Projector gas artillery barrage. I'm sure folks are going to love that, because everybody loves gas in Battlefield 1, right? RIGHT?!
And for those super soldiers out there who feel like having an extra challenge, Apocalypse also brings with it new Specializations in the form of Afflictions. In a nutshell, these are actually handicaps that will do things like forcing you to play with your gas mask on the entire time, or losing some of your score every time you respawn. DICE have said that these Afflictions have been designed for the "pro player", but I can see how these modifiers could be used for some fun mayhem on the battlefield.
Here are the full details for Apocalypse:
CONQUER THE CLIMACTIC BATTLES OF THE GREAT WAR. Fight to the end on the iconic, infamous battlefields of World War 1's final days.

NEW MAP: PASSCHENDAELE

Once the quiet countryside of Belgium, now a nightmarish landscape of blood and mud. Claw your way across the devastated landscape and huddle for cover in dugouts and tattered ruins.

NEW MAP: CAPORETTO

Fight in mountain trenches near the Isonzo River as the Austro-Hungarians face off with the Italian army in an uphill climb.

NEW MAP: RIVER SOMME

The scenic wheat fields by the Somme river transform into hell on earth from devastating artillery barrages.

NEW MAP: RAZOR'S EDGE

Engage in frantic dogfights among snowy peaks, as British and German aces fight for control on this intense map.

NEW MAP: LONDON CALLING

With your fellow knights of the sky, join the aerial clashes high above the British capital in the new Air Assault game mode.

NEW MELEE WEAPONS

Desperate times call for desperate measures. Use melee weapons like a brutal meat cleaver or a handy prybar when the action gets close and personal.

6 NEW GUNS

Wield firearms like the RSC SMG, and five other unique weapons.

NEW GADGETS

Dominate the opposition with gadgets like the AA Rocket Gun for the Assault Class. Assist airborne teammates and deliver serious damage to enemy aircraft.

NEW AIRCRAFT

Pilot two bombers on the Caporetto map: the Hansa Brandenburg GI and the Airco DH10.

NEW AIR ASSAULT GAME MODE

A rush for ace aviators and sharp-shooting gunners. Air Assault takes to the skies, where planes collide in a fury of dogfights that could include a climactic face-off with Airships.

NEW STATIONARY WEAPON

Based on the tactics used during the Battle of Caporetto, smother your enemy in a cloud of poisonous gas with the all-new Livens Projector.

Last Updated: January 23, 2018