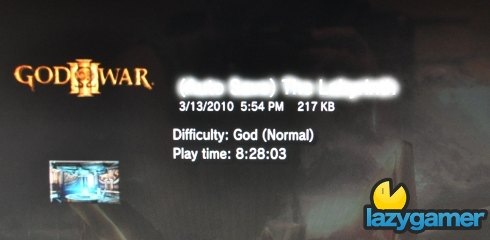 God of War 3 was officially released at 12:01 this morning and if you are exceptionally dedicated then you are possibly just over an hour away from finishing it.
Despite what the God of War developer stated yesterday it appears you can in fact finish the game in around 8 hours as can be seen from the image above.
As I said yesterday I feel 8 hours is about perfect for a game so I don't really care but I do find it weird that the developers lashes out at 8 hour claims only for them to be proven true the very next day.
Apparently the timer doesn't count cut scenes but there is no proof (yet) behind that claim and I don't know if GoW3 has over 4 hours of cut scenes in it.
Source: BraveNewGamer (Warning spoiler ending through the link)
Last Updated: March 17, 2010