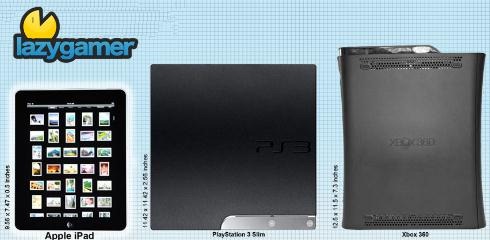 Apple last night announced the long awaited iPad, Apple's first major foray into the table PC market and it already looks untouchable. The thing is beautiful and seeing as though it can run every application on the iStore natively it already has a gargantuam amount of applications ready for launch.
It's going to cost $499 (US) and the most important thing is that it's going to play games as well. So how does this latest entrant into the game market stack up in size compared to the rest.
Well Kotaku has put together a graph and I have to say the thing looks huge, it may only weigh 680 grams but it's not going to replace your DSi anytime soon. It does have the opportunity of replacing my severely aging laptop though, especially if I can plug a real keyboard into it somehow for when I am working at the office.
We don't know when the iPad is going to leave American shores but if you really feel up to it you should be able to import one now as Apple has stated that the iPad will not be locked onto any GSM network when it comes up for sale.

Source: Kotaku
Last Updated: January 28, 2010