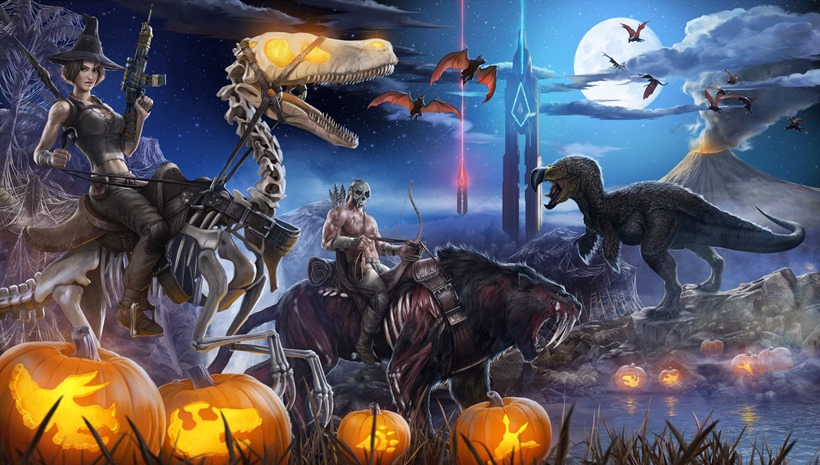 If you thought living in the wild and taming dinosaurs was a scary premise, well, you'd be right. ARK: Survival Evolved sounds terrifying on paper, but somehow, the non-pixelated Minecraft type game is loved by many. Dammit people, do you not know the meaning of the word fear?
I am kidding of course. From what I've heard, ARK isn't a horror game, not at all, but rather, one that is packed with all sorts of fun and dino-riding shenanigans.
Still, it's taken a turn into NOPE valley recently thanks to some Halloween themed content. Here's what you can expect when you update your game to the new and improved ARK: Fear Evolved  (via PC Gamer):
For the next week the ARK is undergoing a spooky seasonal change where the air is cooler, the days shorter and the nights longer, and a Blood-Moon shines brightly as bats and creepy-crawly creatures of the night appear above ground. Survivors should take care when exploring the island as the mythical DodoRex stomps across the land with an army of blood-thirsty zombie dodos in tow, and a variety of re-animated Skelesaurs walk the lands.
Sounds rad! Here's the rather awesome trailer for the event:
Themed enemies aren't the only addition to ARK with this update.  There's a bunch of cool new loot, extra animals to tame, and much more…
For those brave enough to face their fears, there will be a number of new items to craft and collection including thatch-rich scarecrows, custom Jack-o-Lantern carvings, Skelesaur Costumes, Candy-Corn loot drops, Witch Hats, Masks and a Saddle for your spider! You'll also be granted the opportunity to tame endlessly-rejuvenating Zomdodos, Bats, show off artifacts collected from your adventures in the dangerous caves and of course earn a brand new Steam Achievement!
For an event that is only lasting a week, it really does seem like a lot of effort has been put into the new Halloween content. The developers are having far too much fun with ARK, and you know what? That's a good thing.
Last Updated: October 30, 2015