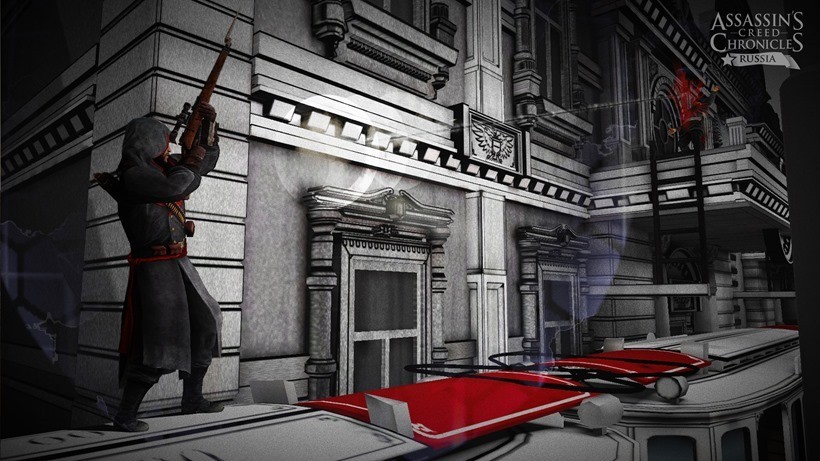 Assassin's Creed Chronicles has become a way to remember only the first game in the series, primarily because Ubisoft has taken so long (and been so quiet) about the remaining two. Chronicles: China was always meant to be part of a larger trilogy, and now the final two instalments – set in India and Russia respectively – are finally going to see the light of day. And soon too.
Both Assassin's Creed Chronicles India and Russia will be out early next year, launching on January 12th and February 9th respectively. February will also herald the launch of the complete package for Xbox One, PS4 and PS Vita, which will bundle all three titles together for $29.99. Individually you can pick them up for $9.99 each, although Ubisoft hints at a narrative thread that ties them all together.
As with China, Chronicles is a different take on the Assassin's Creed franchise. Firstly gameplay is in 2D, and features new, more linear focused was to play. This means a little more puzzle solving than outright stabbing, although each of the three games takes on a new persona with its setting. Aside from the differences visually, each of the three assassins will have different gear, different enemies and different motivations.
Assassin's Creed Chronicles: India stars Arbaaz Mir (from Assassin's Creed: Brahman) in 1841 India, at the height of tensions between the Sikh Empire and East India Company. The Templars have stolen an ancient artefact and it's up to Mir to protect her friends while ruthlessly hunting it down. The more exciting of the two takes place in Russia though, with famed assassin Nikolai Orelov playing escort to Princess Anastasia after stumbling upon the Tsar family under siege by the revolutionary Bolsheviks. Neat!
I still haven't got my hands over China, so I'm particularly interested to pick up all three in one go and see how they play with some rather familiar characters in a more expanded way. If only just to experience the gorgeous 2D art and finally get to play as Russian assassin Orelov.
Last Updated: December 9, 2015