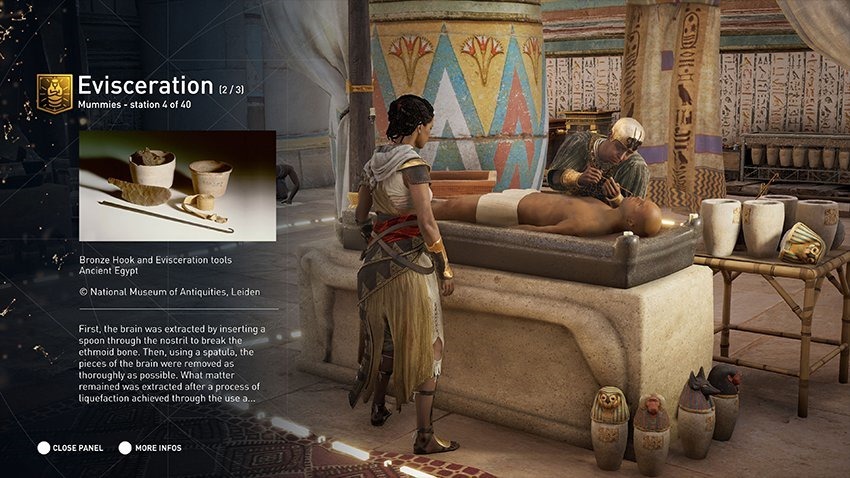 One of the facets of Assassin's Creed that I love so much is the historical tourism. The artists and designers put so much effort into nailing the art and design of the old-world buildings, architecture structures and look of the digital worlds that players inhabit.
They do such a good job of it, that some players actually learn history through playing the games. It's such a genius and completely obvious move to repurpose all of that art to deliver actual education experiences, that don't get caught up in the hassle of game mechanics. That's happening in Assassin's Creed Origins' Discovery Tour, which lets both gamers and non-gamers experience a digital recreation of ancient Egypt.
"This new educational mode of the game lets everyone, from players to history-enthusiasts and non-gamers, choose between free roaming the beautiful world of Ancient Egypt to learn more about its history and daily life, or embarking on guided tours curated by historians and Egyptologists. People can discover and explore a world free of conflict, time pressure or gameplay constraints, where storyline and quests are not active and the world of Ancient Egypt evolves into a combat-free living museum."
Ubisoft says the mode will include a whopping 75 individual tours, which will last between 5 and 25 minutes each. Each of those tours will fall within one of five themes:
Egypt: The land of Egypt, geography, and wildlife.
Pyramids: And exploration of the most iconic landmarks of Egypt.
Alexandria: Explaining the Greek influence that started with Alexander.
Daily Life: Information about the people and not only the monuments.
Romans: Tours that focus on the growing influence of Rome during the time of the game.
Players will also be able to freely explore the world without worrying about quests or combatants.
The mode is out on February 20, and honestly? I can't wait. I spend a fair bit of time in Assassin's Creed games just admiring the faithful digital recreations, and now I'll be able to learn more about Egypt. It'll be coming as a free update to those who own the game. On PC, those who want the tour without the game can grab it for $20 on either uPlay or Steam.
Last Updated: February 14, 2018