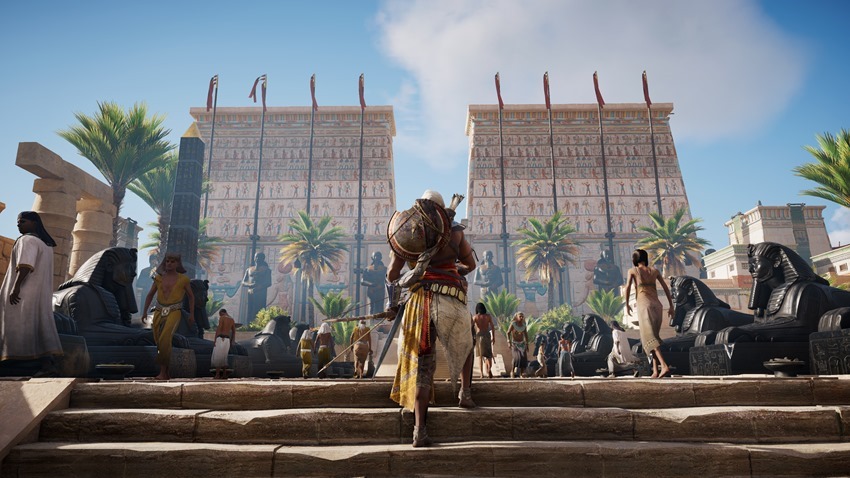 Assassin's Creed Origins is an amazing game, which features the most gloriously detailed look at old-world Egypt you'll find in any medium. It's a delight to play as well, with systems upon system that allow for little touches that make the whole world feel alive.
Here's what we said in our review:
"Assassin's Creed Origins is a prime example of why single-player games exist. They function as our own little Animus, allowing us to be someone else for a while, walking in their shoes (or sandals) through a world that we cannot otherwise access. It's satisfying, mentally challenging escapism that comes with a side serving of education about the past. And in Origins' case, you'll happily lose yourself in its sumptuous setting for hours."
So it's a damned fine game – but there are reports from some PC gamers that the game just isn't running well on their preferred system. It seems that the game is a bit of a CPU-intensive resources hog, and it's causing the game to run at terrible frame rates for many consumers, despite their beefy hardware. There are numerous reports of frame drops that shouldn't happen, and frequent cases of the CPU running at 100% capacity.
It turns out that DRM may be to blame. According to crackers and would-be pirates, the game's performance issues stem from the fact that Origins is running not one, but two methods to counteract tampering. The first is Denuvo, which has proven to be less secure as time goes on. The other is more secure, but may be the cause of the CPU hit. It's called VMProtect, which runs executable code within a virtual machine.
"Basically, Ubisoft have implemented VMProtect on top of Denuvo, tanking the game's performance by 30-40 per cent, demanding that people have a more expensive CPU to play the game properly, only because of the DRM. It's anti-consumer and a disgusting move," said noted game cracker Volski to Torrenfreak. Of course, he could be overstating the effect of the game's DRM systems – as somebody heavily opposed to DRM is wont to do.
There's no real way of knowing right now if DRM is to blame, but the fact remains that many PC gamers are unable to the play the game thanks to poor frame rates.
Last Updated: October 31, 2017