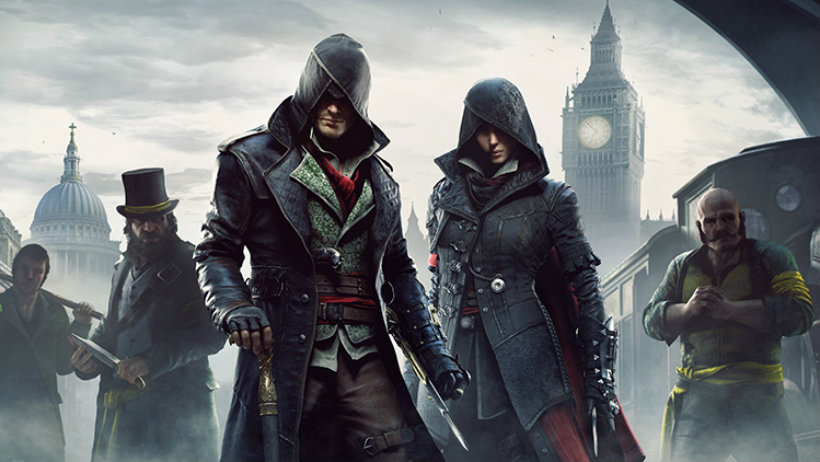 Assassin's Creed Syndicate is coming and, as expected with Ubisoft games lately, it will include a ton to do. With side activities galore, there will be plenty of things to keep you distracted from the main story mission. I was wondering what those things might be, but a list of all the achievements has revealed a bunch of them, plus you can use it to prepare yourself if you're an achievement hunter.
As always with these sorts of lists, please stop reading here if you want to avoid any/all spoilers.
A Spanner in the Works (20) Complete Memory Sequence 1
A Simple Plan (20) Complete Memory Sequence 2
A Modern Babylon (20) Complete Memory Sequence 3
A Quick and Reliable Remedy (20) Complete Memory Sequence 4
The Perils of Business (20) Complete Memory Sequence 5
A Run on the Bank (20) Complete Memory Sequence 6
All Is Fair in Politics (20) Complete Memory Sequence 7
The Joys of Freedom (20) Complete Memory Sequence 8
Friends at My Back (20) Recruit a gang of 5 allies
Cerevisaphile (10) Sample every beer brand in London
No Ticket (50) Kick fifty enemies off of trains
Flawless Conqueror (20) Secure three Gang Strongholds and complete their optional constraints
Bare-Knuckle Champion (20) Win three different Fight Clubs
A Quarter-Furlong at a Time (20) Finish first in 3 different Street Races
Treasure Hunter (20) Complete ten Raids of any type with Jacob or Evie
Thieftaker (20) Bring three Bounty targets back alive
Unqualified Success (20) Complete three Templar Hunts and their challenges
Children's Aid Society (20) Complete five Child Liberation memories
Guardian Angel (20) Successfully escort ten friendly cargo shipments
A Broad Base (20) Reach Loyalty level 1 with all Associates
Bedfellows, Strange or Otherwise (20) Reach maximum Loyalty with any Associate
Multitalented (10) Acquire ten Perks
Keys to the City (20) Acquire all of the Gang Upgrades
Artisan (20) Craft a Level 10 Item
Bartitsu (20) Learn every Fight Skill as Jacob
Phantom (20) Learn every Stealth Skill as Evie
Wonder of the Age (20) Reach Level 10
Ordinary Criminal (15) Complete twenty Crowd Events
Language of Flowers (20) Collect all of the Pressed Flowers
Student of History (20) Collect all of the Historical Posters
A Life in Letters (20) Collect all of the Royal Letters
Chimney Sweep (20) Synchronize every Viewpoint in London
Mentor (40) Reach 100% Sync in the Main Memories
Furious (15) Destroy twenty vehicles by ramming them
WHAT IS WRONG WITH YOU (15) Flip five vehicles by shooting their horses
Look Out Below (15) Kill three enemies with a single stack of hanging barrels
You Wouldn't Steal a Policeman's Helmet (15) Hijack twenty police vehicles
Queensbury Rules (15) Reach combo level 40
Whirlwind of Death (15) Perform fifty Multi-Finishers
Blade in the Crowd (15) Assassinate fifty enemies
Opium Scourge (15) Affect at least four enemies simultaneously with the Hallucinogenic Dart
Blade from Above (15) Air Assassinate twenty enemies from a zipline
Most Unsporting (15) Shoot fifty enemies before they shoot at you
Without a Grudge (15) Destroy 5000 destructibles with your carriage
Secret Achievements
Shall We Dance? (50) Complete Memory Sequence 9
The War at Home (30) Complete the World War I simulation
Godlike (30) Unlock all of the Secrets of London
Needle in a Haystack (10) Kill five enemies from within the same haystack
Street Sweeping (30) Conquer all the boroughs in London
Sample every beer brand? I didn't know there were hipster craft breweries in this game. Obviously there are a ton of collectibles, but it's interesting to see that there are Child Liberation memories, and Associates to win over as well as some Fight Clubs. If they are even as remotely fun as the Kung Fu fight clubs in Sleeping Dogs, that will be awesome.
I am rather amused by the "WHAT IS WRONG WITH YOU" achievement for shooting horses and the return of an achievement for killing enough enemies from within a single haystack.
But wait, what's this? World War I simulation? Where does that come from? Is it like Unity with the weird rips in time thing, or will it be something that you can jump into as a side activity from the modern world? We haven't heard anything about that thus far, so that's a rather big deal.
I don't generally go achievement hunting in these types of games – I just don't have the patience to collect every item or do all the strange feats. That said, most of these seem pretty manageable depending on your play style.
Last Updated: September 22, 2015