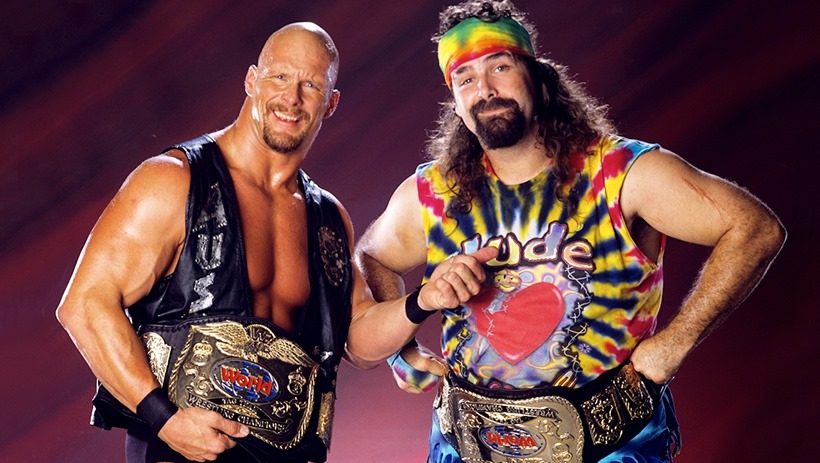 This is it, oh lovers of sports entertainment. The final roster reveal for WWE 2K16. After several weeks of realising that I really miss some of the crazier legends of yesteryear, the squared circle is now complete with a locker room that has 123 of the finest sports entertainers around, ready to make flesh collisions once they step into the ring.
Last week's roster reveal was one that leaned heavily on familiar WWE legends, such as Mick Foley and the Nation of Domination. This week? Fresh blood baby. There's a big emphasis on showcasing the new generation of WWE performers with the roster reveal this week, as well as a few legends. Here's the list of talent:
Baron Corbin
Big E
Bray Wyatt
Brian Pillman
Colin Cassidy
Enzo Amore
Jey Uso
Jimmy Uso
Kofi Kingston
Konnor
Mark Henry
Mikey Whipwreck
Ricky "The Dragon" Steamboat
Rusev
Savio Vega
Stephanie McMahon-Helmsley
Sting (1999)
Sting (Blonde hair)
Stunning Steve Austin
The Undertaker (American Badass)
The Undertaker (Ministry of Darkness)
Viktor
Xavier Woods
There's a few names on that list that I'd completely forgotten about until I re-read them. Savio Vega for one, was a freakin' legend of note and leader of one of the best damn stables in the WWE, Los Boricuas. Man, I just like saying that name. LOS BORICUAS!
And then you've got The Undertaker, back in two other distinct incarnations. The Ministry of Darkness angle may have been one of the weirder gimmicks ever used in the WWE, but it's my favourite for the sheer lunacy of it all.
This was years before Marvel started rolling out superhero movies, so seeing a good vs evil storyline unfold across the entire WWE landscape, was just too much for young D to handle. Also…IT WAS ME AUSTIN! IT WAS ALWAYS ME!
Ricky Steamboat is another favourite legend of mine that's in WWE 2K16. One of the most exciting and energetic performers of his era, Steamboat could move around the ring in a way that the various muscle mountains of the 1980s could only dream about.
And then last, but certainly not least, you've Steve Austin. Not the rattlesnake incarnation that you're used to, but the original performer who entered a ring with flowing locks of blonde hair and an aversion to alcohol. Yes, this was the Texas Rattlesnake before he started telling you what the bottom line was.
And that's quite possibly the craziest wrestling persona of all time.
Last Updated: September 15, 2015